Josse wins the battle of the 70-80 footers
The modified MOD70 finished this morning at 03:47:09 UTC to take an excellent third place despite being on one the three smallest trimarans in the Ultime fleet. Edmond de Rothschild's elapsed time is 8d 14h 47m 9s to complete the theoretical course of 3542 miles at an average speed of 17.13 knots, although he actually sailed 4403 miles at an average speed of 21.29 knots.
Before the start in Saint Malo, Josse had been firm on his ideas of what would constitute success. "If I win in my group, I will have won my Route du Rhum!" Often led by double Route du Rhum winner Lionel Lemonchois on the bigger 80ft Prince de Bretagne, Josse, competing in his first solo mulithull race, fought hard to the finish after believing at one point that his chances of a podium finish might be spent.
The Route du Rhum has been the main focus for the Gitana Team, the group working tirelessly to innovate and make the Multi70 faster and safer, including being the first team to add T-foil rudders – reportedly gaining up to two knots in speed at times while also reducing the pitch of the boat.
Josse's success comes as a result of his pushing the boat close to 100% over the eight and a half days of the race.
From the start in Saint Malo Josse has always been in the match. Exiting from the Channel after a tough upwind over the first night he was in second place behind Banque Populaire VII. More often than not he lay fourth, ready to pounce if the opportunity arose, setting a very high work rate to stay with the bigger rivals.
"I am going to spend 12-15 hours a day at the helm, I don't see how you can do anything else or you are in cruising mode," he reported.
And such efforts were rewarded in the Trade Winds, at 750 miles from the finish when his more southerly option in a more consistent breeze allows him to pass Lemonchois who had slowed in an area of very light and unstable airs. Once up to third he was never passed again, his efforts rewarded as he got back into the Trade Winds 750 miles from the finish.
Josse said: "The first two days it was a case of finding the right pace, holding back but with a good rhythm. You had to have it just right. Then after that there was really only happiness. When you are in the trade winds with these machines is incredible, outstanding. On paper we dont play in the same league as the bigger boats. Logically boats of 31m and 30m should be ahead but I think they were not pushed too hard. They moderated their speeds with us, the little dragonflies behind buzzing at their heels.
"I am a bit surprised at my physical condition, because at first I did not let myself sleep. I just thought it was too dangerous. But fatigue caught up with me and and after three days I put myself to bed. When the boat is set up, with the right balance, it just goes great. The tiredness I feel right now is because of the maneouvres down the west side of Guadeloupe, because there were a lot.
"The feelng was great when I was at sea. You're on your mobylette, your charging fireball. They are like birds flying downwind in the trades. Nothing can really describe the feeling. It is ridiculous, any wave you feel but then you trust the boat. I have never felt unsafe."
"It has been three years since I started with this boat. And I train 150 days a year, so a lot becomes automatic, sometimes it feels more comfortable than others, but I have practised so much it is automatic a lot of the time. Against the first two Ultimes there was no real race for me butwe had a nice group where we fought."
Since Edmond de Rothschild's arrival, Lionel Lemonchois on Prince de Bretagne has come home fourth, finishing at 06:44:50 UTC with Sidney Gavignet on Musandam-Oman Sail arriving in fifth place at 08:15:24.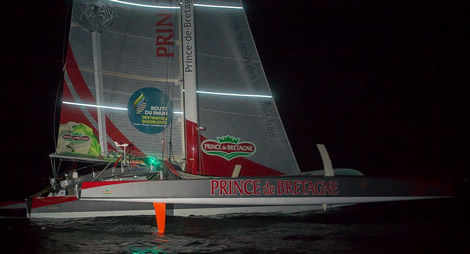 Back to top
Back to top