Route du Rhum preview - Les Ultimes and IMOCA 60s
This year's Route du Rhum Destination Guadeloupe is set to be one of the greatest ocean races. The quadrennial singlehanded transat departs St Malo in northern France on Sunday at 1400 local time heading across the north Atlantic bound for Pointe a Pitre, Guadeloupe 3542 miles away.
This year's race, the 10th since it was first held in 1978, features a diverse fleet of boats from unfeasibly large trimarans such as Banque Populaire and Spindrift 2 in the 'Ultime' class, to the nine IMOCA 60s, eleven Multi50s, forty three Class40s and a fascinating assortment of 'others' racing the Rhum class, including historic ocean racing yachts or simply others that don't fit into the other classes.
Popular in the Rhum class this time is the re-enactment of the 1978 race when Mike Birch's 35ft (10.7m) trimaran Olympus photo famously shot past Michel Malinowski's 68ft (21m) monohull to claim honours within sight of the line. This time the two metre longer Kriter VIII (which Malinowski raced in the 1982 Route du Rhum), is racing, campaigned by Wilfred Clerton, and will face two Olympus photo yellow trimaran sisterships in Charlie Capelle's A Capella and Jean-Paul Froc's Bilfor-Groupe Berto (a third was to join them in Loick Peyron's Happy).
Starting in the height of the European autumn, the Route du Rhum offers the potential for severe weather. In terms of heinous conditions, few past Route du Rhums compare to the 2002 event when only three of the entire 18-strong ORMA contingent made it through, and only one – Marc Guillemot's Biscuits la Trinitaine – without stopping at least once; the rest either capsizing, dismasting or sustaining structural damage (or all three), marking the most significant nail in the coffin of the 60ft trimaran class.
After a warm, near summer-like week in the build-up to the start in St Malo, sadly the unseasonably clement weather is set to give way tomorrow to rain and 15-20 knot westerlies with the arrival of a front (attached to a deep 974mB low), forecast to cross the fleet around or just before start time. More alarming is that this is set to be followed by another stronger front late Sunday night, potentially bringing with it 45 knot gusts.
The routing shows the boats heading off northeast in the direction of the Fastnet Rock before they tack south to leave Ouessant to port (negotiating the Chenal du Four is prohibited on this occasion).
Following a tough start, conditions over the first section of the race look set to be fast for the quicker boats, with routing for the Ultimes showing them set to pass Madeira by Tuesday night. Afterwards, with the Azores high consolidating from mid-week, they should enjoy a relatively fast passage towards the northeast trades, which the present forecast has filling in at around the latitude of Madeira.
Sadly the boats behind will find it tougher as they have to pick their way through a series of fronts due to cross them over the course of this week.
Ironically in this race it is the boats that will be making hay – ie the Ultime and Multi 50 multihulls – that are allowed to have shore-based routing, otherwise prohibited in the IMOCA 60, Class40 and Rhum classes which will be facing a trickier time.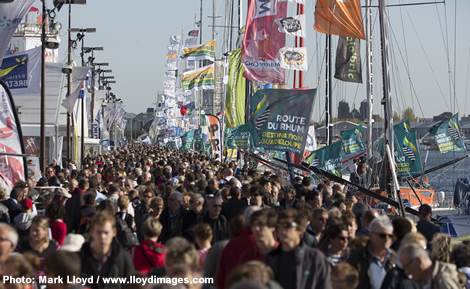 If the Vendee Globe is France's most epic singlehanded oceanic race, the Route du Rhum could best be described as France's most popular one. The event comes with more history, having been first held in 1978 in truly the halcyon era of solo offshore racing, when it was created by the late Michel Etevenon (the man partly responsible for putting sailing sponsorship on the map in France) as the answer to the British OSTAR. In the late 1970s the British singlehanded transatlantic race (held on a typically upwind course in mid-summer, while the Route du Rhum is traditionally a mostly downwind course starting later in the season) was on a high with a record 125 starters in the 1976 OSTAR, including Alain Colas' four masted 236 footer Club Mediterranée.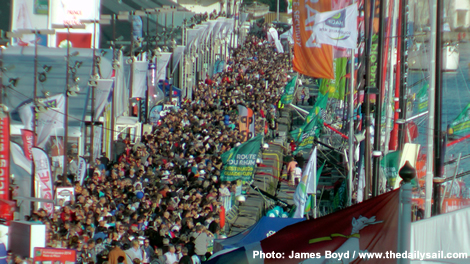 Sadly while the OSTAR has since waned – partly thanks to the event being split, with OC acquiring the rights to race the bigger boats (the good news is that after canning the event in 2012, OC is aiming to hold it again in 2016), leaving the event's original organisers, the Royal Western YC, to race the smaller boats, which to date it has done in a rather lacklustre and under publicised way - the Route du Rhum remains as unflinchingly popular with its competitors, held on the exact same course as it was 36 years ago.
It is also incredibly popular with the general public. Thanks to the excellent weather this week, the event's organiser, Pen Duick, is confident that the 2 million figure for the number people which passed through the race village and were present for the start in 2010, will be comfortably exceeded this year. These figures make the Route du Rhum one of the biggest (if not the biggest) spectator events in yacht racing.
Part of the reason for these figures, as mentioned, is that, in comparison to the Vendee Globe, the Route du Rhum has a longer history and as a result carries even more prestige, but also that simply the fleet is bigger and more diverse and its footprint in St Malo's Port Vauban covers substantially more acreage than the Vendee Globe equivalent does in Les Sables d'Olonne.
For this race the organisers also did well to get many of the previous winners to attend to celebrate the 10th running of the Route du Rhum. This included Mike Birch (who turned 83 today and who has been in town with Walter Green, designer of A Capella/Olympus photo), Marc Pajot, Philippe Poupon, Florence Arthaud, Laurent Bourgnon (the race's only two time winner), Lionel Lemonchois and Franck Cammas. The only line honours winner missing has been Michel Desjoyeaux, who's currently on leg 1 of the Volvo Ocean Race aboard MAPFRE.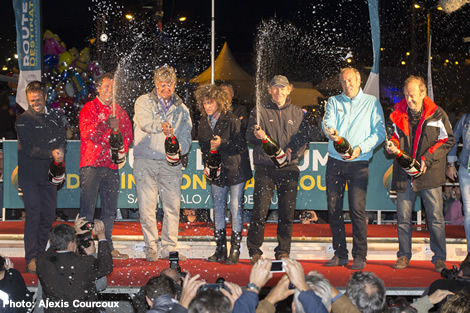 Ultimes

| | | | | | | | |
| --- | --- | --- | --- | --- | --- | --- | --- |
| Boat | Skipper | LOA | Beam | Disp | Mast | SA upwind | SA down |
| Spindrift 2 | Yann Guichard | 40 | 23 | 21 | 41 | 531 | 805 |
| Maxi Solo Banque Populaire VII | Loick Peyron | 31.5 | 22.5 | 18 | 33.5 | 411 | 678 |
| Sodebo Ultime | Thomas Coville | 31 | 21.2 | | 37 | 444 | 663 |
| IDEC | Francis Joyon | 29.7 | 16.5 | 11 | 32 | 350 | 520 |
| Prince de Bretagne | Lionel Lemonchois | 24 | 18.2 | 7.2 | 30.2 | 317 | 441 |
| Edmond de Rothschild | Seb Josse | 21.2 | 16.2 | 6.3 | 29 | 310 | 409 |
| Musandam-Oman Sail | Sidney Gavignet | 21.2 | 16.2 | 6.3 | 29 | 310 | 409 |
| Paprec Recyclage | Yann Elies | 21.2 | 16.2 | 6.3 | 29 | 310 | 409 |
A question that has been continually asked prior to singlehanded transatlantic races such as this, whether it was Vendredi 13 before the 1972 OSTAR, Club Med before the 1976 one or the 85ft multihulls of the 1980s Route du Rhums, up until the last two editions of the race has been – how can a solo sailor race such a big boat on his or her own?
Organisers Pen Duick are to be congratulated for initially creating the 'Ultime' class for the 2010 Route du Rhum with a fleet which on that occasion included not only the three Irens-Cabaret 100ft tris Oman Air, Sodebo and IDEC – all of them purpose-built for shorthanded record breaking - but also the marginally larger, but substantially more powerful Groupama 3. Earlier in 2010 skipper Franck Cammas had sailed this same boat around the world setting a new Jules Verne Trophy record with a full crew (admittedly for the Route du Rhum it had a cut-down mast and sail plan). Despite much conjecture prior to the start of that race that more manoeuvrable, smaller multihulls might get the better of the bigger more unwieldy beasts, Cammas categorically proved that 'big is best': Groupama 3 romped home to take line honours in a time of 9 days 3 hours, more than 10 hours faster than second placed Francis Joyon aboard IDEC (although still outside of Lionel Lemonchois' exceptional course record set four years earlier aboard the ORMA 60 Gitana 11 of 7 day 17 hours.)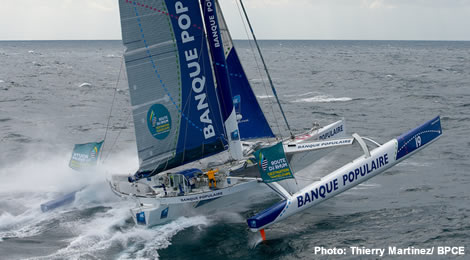 With this in mind, and despite minor issues such as a significant recession, the size and power of the boats in Ultime class has grown over the last four years. Groupama 3 is back, this time (confusingly) in the colours of Banque Populaire, for which injured skipper Armel le Cleac'h has passed over the reigns to ol' sea dog and racing multihull veteran Loick Peyron. Surprisingly, considering he has won every other offshore event in large multihulls, including two OSTARs and being the current holder of the Jules Verne Trophy (on the boat that is now Spindrift 2), Peyron has never done particularly well in the Route du Rhum. He had grown a beard and was planning to go 'retro' for this race, entering Happy, another yellow triple banana Olympus photo sistership before getting the call to arms from his old team.
However size-wise, the annoyingly christened Maxi Solo Banque Populaire VII has been outstripped in this race by the world's biggest racing trimaran, Spindrift 2 (ex-Banque Populaire) aboard which skipper Yann Guichard intends to take singlehanded racing giant yachts to a whole new level. In a similar fashion to Groupama 3/Banque Populaire VII, the monster 131ft (40m) long by 75ft (23m) wide trimaran has been depowered for this race - the mast shortened by six metres down to a mere 41m while sail area has been reduced by one fifth. To assist Guichard in being able to undertake the lengthy grinds, a static bicycle has been mounted in the cockpit, hooked up to the pedestal winch system so Guichard can use his leg muscles in addition to his arms (just as Cammas pioneered four years ago).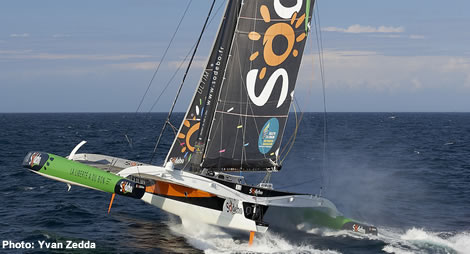 Another bruiser of a boat racing is Thomas Coville's latest Sodebo Ultim. Having campaigned an Irens-Cabaret 100 footer in the last race, Coville has had the new Sodebo Ultim put together ready for launch this summer using the crossbeams and part of the floats from Olivier de Kersauson's 13 year old VPLP-designed maxi-tri Geronimo, but with some parts – notably the lifting foils in her floats from Oracle Team USA's 33rd America's Cup winning quasi cat-tri USA 17. More on her soon… In terms of its power, the new Sodebo has similar righting moment characteristics to Banque Populaire (ie it is 31m long with a beam of 21.2m – almost five metres wider than the previous Sodebo).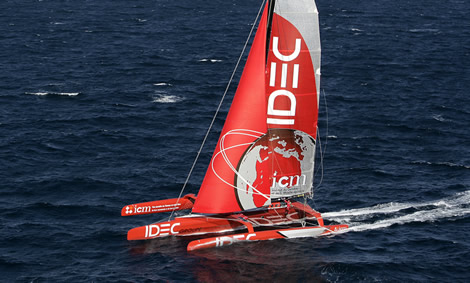 Joyon the Incredible returns with IDEC, now just seven years old and oldest of the nine 'Ultimes' competing. Joyon hasn't modified IDEC since the last race, although the red tri has been fully overhauled. Despite Joyon's outstanding credentials, and finishing second four years ago, the feeling is that IDEC will suffer this year against the more powerful boats. But then Joyon is Joyon and anything is possible.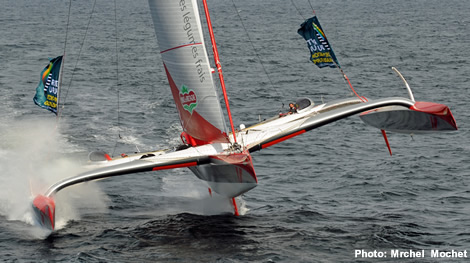 Lionel Lemonchois, the 2006 overall and 2010 Multi50 winner, returns with Prince de Bretagne, the 80 footer born of Thomas Coville's former Sodebo ORMA 60 (even more confused yet?). The boat has spent much of the year in the shed after capsizing off the coast of Brazil in January while on a record attempt between France and Mauritius.
It is likely that Prince de Bretagne will spend much time up against the three modified MOD 70s taking part as a 'race within a race'. Having destroyed the Irens-Cabaret 100ft tri Oman Air in the last race (that boat's still in bits in a shed in Lorient…), former Volvo Ocean Race sailor Sidney Gavignet is back with Musandam-Oman Sail. He will no doubt be feeling all the stronger after his recent lap of the UK in the Sevenstar Round Britain and Ireland Race during which, impressively, his 70 footer bettered the record time of Banque Populaire/Spindrift 2, a boat almost twice Musandam-Oman Sail's length.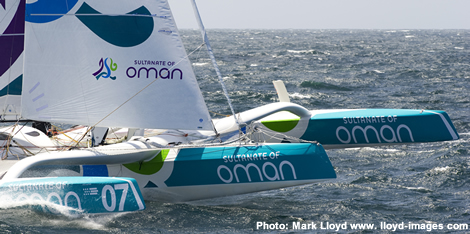 Gavignet will be up against two newbies of the Ultime class. Seb Josse has been racing his MOD70 Edmond de Rothschild pretty much since the outset of the MOD70 class. However on Paprec Recyclage, the team's regular skipper Jean-Pierre Dick has handed over the reigns to two time Solitaire du Figaro winner and former Vendee Globe competitor, Yann Elies.
It should be noted that since the MOD class has now collapsed, all three teams have taken their boats out of class, typically by increasing mast rake, adding fully tweaked up autopilots and sheet release systems (more on these in due course), and, in Edmond de Rothschild's case, adding T-foil rudders.
As is the case with almost all of the above boats, the accommodation on each of the MOD70s has been effectively moved up from down below into the doghouse, putting the skippers within easy reach of all the sail controls.
IMOCA 60

| | | | | | | |
| --- | --- | --- | --- | --- | --- | --- |
| Boat | Skipper | Design (year) | Beam | SA up | SA down | Notes |
| MACIF | Francois Gabart | VPLP-Verdier (2011) | 5.7 | 340 | 570 | Winner 2102 Vendee |
| Maitre Coq | Jeremie Beyou | VPLP-Verdier (2010) | 5.9 | 300 | 640 | ex Foncia/Banque Populaire |
| PRB | Vincent Riou | VPLP-Verdier (2010) | 5.5 | 300 | 600 | |
| Safran | Marc Guillemot | VPLP-Verdier (2008) | 5.7 | 310 | 465 | |
| Initiatives-Coeur | Tanguy De Lamotte | Farr (2006) | 5.85 | 300 | 500 | ex-PRB, Akena Verandas |
| Votre Nom Autour du Monde | Bertrand de Broc | Finot Conq (2007) | 5.9 | 300 | 600 | ex-BritAir |
| Bureau Vallee | Louis Burton | Farr (2006) | 5.85 | 300 | 600 | ex-Delta Dore |
| For Humble Heroes | Armel Tripon | VPLP-Verdier (2007) | 5.5 | 365 | 665 | ex-Groupe Bel |
| Team Plastique-AFM Telethon | Alessandro Di Benedetto | Finot-Conq (1998) | 5.4 | 350 | 600 | ex-Sodebo, VMI, Akena Verandas |
Two years out from the start of the Vendee Globe, the Route du Rhum typically falls at an odd time for the IMOCA class, with the top teams typically focussing on their new builds – hence only nine 60s are taking part (the same number as 2010, but down from the 12 of 2006 and 17 in 2002). However most of the top players are taking part.
The two favourite boats, as ever, are the ones which finished first and second in the last Vendee Globe. While this is Vendee Globe winner Francois Gabart's first Route du Rhum, it also signals his last IMOCA race before he moves into the Ultime class when his new VPLP design 100ft maxi-trimaran is launched next summer in the colours of his long term sponsor, MACIF. Meanwhile the former-Banque Populaire IMOCA 60 is now in the hands of three time Solitaire winner Jeremie Beyou and rebranded Maitre Côq.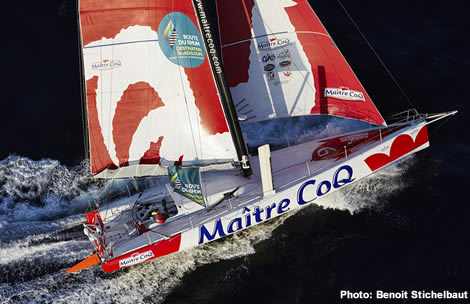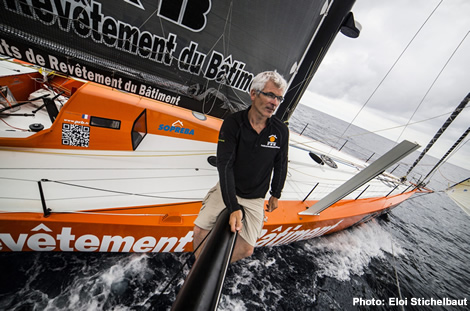 While his performance hasn't been exceptional in his present boat, Vincent Riou returns to the race course with a modified PRB that includes new foils that, like MACIF and Maitre Côq's, are angled inwards from the extremity of the foredeck to give them greater lift. The water ballast system down below has also been simplified down from 10 tanks to four…
All three boats have been fitted with new steel keel foils in line with the latest iteration of the IMOCA rules (Safran has retained its carbon fibre foil). We expect one of these three to win.
As with Gabart, this will also be Marc Guillemot's last race in the IMOCA class. However in his case the reason is that he will be handing over the tiller of Safran to former Figaro ace and 49er Olympic sailor Morgan Lagraviere. In fact accurately Lagraviere will not be taking over the helm of this boat, but that of the new VPLP-Verdier designed Safran that is set to be the first of the latest generation IMOCA 60s to be launched, scheduled to go in the water in January.
After a sterling Vendee Globe effort, Tanguy de LaMotte returns to the race course with a new, more competitive boat. The latest Initiatives-Coeur is the Farr design that raced the Vendee Globe 2008 as PRB and went around in 2012 as Arnaud Boissieres' Akena Verandas. This generation of Farr design suffered from bow burying, so this year the front 8m of the boat's hull has been replaced with one that will provide more volume up forward (in comparison Louis Burton's sistership Bureau Vallee – ex-Delta Dore – is unmodified and still has the 'moustache' around its bow, aimed at alleviating bow burying).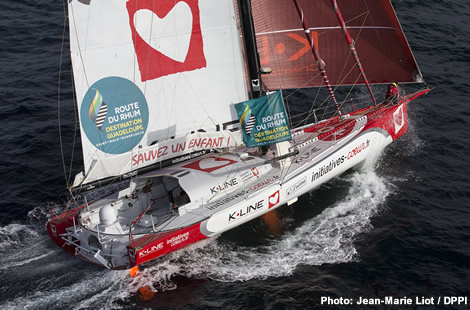 Sailing his first event in the IMOCA 60 is 2003 Mini Transat winner turned Figaro sailor Armel Tripon. He has acquired the 2008 (ie first) generation VPLP-Verdier design once campaigned as Groupe Bel by Kito de Pavant.
Back to top
Back to top