11th hour Spanish campaign
This is the fourth Volvo Ocean Race for Iker Martinez, since the two time Spanish 49er Olympic medallist first called tactics on the in-ports for Bouwe Bekking's ill-fated movistar campaign in 2005-6. Since then the 37 year old Basque sailor has been team manager Pedro Campos' 'go-to guy', co-skippering Telefonica Blue with Bekking in 2008-9 and skippering Telefonica in the 2011-12 race.
Last time around Telefonica set off as favourite and seemed to be living up to the form guide when she won the first three legs of the race, launching her clear into the lead. However in the latter two thirds of the race, the Spanish boat's performance seemed to drop off and was noted for being particularly lacklustre in the in-port races (Telefonica ended up second last overall in the in-ports), ultimately causing them to finish the race a disappointing fourth overall.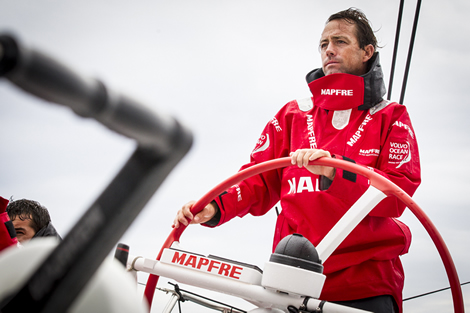 Martinez's view is that it was more a case of the other teams catching them up. "Last time, Groupama made very good choices before the start, they had a very good team and they improved a lot. They ended up very fast and it was very very difficult for us, particularly from upwind to 110⁰ TWA. At 60-90⁰ they were half a knot quicker and we weren't able to match them. And we ended up breaking all this stuff because we were pushing 110% rather than 100% because we needed to."
However many suspected that Martinez and his long term crew Xabi Fernandez were also spreading themselves too thin, attempting to run their 49er campaign for London 2012 at the same time as competing in the Volvo Ocean Race. Again Martinez refutes this: "We were sailing the 49er some days for fun, but we were doing almost no Olympic sailing - we were fully focussed on the Volvo. I think also we were unlucky at times, when Groupama was lucky. They had a very bad first leg and they didn't lose many points, because they still came third. And then they broke their mast and barely lost any points then too. In the end we were disappointed, but we were happy because the truth is that there were two boats fighting for the race, but the other team was better and they won…"
Going into this next Volvo Ocean Race, Martinez, now skipper of the fiery red-hulled MAPFRE, admits he does have a sense of 'unfinished business', as does Team Manager Pedro Campos. However he points out that normally when you feel this way and you want to try harder, you start earlier, with more power and energy, a bigger budget, etc. In reality this time around the Spanish team's boat was the seventh (and last) of the VO65s to be completed at Green Marine, and thanks to the still deflated Spanish economy, Campos had to fight the hardest he has ever done to obtain the necessary funds to compete in the race.
A possible joint venture with Emirates Team New Zealand came to nothing. Campos only pressed the green light on the campaign in June and at this point without the full budget secured. By this stage Martinez admits he had all but resigned himself to the campaign not happening. "We had to start with the sports side and keep working on the financial side…"
Finally MAPFRE stepped up to the plate, in a deal that was only signed just over two weeks ago. (The Madrid-based multinational insurance giant previously backed the Martinez-Fernandez boat in the last Barcelona World Race.)
Compared to the competition, Martinez admits the MAPFRE team has been on the back foot thanks to its late start, lacking around six months of preparation time compared to Team SCA, Abu Dhabi Ocean Racing, Team Brunel and Alvimedica.
To recoup this, since picking up its boat the Spanish team has packed in the miles. From Southampton they took the boat down to their team base in Galicia and from there on to Lanzarote where they competed in a race around the Canary Islands between a few of the VO65 teams. They then delivered the boat back to the UK, where they took part in the RORC's Sevenstar Round Britain and Ireland Race. In this they demonstrated that they had legs, coming home a worthy second, 2 hours 20 minutes behind Abu Dhabi Ocean Racing, but comfortably ahead of Dongfeng, Alvimedica and Team SCA.
Martinez admits his team remains a long way down the learning curve with the VO65. Compared with the more familiar VO70, he notes the 65s "are much smaller, with less sail area and three tonnes on the bulb instead of the six we had before [on the VO70], so you cannot keep up the same sails as you had before. Otherwise I think the boat will be a little bit slower in some cases. When you want to push very hard in the windy stuff it will come down to control of the boat and you end up at a limit - it doesn't matter if the limit is 25 knots of boat speed or 35 knots - once you reach it you broach or you have a problem or you break the boat, but the people will still push there."
The late start to the campaign has also made it difficult for the team to hang on to its regular crew. Telefonica navigator Andrew Cape has disappeared to Team Brunel as has Pablo Arrarte, Neal McDonald is 'coach' for Abu Dhabi Ocean Racing, Pepe Ribes is preparing for the Barcelona World Race with Alex Thomson on Hugo Boss, Joao Signorini is one of Team SCA's key coaches, etc. However in addition to Martinez and Xabi Fernandez, also returned this time is former bowman Ñeti Cuervas-Mons.
"We ended up trying to find some people who have a lot of experience but also people who really want to do the race, because economically we are not strong at all," admits Martinez.
So recruitment on this occasion has taken a different tack. Early on to the scene was none other than two time Vendee Globe winner Michel Desjoyeaux, whom Martinez and Fernandez had chartered the French sailing legend's Foncia 2008-9 Vendee Globe winner for their MAPFRE Barcelona World Race campaign in 2010-11.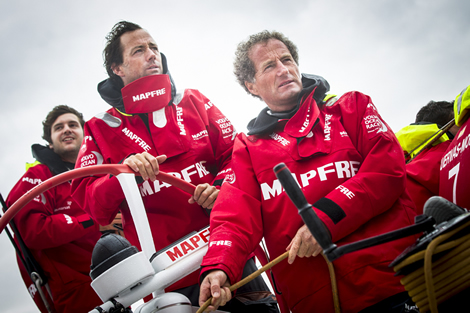 MichDes' involvement, no doubt combined with an increased desire of French sailors to complete in the Volvo Ocean Race following Franck Cammas and Groupama's victory in the last race, is the reason MAPFRE's crew includes leading Figaro sailors Nico Lunven and Anthony Marchand, plus first season Artemis Offshore Academy scholarship winner Sam Goodchild (who is the stand-in under 30 and expecting to join the boat for leg 3 – he's shortly to crew Giovanni Soldini's modified VO70 Maserati on a west to east transatlantic record attempt). Lunven, a past Solitaire winner, is MAPFRE's navigator.
Martinez explains: "One of the first guys to come in with us was Michel and as soon as he was involved he obviously knows a lot of people in France and we had some people coming from France. The majority of the crew are from Spain, because it is a Spanish team, but there is a big influence from France as well."
One interesting aspect to this year's Volvo Ocean Race will be seeing how much of an impression the Breton talent can make in the race, as in addition to MAPFRE, they also feature heavily in Charles Caudrelier's Dongfeng crew. However according to Martinez having multiple cultures on board – they have a Brazilian watch captain in ex-Brasil1 and Delta Lloyd crewman Andre Fonseca - but also from different areas of the sailing world.
"Our goal is to learn from everyone and to make a team. But that is also the difficulty when you have people coming from Olympic classes and inshore like the TPs or whatever, and some from solo sailing. To get these people to work together is not easy." The line-up includes Spanish former Finn World Champion Rafa Trujillo, who has been body building – his biceps are now like melons.
One of the principle differences with the MAPFRE crew compared to those on the other boats is that they are running a larger sailing team and a squad system with the intention of 'rotating' their crew leg to leg. Interestingly this will also include Martinez, who once again is attempting to run his latest Olympic campaign – this time in the Nacra 17 – alongside the Volvo Ocean Race.
As Martinez explains: "I have a commitment with the Olympics, so when I got the call from Pedro [Campos], I said 'look, you know my commitment with my sponsors like movistar and with the Spanish Olympic committee – I cannot break this. I cannot give you the time I gave you in the past. So I proposed to Pedro to spend the time between the Volvo and the Nacra – and Michel [Desjoyeaux] will come and help with this, while Xabi [Fernandez] will be more full time.
"Our idea is to do some more rotations, including myself, and to try and do it with the young guys as well and to have a bit bigger team. Then if someone gets injured, it is less of a problem."
From MichDes' perspective, he's obviously very keen to do as much of the race he can, within the limits of his commitments to Franck Cammas/Olivier de Kersauson and their Team France challenge for the 35th America's Cup.
Like the other teams they also have substitute under 30s, one of which is Sam Goodchild, as Martinez explains: "If I have an injury, finding a replacement for me is actually much easier than finding a replacement for one of them, so we need some under 30s ready to jump on board."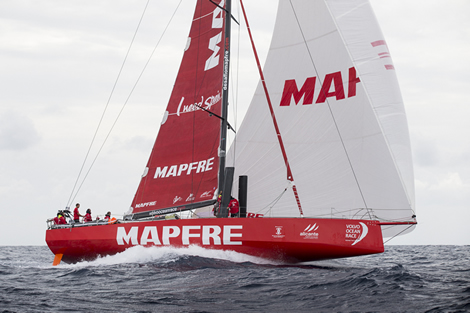 Winning
So with the VO65s all one design – what will make the difference in this Volvo Ocean Race? "I think boat speed will be very important, but this time it will be more about having a solid team and making sure the boat is going at 100% all of the time," says Martinez. "Some teams who've had their boats for longer have an advantage. Our goal is not to lose too much on leg one and to try and improve, to be at a good level. But we'll have to do it by leg two and not leg seven!"
VO65s have a much more limited sail wardrobe than the VO70s, in addition to the canting keel and daggerboards, plus the water ballast tanks. So getting the optimum combination of these for every wind strength and direction and sea state is of paramount importance and where the experienced teams will have the edge going into leg one.
Martinez cites an example from early on when they were racing around the Canaries. "We started reaching, just matching the others. We thought we'd have to use the J2 in over 17 knots, but we saw everyone using their J1. And then we had to go upwind in 20 knots - we had no idea about that! We were looking at Brunel and they were going higher. During the night we weren't able to match their sails and they managed to pass us.
"You can learn from the knowledge we had last time - the J1 this time is closer to the J2 of last time than the J1, but the masthead 0 is pretty much the same."
As to whether he likes one designs, Martinez admits he prefers box rules where you have the opportunity to come up with the 'best' design and engineering solutions, more like the America's Cup. However he acknowledges that it is unlikely the Volvo Ocean Race would have survived this time around were it not for the one design 65. "With the economic situation it was the only way probably. But there are good sides and bad sides for sure."
However he believes that the change in boat isn't going to make the biggest difference to the racing this time. "With the VO70s, it was like what happened in the previous editions of the America's Cup - the designs were getting closer and closer. I think what is going to make more of a difference is that there are only eight crew instead of 10. The sails are a bit smaller, but to manage the boat you end up having almost one guy less on each watch and that is a big difference."
With the VO65 effectively 'shorthanded' in comparison to the VO70, on all boats the skipper and navigator will have to spend more time on deck this time around. What varies between boats is whether they stand watches or merely float.
"I will be on the watch pretty much, but it is not very fixed," says Martinez. "We are very limited in terms of people, so I have to be one of the drivers of the boat, I have to be on watch and this is going to be one of the big changes from the last edition. What we have now I hope is going to be good enough to finish leg one and then before leg 2 we'll make some changes, or we might make some changes on leg 1."
So a different approach to a Volvo Ocean Race campaign and it will be interesting to see if the squad system, with even the skipper occasionally rotating out, can match the performance of the boat with more regular and permanent crews.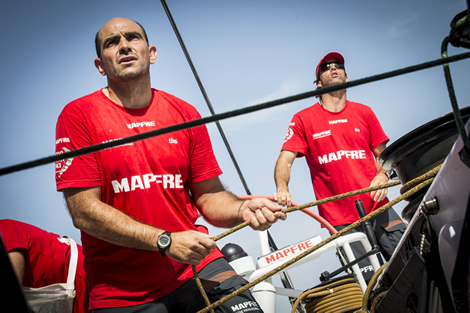 Rio 2016
No chat with Iker is compete without an update on his Olympic campaign....
He says he swapped boats from the 49er when his long term crew Xabi Fernandez stuck with the Luna Rossa challenge for the last America's Cup. "It was the moment to change," Martinez admits. "Sailing with Xabi is very easy and very nice. We were sailing for 15 years together and he is 'big' now!" The 'old married couple' are far from divorced of course because they are about to set off around the world together.
Martinez races the Nacra with Spanish former 470 World Champion Tara Pacheco, and they have been enjoying mostly top five results this season, including European Championship victory. While Pacheco used to helm her 470, on the Nacra 17 Martinez has the stick. "We thought about the opposite in the beginning, but I think the experience of doing the fast boats before is harder to match than gaining the muscles.
"For Tara it is a big change - going from being on a slow boat to being on a fast boat, going from being on the helm to crewing, from not trapezing to trapezing and from being not so fit to being extremely fit."
Back to top
Back to top