Sam Davies comes out of the closet
18 months after joining Team SCA, Sam Davies has finally been appointed skipper of the all-female campaign for this autumn's Volvo Ocean Race (as we always knew she would…)
While she is acclimatised now, joining a team, being a cog in a machine, while coming from a background in the Mini, Figaro and IMOCA - all of them principally singlehanded classes - she admits has taken some work: "I had to get used to talking to people on the boat again! It is still a bit of a shock, because I guess that is the hard bit, not doing it all yourself. So the whole teamwork thing and getting used to how we all work together and getting stuff done, when you have no idea it is being done – that is a bit harder as a control freak!"
However on the flip side of this, she says it is great to be sailing on a boat with a crew as it gives you the opportunity push 100% of the time, something not possible singlehanded.
Being appointed skipper is also interesting for her because the last significant occasion Sam was part of a 'crew' was when she was the bowgirl and nipper on board Tracy Edwards' Royal & SunAlliance maxi-cat for the all-women's attempt on the Jules Verne Trophy back in long ago 1997. "So I've come from the opposite end of responsibility, where I was the youngest. Now I am at the other end, it is quite fun to see the difference."
The recruiting process for the SCA sailing team seems to have taken forever, but Sam says that was always the plan. Apart from Adrienne Cahalan who sailed the first leg of the 2005-6 Volvo Ocean Race as navigator on Torben Grael's Brasil1, no women have raced VO70s and the last all-female team was the Amer Sport campaign in 2001-2 aboard a VO60. So among the female sailing community there is almost no experience racing canting keel VO70s or its replacement, the new one design VO65.
Team SCA set about rectifying this by acquiring the last Puma VO70. Sam continues: "It is physically and technically even harder to sail because they are more powerful and more fragile [compared to the VO65], so it is easier to break them and it is easier to break yourself sailing one. And there was no way we could put 11 girls straight on board, because none of us knew how to sail it. Compared to the [IMOCA] 60 it was more complicated, a lot more powerful and wave-wise it hurts more!"
To train up the crew, Team SCA employed coaches such as race veteran Brad Jackson, a three time winner of the Volvo Ocean Race (New Zealand Endeavour, ABN AMRO and Ericsson 4) and ex-Brasil 1 and Ericsson 4 crewman Joca Signorini, who both remain with the team. In addition there was ex-Puma bowman Casey Smith and ex-Ericsson 3/Groupama trimmer, Martin Stromberg (now with Team Dongfeng), plus the late, and extremely great, Magnus Olsson. Gradually over the months more female crew were added as the male coaches were removed – leaving Jackson and Signorini who no longer sail on board, while Norwegian ex Ericsson 3 and Team Sanya navigator Aksel Magdahl works as coach on the nav side.
According Davies, the recruitment policy was not about finding people who would step on board and immediately excel, but crew who the coaches could train up ready for the start of the Volvo Ocean Race this October. "There was time to take people who didn't know how a winch worked, like dinghy sailors and others from high performance sailing, not just the offshore end. But it made it harder because every time new people came on board it took the sailing back done to basics again which made the process quite long."
However there was also a requirement for offshore experience or as Sam puts it "the let's not break the boat" side. "They realised they needed that big boat experience and at the same time the competitiveness of Olympic-type sailors."
In this respect in addition to herself, the crew comes with considerable offshore experience including five time round the worlder, Dee Caffari, ex-Amer Sport bowgirl and Mini/Figaro sailor Liz Wardley, and leading Mini sailor Justine Mettraux. Mettraux sister Elodie is also on board (they are known as the 'Swissters') and is one of the powerhouses in the crew along with ex-Wild Thing bowgirl Sophie Ciszek. Ciszek is also a big wave surfer and according to Sam has proved a 'natural' driver in big seas, although she doesn't look at the instruments too much…
Aside from their potential and how they get on as a team, Sam says that the crew has worked much more like that of a football team where the manager decides who is going to play on a certain day. "I think that is a positive point and it keeps it more neutral and less 'mates'."
However now the squad has been finalised and Sam's come out of the closet as skipper, it is she who makes the final call as to who is going to be on the boat, albeit taking feedback from the watch captains and coaches. After having had a leaderless-structure among the crew for so long, having a proper 'skipper' on board required a transition. In this role Sam now finds herself as the link between the crew and the remaining coaches, who will remainder actively involved with the campaign for the duration of the race: "I think they will get less sleep than we do during the race! They are like proud parents!"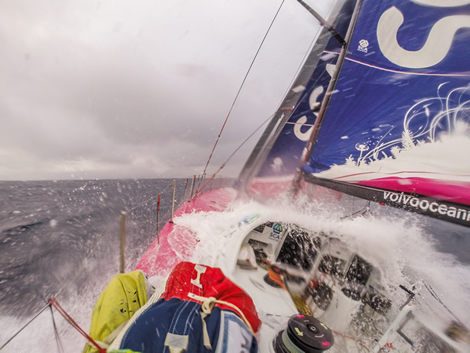 The team is also working with a management consultant from the Hay Group in Sweden who is assisting with the communication and team-building sides of the campaign, while helping Sam ease into her new-found duties.
"The hard thing about being skipper is that it is a different challenge for me, because you have to manage the people and be in charge and I am only really fully realising that now," Sam admits. "People are looking for signs and noises and the whole communication thing is really important. And you have to tell people when they are being out of line. Then again the girls we have, it's not too hard a job, because we have been sailing together for a year now and we all get on really well. We are not all best friends and we don't all go out to the pub together, but we do have a nice atmosphere on board."
The significant difference between male and female crews in this next Volvo Ocean Race is that while the former are just eight-strong, the girls can sail with 11. While the male crews are now effectively 'short handed', with for example the skipper having to stand a watch and the navigator frequently having to be on deck too, Team SCA has been able to transpose the VO70 set-up in terms of watches, positions on board the VO65 and the way it is sailed.
"It seemed a good way to do it," Sam continues. "We do have positions, but for the last year we have been switching positions all the time. Our positions have only become defined in the last couple of months. I have to say I haven't done the bow - I'm not big enough to do that!"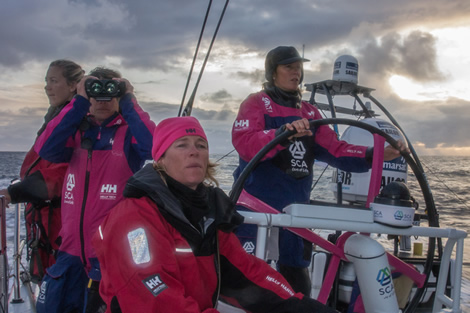 Exactly how the watches work is still a work in progress, but typically they will be four or five person, whereas on the boy's boats they will typically be three or four. According to Sam they have tried having watches of five with boat herself and Liz Wardley as watch captains and Libby Greenhalgh as navigator/floater, but she says that placed a lot of load on Libby. At present they have one watch of four and one of five, with Libby navigating full time and Sam floating and working as back-up navigator.
Surprisingly on board it is not the hoists that require the horsepower, but the manoeuvres. Sam says that the opening part of the Artemis Challenge during Cowes Week, when they were heading west out of the Solent and having to short tack the Code 0, was "our worst nightmare. Gybing and tacking the front sails is hard, because it is a lot of grinding and furling. Peeling from the masthead 0 to the J1 when you don't want to bear away, then you have an upwind furl and a lot of apparent wind in the sail which is trying not to furl it, you end up with a lot of friction to grind against.
"I always laugh because when we have a long grind, I go 'you don't know what a long grind is! Come and shake a reef out singlehanded on an IMOCA 60 – that's a long grind or furling the A3 in 30 knots when you have left it too long!" However on the VO65 all the long grinds happen in first gear, something which solo sailors could never consider.
Back to the crew and Sam makes the very good observation that if in any of the male teams someone has to stand down for a leg, there is a large pool of well qualified potential replacements kicking around. In comparison that pool simply doesn't exist among female sailors as there is no one else out there with the right experience. As a result in addition to the 11 are two extra in the Team SCA squad.
We remain puzzled with Team SCA (as we are with the other Volvo teams) why they don't have a considerably bigger squad and rotate through crew to a far greater degree to keep people fresh as they do, for example, with Cup teams. However Sam points out: "There is the 'team' element and I think everyone wants to do the whole race, so that is the hard side of rotating people out. There's no one who doesn't want to do it all, which is good because then everyone tries as hard as they can all the time to make sure they stay on the boat."
So what are their prospects? "Yeah, we are going to win the race!" says Sam with a hint of sarcasm. "It is really hard to tell, because none of us have done it before and we are coming from a lower level than the others, despite the fact we have had a year of sailing. We have got so much to catch up on, just everything from how you sail the boat and how you trim it and how you keep doing that for weeks on end. When they joined us some of the girls had only done one or two nights at sea! So we are playing a big catch up game. I don't think we really know how we are going to do.
"We know when we line up against the others that it is really hard for us to keep sailing the boat as fast as they do - that is our big focus, on the boat speed and the final bit of trim and keeping that going 24 hours a day."
With Team SCA, Sam acknowledges that in addition to racing one designs, the crew has been given all the tools they could want to do as well as possible. They have no excuses and won't be "delivering the boat around the world. We are going to sail it as fast as we can, the best we can and we are going to keep improving, which is why we are keeping our coaching structure so that hopefully by leg eight we will be sailing ten times better than we've been sailing on leg 1. That is our objective as well, to be the boat that makes the biggest improvement by the end of the race."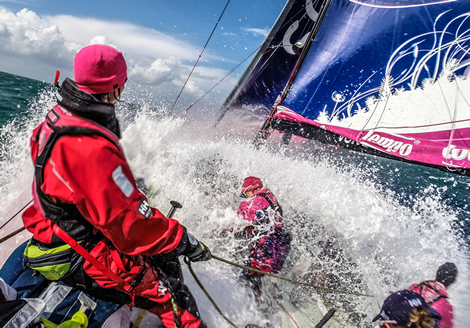 There is also the issue of this being the first race for the one design VO65s and looking back at her career, Sam compares it to when the Beneteau Figaro IIs were first introduced. "The fact that no one has sailed alongside each other very much means that there is a big step still to go, because everyone will have discovered little things that are good and then when we will all get next to each other and copy each other. When the fleet gets closer together you find out what trim works."
During the race, going the right way will be vital – for this Sam has the navigation skills, while Libby Greenhalgh brings experience as a professional meteorologist – but Sam believes that a huge amount will also come down to straight line drag speed. "It is not like 'we have a boat that goes really well reaching' because we have all got the same boats. It will be about going the right way, and the final 0.1 of a knot when you add it up over three weeks and maintaining that night and day and night and day. Obviously then small mistakes will have a big cost. That is one of our objectives – just to sail neatly and do the best we can and not make big mistakes or having any breakages."
As to the VO65 Sam believes it is a good tool for what it was designed to do. "The VO70 – I can understand how hard it was for the guys in those physically, because those boats are just mean. The VO65 is a little bit kinder in terms of your exposure to the elements and how you get nailed by waves is not quite so bad. Boat speed-wise it is definitely less fun than the 70s. The 65 has a little less power, so there are a couple of angles where you miss out on the 'yeehaa', but there is still enough power that it is fun."
Having sailed the VO65 against their VO70, they know there are some angles and conditions when the 65 is a match for the 70, however she thinks a race between the VO65s could be an interesting one. "In some conditions the IMOCA 60s would be almost the same speed as the 65s, but they are very different boats."
The Team SCA crew, plus coaches Brad Jackson and Joca Signorini, is currently delivering their boat to Alicante ready for the start of the Volvo Ocean Race.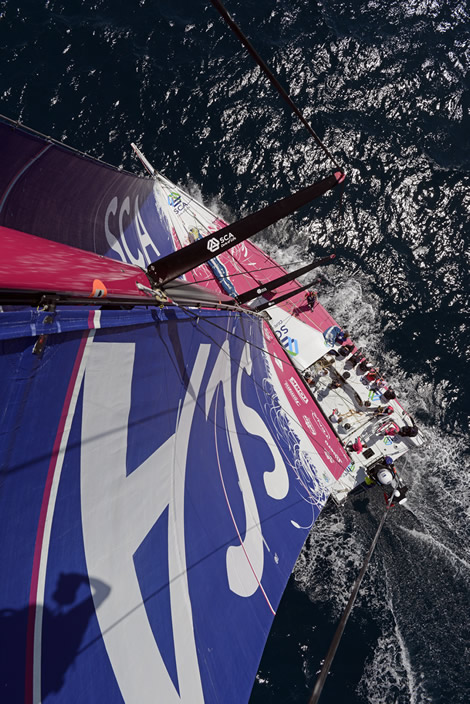 Back to top
Back to top