Exceptional record for Omani MOD70
Musandam-Oman Sail and her exhausted, but jubilant crew of skipper Sidney Gavignet, Damian Foxall, Fahad Al Hasni, Sami Al Shukaili, Yassir Al Rahbi and Jan Dekker crossed the finish line of the 2014 Sevenstar Round Britain and Ireland Race off Cowes at 12:42:36 BST after shaving 16 minutes off the current course record.
Subject to ratification by the World Speed Sailing Record Council, the Omani MOD 70's time for the 1956 mile course was 3 days 03 hours 32 minutes and 36 seconds, just 16m 38s less than the previous World Record set by the 140ft maxi trimaran Banque Populaire 5, skippered by Loick Peyron in 2010. Musandam-Oman Sail averaged 23.8 knots all the way round the course and her crew had no idea until they crossed the finish line that they had taken the record.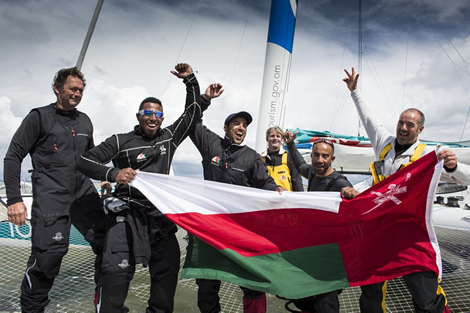 "We didn't realise we had broken the record until we crossed the finish line," said Gavignet. "We got to St Catherine's two hours before doing 30 knots but suddenly there was a cloud and no wind so we thought our chances had gone. But we kept working and working and finally we made it 16 minutes before the time limit."
The weather the Omani trimaran experienced on the race course was near perfect for breaking this record with the giant depression, that was once Hurricane Bertha, established to the east of the Shetland Isles, providing strong and at times near gale force fast reaching conditions for almost the entire course.
"The weather was exceptional…" admitted Gavignet. "I doubt you could find better for the Round Britain and Ireland Race except for two little clouds at the finish. We went round Great Britain and the islands without a tack, only gybes. No tack, zero tacks. That is rare possibly unique.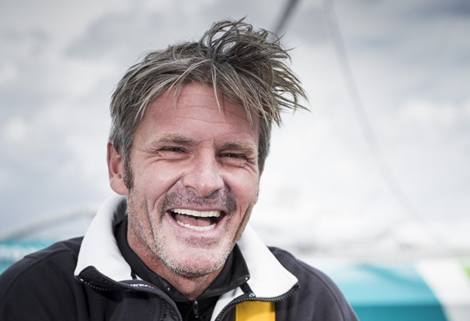 "I didn't think this was possible, but we had exceptional conditions and a boat with amazing potential that was used properly. I know this course well because I have the solo record for the Round Britain and Ireland. I like it; it is a great course, very challenging, and I am very thankful to Sevenstar and the RORC for organising this race.
"It's amazing to beat Loick Peyron and his boys on Banque Populaire 5 which is almost two times bigger than us. I kept saying there is no way we can beat that boat, so it is a surprise. I'm a happy skipper."
Ireland's foremost offshore sailor Damian Foxall has raced around the world seven times, yet he too said this world record was one of his finest achievements. "I would put this record up at the top of my list of achievements – the enormity hasn't really sunk in yet!
"We hit a new top speed for the boat of 43 knots right at the start. You really need the right conditions, perfect trim and the time to set that up to get to that speed and we hardly ever dropped below 25 knots the whole way round. Jan Dekker has done a huge amount of multihull sailing, including winning the America's Cup but when we were blasting down the west coast of Ireland, he turned to me and said, 'Don't you think Sidney should be thinking about preserving the boat for the Route du Rhum?' I said, 'Go and tell him that, he's going for the record right now!' We had in the back of our minds that it was possible - a long shot but it wasn't until we got to the Fastnet, where the wind was not as light as we expected, we were still doing 30 knots and we were thinking - okay this could be possible!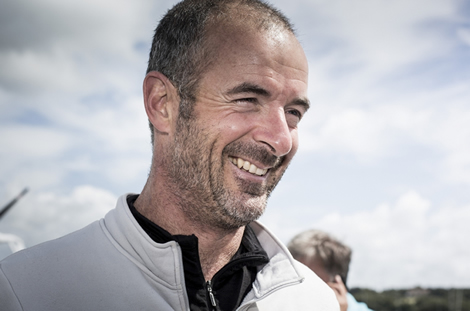 "The hard thing about a race record, as opposed to a course record, is that with a course record, you can wait until the weather is perfect and you just go. In a racing format you don't have that option; it is an amazing coincidence that we have had this weather pattern precisely when a race, that is only run every four years, was taking place. Even the tides were with us at the start and the finish! This record was on because of an amazing series of coincidences; the final incredible fact is that the only time we tacked in an 1800 mile circular course was after we had gone through the finish line!"
The stars of the show, according to Jan Dekker, one of the most experienced offshore sailors in the world but racing a MOD70 for the first time, were the 'amazing' boat and crew. "Amazing conditions but mostly an amazing boat. Doing 30-35 knots all the time was quite brutal – I have sailed ORMA 60s a fair bit, but this was full on. The only thing you can do down below is to hang on."
For the first time, Musandam-Oman Sail was racing with three Omani sailors in a total crew of six, with Sami Al Shukaili and Yassir Al Rahbi joining Oman Sail's flagship boat just one month prior to the race.
"It was my dream to race on the MOD70 when I joined Oman Sail," enthused Al Shukaili. "I pushed myself hard to lose weight and to sail hard every day to get into shape for the MOD70 and Fahad gave me a big push to sail with him. I knew there was a time to beat to break the record but at the finish I wasn't sure if we had done it. But I saw everyone was happy so I was happy with them."
Gavignet paid tribute to his Omani crewmembers, especially his two new recruits. "They were not seasick, which is impressive and did not get tired and had a fantastic attitude. They picked up a lot of things on this trip and gained valuable experience. We have found two new Omani sailors which is great for us, great for them and great for Oman Sail."
Fahad Al Hasni has been with Musandam-Oman Sail from the day it was launched in 2012 and has many thousands of trimaran racing miles under his belt but this world record represented a special moment in his career, he said. "It was good fun and it is great to come back with the record and to have the boat in one piece. Everyone is good and we are happy to have a crew that is half Omani for the first time and feel it is a really big thing to have done."
| | |
| --- | --- |
| | |
Gavignet and his crew performed a formidable feat of seamanship manhandling their nimble MOD 70 around the course intact. One wonders what the 140ft trimaran Banque Populaire V, now Dona Bertarelli and Yann Guichard's Spindrift 2 would have made of it. Banque Pop's average speed for the course was 23.38 knots, but earlier in its career this same boat had made the substantially longer crossing of the North Atlantic - albeit unfettered by having to turn corners - at a speed of 33 knots. A Round Britain and Ireland at this speed would equate to a lap in just 2 days 13 hours!
From here Musandam-Oman Sail goes into singlehanded mode ready for November's Route du Rhum, where she will line up against the Seb Josse skippered sistership Groupe Edmond de Rothschild. Gavignet explains: "We will have a little rest and a chat then head back to Lorient with our solo kit – our first single handed experience on this boat. I'm not sure what it will be like sailing solo on this boat. I think it will be tough so I will need plenty of luck. It is easy to capsize these boats so it will be about staying upright..."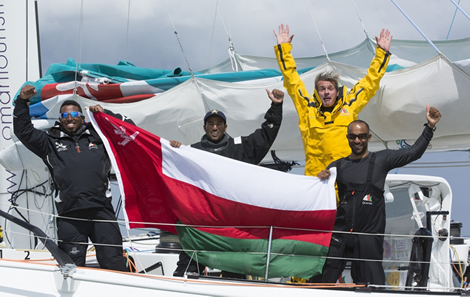 Back to top
Back to top