New ride for Yann Elies
Yann Elies is about to face a major new challenge: to participate in the Route du Rhum aboard the MOD Paprec Recyclage. The two time Solitaire du Figaro winner will be competing in the Route du Rhum for his first time, as the MOD70's usual skipper, Jean-Pierre Dick, focused on the design and build of his new IMOCA 60.
"This is a dream come true!" commented Elies. "The challenge to participate in the Route du Rhum aboard a MOD70 excited me immediately. I am delighted to take on this new challenge after twice winning the Solitaire du Figaro. It's a real challenge to cross the Atlantic on these things! It is as tecehnically challenging as participating in the Vendée Globe. I love the adrenaline, risk-taking, it's part of my job.
"The Route du Rhum is a dream for any kid. I used to attend every race start with my father in Saint-Malo. I dreamed of the boats of Loïc Caradec and Philippe Poupon. Today, we return to the time of the 'Ultimate class', with some extraordinary boats at the limit of what can be sailed by one man. I'm very pleased to participate in this legendary race. I thank Jean-Luc Petithuguenin to give me the helm of Paprec Recyclage."
Jean-Pierre Dick explained his reasons for passing over the helm: "I ​​joined the MOD70 circuit expecting to compete in a round the world race with crew and not a singlehanded Route du Rhum. I did not choose race multihulls solo. I decided in April to focus on the next Vendée Globe and the design of my new boat. I also thank Jean-Luc Petithuguenin to allow the story of this multihull to continue while supporting me too, as my historial IMOCA 60 partner. Yann Elies is a talented sailor, a great competitor, he never gives up, it will rely on him during the Route du Rhum!"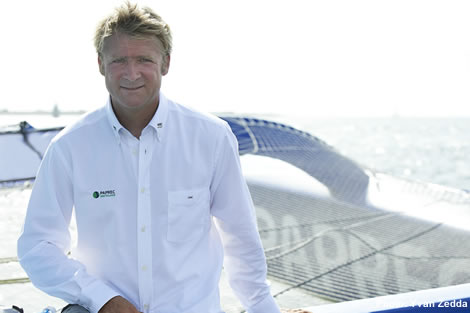 Back to top
Back to top