New record for St Malo race
French teams dominated the RORC Cowes-Dinard-St.Malo Race, with three yachts from France on the podium for the overall win under IRC, with six of the class winners also being from France.
Fast downwind conditions provided a fast ride to St Malo with Loic Fequet's Multi 50, Maitre Jacques, setting a new race record of 11hrs 18mins 50secs. Eric Gicquel's J/133 Black Jack, skippered by Nils Boyer and sailed by a young team from The Societe Nautique de la Baie de St Malo were the overall winners under IRC.
"It was a very fast race with flat water, good wind and a favourable current", explained Fequet. "We reached a top speed of 25 knots and 18 knots over the ground consistently. The Route Du Rhum is the main goal for the season and the race to St Malo has been a good boost to our campaign. It's always interesting to navigate with time applying the pressure. We were lucky to get out of the Solent without tacking, which is rare, and that gave us a good gain on the clock. The weather conditions were not ideal, but with a flat sea state, we could drive and trim to optimise acceleration. The favourable tide gave us the chance of beating the record, which has given the team tremendous satisfaction."
Maitre Jacques' record breaking team was Loic Fequet , Arnaud Le Gall, Benoit Champanhac, Julien Deniel and François Le Bourdais.
Behind overall winner Eric Gicquel's J/133 Black Jack was François Lognoné's J/122 Nutmeg Sparkling Charter, also from St.Malo, was second with James Bruno's Sunfast 3200 Le MC Do De Cherbourg third overall, and winner of the Two Handed Class.
Black Jack's Skipper, Nils Boyer was born in St.Malo and under the pupilage of Franck-Yves Escoffier has the goal of participating in the Route du Rhum aboard the canting keel 50 footer, L'eau de là.
"Winning the Cowes-Dinard-St.Malo is magical." said 20 year old Boyer. "Black Jack is a young team all from The Societe Nautique de la Baie de St Malo and the champagne will be flowing with all our family and friends tonight. I have been part of teams that have won a class in the race on four occasions but this is the first time that I have won the trophy overall. L'eau de là, is an association of young sailors, 16-20 years of age, and to win this prestigious trophy in our home town is fantastic."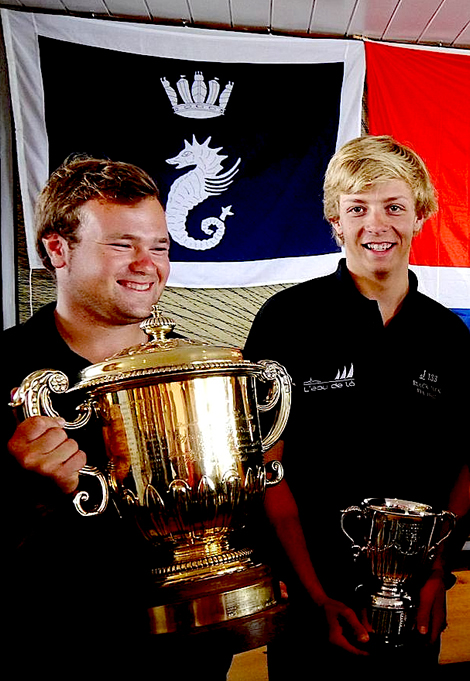 Monohull Line Honours went to Mikey Ferguson's IMOCA 60 Artemis Team Endeavour, after a close battle with Andy Budgen and Fred Schwyn's VO70, Monster Project. Artemis Team Endeavour crossed the finish line just 20 minutes ahead. After time correction, Nicolas Groleau's Mach 45 Alternative Sailing – Cartouche, from La Trinité, was declared the IRC Canting Keel class winner.
Piet Vroon's Ker 46 Tonnerre de Breskens 3 had a victorious return to RORC racing, winning IRC One by just over five minutes from Steven Anderson's Corby 40 Cracklin' Rosie. Willy Walscharts's Swan 56 Asterix from Belgium was third.
IRC Two was highly competitive. The top seven yachts finished the 150 mile race within half an hour after time correction. Black Jack was the winner with Nutmeg Sparkling charter second and Ross Applebey's Oyster 48 Scarlet Logic third.
IRC Three was the largest class with 22 yachts competing and there was less than an hour on corrected time between the winner and 14th place. Jean-louis Goblet's A35 Galatée racing Two Handed was the winner by less than two minutes from Francois Carluer's JPK 10.80 Agence Directe. Nicolas Gaumont-Prat's First 40.7 Philosophie IV was third.
In IRC Four the top eight yachts were all from France, Bruno James' Sunfast 3200 racing Two Handed was the winner by just over six minutes on corrected time from Loic Le Garrec's Standfast 37 Hélisara. Francois Boue's J/109 Firouzeh 4 was third.
Four Class 40s had a fast and highly competitive race to StMalo with less than 24 minutes separating the fleet. British skipper, Ned Collier Wakefield's Concise 8, the new Forty(1)Design was the winner. Crossing the finish line 20 minutes ahead of veteran Belgian offshore sailor, Michel Kleinjans, racing Brusails for Belgium. French skipper, Brieuc Maisonneuve racing Al Bucq was third, less than two minutes ahead of David Pearce's Forty Shades of Grey.
Louis-Marie Dussere's JPK 10.10 Raging Bee was 19th overall for the Cowes-Dinard-St.Malo Race, but still retains the overall lead in the RORC Season's Points Championship.

Back to top
Back to top