Ireland - 2014 Brewin Dolphin Commodores' Cup favourite?
Having won the Brewin Dolphin Commodores' Cup in 2010, Ireland was unable to mount a campaign to defend its title in 2012, but this year they are returning to Cowes for the RORC's biennial regatta for amateur national three boat teams, over 19-26 July, with one of the strongest line-ups taking part.

In recent years, while France and Britain have entered large numbers of boats into the Brewin Dolphin Commodores' Cup, Ireland's efforts have been notable for achieving top results but with a smaller but more powerful line-ups. In 2006 they fielded three teams with Ireland Green coming home second to the French while, in 2008, Ireland was favourite going into the regatta but its two teams ended up second and third to GBR Red. Finally in 2010 it was third time lucky. The single Irish team dominated the regatta, finishing well ahead of Hong Kong and France.

This year's line-up continues this theme, with former Vice Commodore of the RORC Anthony O'Leary resuming his duties as Irish team leader and skipper of his Ker 39, Antix. The Irish 'big boat' is American Marc Glimcher's turbo charged Ker 40, Catapult, while making up the trio is a former IRC Nationals winner, Peter Rutter's Grand Soleil 43, Quokka 8, chartered for the occasion by Niall Dowling and present RORC Vice Commodore, Michael Boyd.

According O'Leary, they started work on the campaign immediately after the 2012 Brewin Dolphin Commodores' Cup. His Olympic Star sailor son Peter was friends with American Olympic sailor Geoff Ewenson who serves as tactician on Catapult and between them they managed to persuade owner Marc Glimcher to bring the boat across from the USA for the season. Catapult has been in the UK since April and competed in the IRC Nationals, finishing third in IRC One behind Antix and Michael Bartholomew's GP42 Tokoloshe II.

Compared to the other Ker 40s, Catapult is lighter but with a deeper draft to retain her stability. As a result she has a higher IRC TCC of 1.210 compared to standard Ker 40s, such as the British team's Cutting Edge (1.195) and Hooligan VII (1.192). Given her higher performance, one imagines Catapult will benefit from being able to nose ahead of the other Ker 40s and into clear air.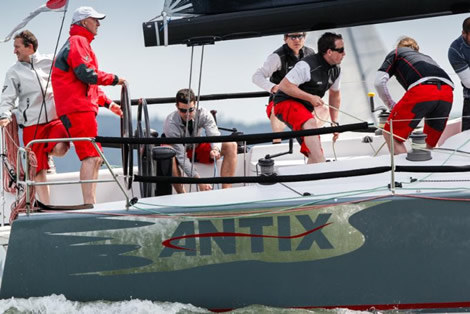 To comply with the nationality requirements of the Brewin Dolphin Commodores' Cup, more than half of Catapult's crew will be Irish, with Ewenson and Peter O'Leary being the boat's two permitted 'pro' sailors, O'Leary still being classified ISAF Group 3 following his Star campaign for London 2012.

Antix herself has returned to her old form, winning this year's IRC National Championship. According to her owner, part of the reason for this is due to them putting the boat boat into her successful 2010 configuration. "After 2010 we lightened the boat overall and the bulb, but it didn't turn out to be that successful. Fortunately we hadn't disposed of the original bulb and we put it back, which was an easy change."

This time the O'Leary trio of sons is evenly distributed across the Irish fleet with Robert on Antix, Peter on Catapult and Nicolas on Quokka 8. As O'Leary puts it: "I think four of us on the same boat could lead to some family disputes and what have you, so it was best to spread the load around the place!"

The pros on Antix and Quokka 8 are North Sails' Dave Lenz and Maurice 'Prof' O'Connell respectively, both of whom competed in 2010 (O'Connell then sailing on Roxy) while on Quokka 8 Michael Boyd will be navigating and Niall Dowling helming. Roughly half of the Antix crew competed in O'Leary's 2010 winning crew.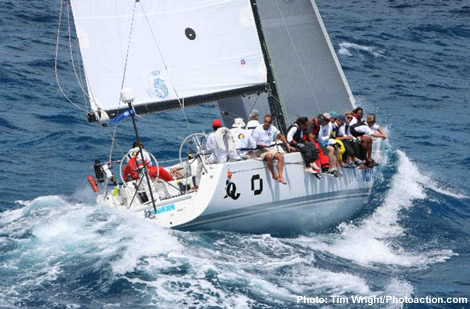 Interestingly while Anthony O'Leary is an old Brewin Dolphin Commodores' Cup hand, both the Catapult and Quokka crews are first timers. As O'Leary puts it: "The Americans haven't done it before, so they are fascinated with the team concept and the general layout of the regatta."

Meanwhile Quokka was late returning from her regatta program in the Caribbean and O'Leary says he was impressed that to fill the gap, Niall Dowling and Michael Boyd chartered other boats to help get their crew race ready. "That has taken a lot of effort and focus," he says.

Generally O'Leary feels confident of his team's prospects against the sizable GBR competition, which they regularly sail against. However the French are an unknown quantity, with the exception of Antix's sistership, the Gouy family's Inis Mor, which he says is particularly strong offshore. "If we arrive with our A-game we'll be confident of a decent result."

As to why O'Leary is spearheading another campaign for the Brewin Dolphin Commodores' Cup, he explains that the attraction is: "An event of that duration with so many races, and such a variety of races, without a discard - it is full on. The intensity of it is great, it is just what you want to sail. It is the highlight of our programme every two years."
Back to top
Back to top