Just six arrivals
Only six boats had finished the 2014 Newport Bermuda Race by late Tuesday afternoon in Bermuda— Shockwave, Bella Mente, Caol Ila and Constellation have finished in the Gibbs Hill Lighthouse Division while Kodiak and Stark Racing Mad VII have finished in the St. David's Lighthouse Division. In addition, six boats have retired, six finished and 152 still racing.
However the race may set a new record tonight. According to the Pantaenius Race Tracker estimated elapsed time calculations, as many as 120 yachts will cross the finish line between sunset Tuesday and sunrise Wednesday morning. That is an average of 14 finishers per hour and must be a record for the Newport Bermuda books. Eugene Rayner and his St. David's Lighthouse finish line team will have their hands full. Officials will place two committee boats at the finish to make sure they can identify all the boats that will probably be squeezed together in packs as they cross the line.
Will there be chaos on the Bermuda line tonight? Boats need to cross the 291º magnetic bearing to the tower between the confining markers and then turn left, out to sea, to avoid the reefs inshore. Think of 10 boats finishing within minutes and that's chaos.
Constellation, the US Naval Academy TP52, was the last arrival on Monday. She finished at 8:25 PM. Kodiak, skippered by Llwyd Ecclestone, was in at 2:17AM Tuesday and Jim Madden's Stark Raving Mad VII finished at 7:19. Kodiak, a 66ft custom racer was the first to finish in the St David's Lighthouse Division and leads Stark Raving Mad on provisional corrected time in this Cruiser-Racer, amateur group of 97 entries.
Back at the Royal Bermuda Yacht Club, Jahn Tihansky and Chris Schubert, the two US Naval Academy coaches aboard Constellation, were elated about their young crew's performance, even though they are 4th in their division on provisional results. "We were surprised to be the fourth mast at Royal Bermuda Yacht Club." Tihansky said. "After getting stuck in five parking lots in the Gulf Stream, we thought the harbor would be fuller.
"We went through the west to east part of the Stream and caught the cold eddy below that. We parked along the way; but even with the sails slatting in the slop, we were making 2 knots over the bottom towards Bermuda. We caught the southbound train to the new wind, hooked into the southwesterly breeze building from 6-15 knots which held steady to the finish. It was a great ride... we caught the train to the new wind and rode it all the way home."
Chris Schubert talked about the race below the cold eddy. "We were hauling the mail, crashing off big waves and concerned that the boat would break. We took down the main and sailed at a 65-75º true wind angle with only a #4 jib and were still making 9.5 knots to Bermuda. The boat was much more comfortable and still sailing fast."
Josh Forgacs, the Academy midshipman who skippered Constellation, said, "We had issues with water from small leaks and from waves getting into the electronics. "We had to reduce the angle of heel to keep the boat on her feet, which made it easier to pump the flat bottomed bilge." He was happy to be in Bermuda after the 'Thrash to the Onion Patch'."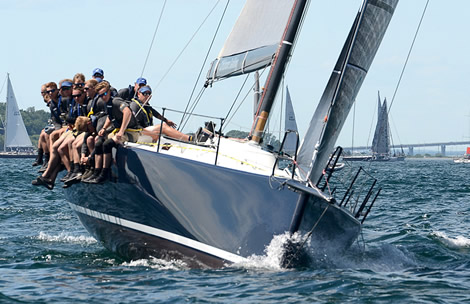 Back to top
Back to top