Chilean's first IMOCA race
Weekend after next the Ocean Masters New York to Barcelona Race sets sail and will mark the first occasion that a Chilean national has ever competed in the IMOCA class: José Muñoz is to race aboard Neutrogena with Spain's Guillermo Altadill.
42 year old Muñoz, who heralds from a town one hour away from the Chilean capital Santiago, may be a first timer to the IMOCA class, but he is one of his country's most experienced offshore racers. Over 2008-9, he sailed around the world doublehanded in the Portimão Global Ocean Race aboard the Class 40 Desafio Cabo de Hornos with the late Felipe Cubillos. He subsequently went on to sail with Cubillos aboard the Class40 in several events in Europe, including the Rolex Fastnet Race.
"It all started because my father worked in the industry – maintaining, preparing and sailing yachts in Chile," says Muñoz of how he got into the sport. "I learned about it all from him at a very young age, because I accompanied him when he was working. So I learnt sailing concepts and terminology."
His first chance to go sailing came aged 12 aboard one of the boats his father was working on and, on leaving school at 18, he followed in his father's footsteps in turning pro.
Muñoz's chance to sail around the world came about through his long term friend, Felipe Cubillos, one of Chile's top sailors. "The idea was born from his dream to sail around the world and to be one of the first Chilean sailors to win a competition at a high level. We competed together for eight years and became champions in Chile. It was he who introduced me to this type of sailing, because of my experience and because of my love of sailing. He believed in me, in my attitude and my sailing knowledge and my endurance: In all the time that I have been sailing, I have never been sick, so I am resilient as well as being competitive. I believe we made a very good team."
As one might imagine, Muñoz has been eager for the opportunity to graduate up to the Formula 1 of shorthanded offshore racing and his chance came about thanks to the Fundació Navegació Oceànica Barcelona. As he explains: "Guillermo [Altadill] had a project with the Barcelona World Race organisers. They were looking to broaden the scope of their race and realised that a key point of it was Cape Horn. To help highlight what it is, they realised they needed a Chilean, 'but who?'"
At this time his round the world co-skipper had sadly passed away, leaving Muñoz as his country's sole surviving solo circumnavigator and the obvious choice.
Muñoz got his first chance to sail an IMOCA 60 when he helped Altadill deliver Neutrogena from Cadiz in Spain to England last December. "During that time we tested our compatibility on board and realised that we worked well together," he says.
While Altadill has yet to complete a shorthanded round the world race, he has six circumnavigations to his name, including four Volvo Ocean Races and some 400,000 sea miles under his transom. Muñoz is only too aware of this: "It is fantastic to be given the opportunity to sail with an expert, a professional, like Guillermo. His past achievements are huge and so it will be a once in a lifetime experience for me. I really hope to make the most of it."
For Muñoz the step up to an IMOCA 60 will also be momentus. He says the sailing techniques will be the same, as are the sails and most of the gear. However the 60s are substantially bigger and more powerful. "The boats are quicker and more physically demanding, so I am going to have to work a bit harder. I have already been working harder at the gym to further develop my physique."
While there is a growing yacht racing scene in Chile with in particular the Soto40s gaining international attention, the general public's focus on sport there is, as Muñoz puts it: "Football, football and football. Sailing is very localised to one region, but it is been developing recently thanks to our boost in our economy and because of the opportunities that are being given to young people to learn about sailing. In the last five years it has grown – it's still not very big, as it has always been an elitist sport."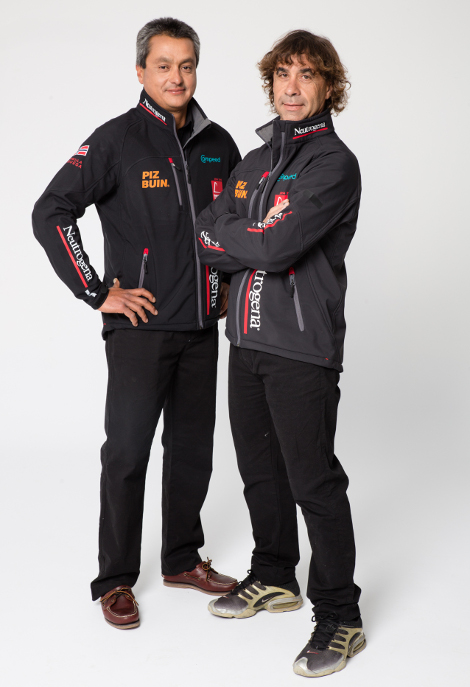 Saying, because of its geographic location spanning the Pacific coast of South American and in particular because it culminates in Cape Horn, Chile does have a natural connection with the sea and ocean racing. "It is a reference point for all extreme sailors," continues Muñoz.
There are precious few well known sailors in the country. There is Olympic Laser sailor, Matias de Solar and Lightning sailor Tito Gonzalez, but fortunately after his round the world voyage, Muñoz considered among them. "I have been competing at a professional level since I was 18 years old, including international championships in the J/24 and the Lightning and I am seen as successful by people – obviously there are not many sailing professionals within Chile so we are all quite well known. There are quite a few people who follow my progress.
"Generally the sailing scene is very localised to one region, but it is developing thanks to the boost in our economy and because of the opportunities that are been given to young people to learn sailing."
For IMOCA and its Ocean Masters World Championship, this is good news is it means IMOCA has a new nation following it, directly in line with Sir Keith Mills' vision to 'globalise' the class via his marketing company, Open Sport Management.
And this could mean that one day Chile has its own IMOCA 60 campaign. "That is future plan, an objective that I'm interested in," Muñoz admits. "Lots of people are following this project and there are also many people, who would like to be in my place, who say that the next thing I should do is my own Chilean project, so I would like to give it a go. I hope at some stage to have the chance to sail singlehanded or at least a solo transatlantic crossing to see if I take to it."

More news and interviews from the Ocean Masters New York to Barcelona Race can be found here
Back to top
Back to top