GAC Pindar steps in
Thursday May 15th 2014, Author:
James Boyd
, Location: none selected
Marine leisure logistics provider GAC Pindar has today announced it will be the title sponsor for Jack Bouttell's 2014 Solitaire du Figaro entry. The deal provides the aspiring young offshore sailor with the backing and support needed to compete in the Figaro class' pinnacle event in June, and marks an exciting return to the world of offshore sailing for the Pindar name.
Bouttell, a graduate of the Artemis Offshore Academy, will join over 40 solo sailors on the start line of the Solitaire du Figaro, in Deauville, France on Sunday, 8 June. In the 2013 edition of the 2000 mile solo, offshore race, Bouttell became the first ever British skipper to win the Rookie division. Now racing towards his second Solitaire du Figaro attempt in 2014, Jack's solo Figaro campaign is supported by title sponsor GAC Pindar, the Artemis Offshore Academy and technical partners Overboard, Musto and Marlow ropes.
Pindar is already an established name in the world of offshore sailing, having supported Figaro campaigns as far back as April 2000, when Emma Sanderson (née Richards) and Miranda Merron competed in the Transat AG2R. While the current focus for GAC Pindar is inshore racing, with teams competing on both the Extreme Sailing Series and the World Match Racing Tour, the new partnership with Bouttell provides an opportunity to experience an offshore sailing campaign once again.
23-year-old Bouttell will embark on the Solo Basse Normandie tomorrow (Friday), racing alongside his fellow British Solitaire du Figaro competitors. For the eight British skippers; Bouttell, Sam Goodchild, Henry Bomby, Nick Cherry, Ed Hill and Artemis Offshore Academy Rookies Sam Matson, Alan Roberts and Rich Mason, the 300nm race from Granville to Deauville comes as one final practice opportunity ahead of the 2014 mile Solitaire: "I am thrilled to have the support of GAC Pindar as I prepare to compete in the Solitaire du Figaro for a second consecutive year," said Bouttell. "In 2014, I will be working hard to improve on my 2013 overall result and finish in the top half of the fleet."
GAC Pindar Principal, Andrew Pindar OBE adds: "We are delighted to support Jack as he prepares to embark on the 2014 Solitaire du Figaro. GAC Pindar is committed to developing the next generation of high level sailing talent, we are already working closely with Team Australia, The Challenger for the 35th America's Cup, on the Extreme Sailing Series, and Jack is another excellent example of a rising star. We look forward to working once again on a Figaro sailing campaign, which may well lead to a greater involvement within the exciting world of offshore racing in the future."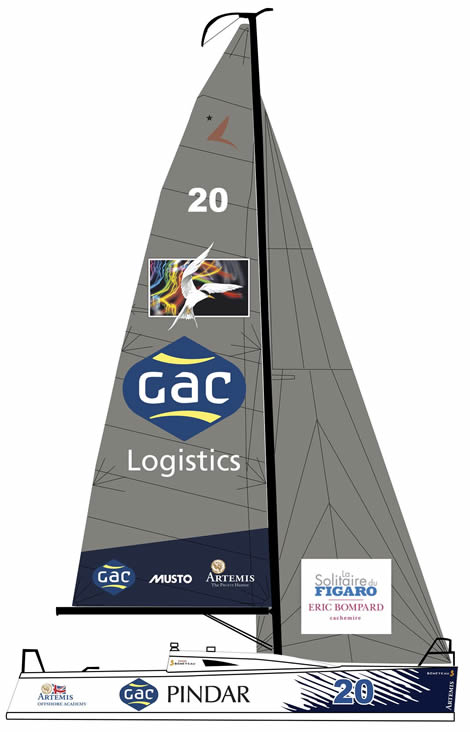 Back to top
Back to top