The latest Sodebo maxi-tri
The 2010 Route du Rhum marked the start of a new era for the G-Class maxi-multihull with the launch of the 'Ultime' class for boats such as Franck Cammas' Groupama 3 and the 100-105ft maxi tris Sodebo and IDEC of Thomas Coville and Francis Joyon respectively.
Starting on 2 November, this year's 10th Route du Rhum-Destination Guadeloupe looks to be no less impressive in its biggest class. Among the line-up will be the latest Sodebo maxi-trimaran, known as Sodebo Ultim, which for skipper Thomas Coville will be his steed for his fifth participation in the singlehanded transatlantic race from St Malo to Pointe a Pitre, Guadeloupe and his fourth in the colours of Sodebo.
The new Sodebo Ultim is 31m long and has been built by modifying Olivier de Kersauson's fully crewed record breaker Geronimo. After a year in construction, the new maxi-trimaran is due for launch at the end of April.
"We ruled out building a new boat because it would take too long and be too costly," explains Coville. "The starting point was the width of the platform because that is what determines the power. The wider you go, the more stable it is and better able to stand up to a larger sail area. We looked at all the possibilities and with its 21.20m beam (nearly 5m than the current Sodebo maxi-tri), we set out to transform Olivier de Kersauson's boat.''
Geronimo was the first maxi-trimaran built to take on crewed record attempt and ended up claiming the Jules Verne Trophy in 2004. "Ten years later, thanks to the trust placed in me by Sodebo and the work of my team, this legendary yacht is reborn, transformed for solo sailing. This story is all the better because in my youth Olivier allowed me to sail with him and he believed in me. It is now my turn to believe in his boat."
Massive undertaking
"From our earliest research, we knew there was a lot of weight to be saved from the central hull," continues Coville. "There were two tables, two galleys, and 12 berths in Geronimo as she was! So at Multiplast in Vannes a new 31m central hull, designed by VPLP, who designed the boat originally. We kept the boom, although that has been modified. A new 35m mast is being completed by Lorima. We've strengthened the cross beams and added foils in her floats. We have also replaced nine meters of her floats to improve their hydrodynamics and added rudders to them that were not there before. This gigantic puzzle required us also to come up with a boat that is as light as possible, but with a reliable structure."
Despite the technical advances and the brilliant victory of Franck Cammas in the 2010 Route du Rhum, it is important not to trivialise what it takes to sail a multihull of this colossal scale singlehanded, not least the sheer size and weight of the sails in manoeuvres.
"It's been seven years since we defined the proportions of our previous boat, when we started from the maximum size of the largest gennaker that I could furl alone," recalls Coville." Today, we are starting with a larger boat and must design a set of sails that bigger - although the size of the skipper hasn't changed! Sodebo Ultim's main with one reef, is the same size as the present Sodebo's full main. But my experience helps me and I have lots of techniques I can use. Certainly I want to be able to manoeuvre Sodebo Ultim and she was designed to be sailed efficiently in all wind speeds, even upwind. Having a versatile boat can be an asset in the Route du Rhum and much more on a future race around the world."
Sodebo Ultim vital statistics

Length: 31m
Beam: 21.20 m
Mast height: 35m
Air draft: 37m
Mast chord: 1.20 m
Mainsail area: 283m2
Max sail area upwind: 444m2
Max sail areadownwind: 663m2
1 pedestal and six winches
400m2 of net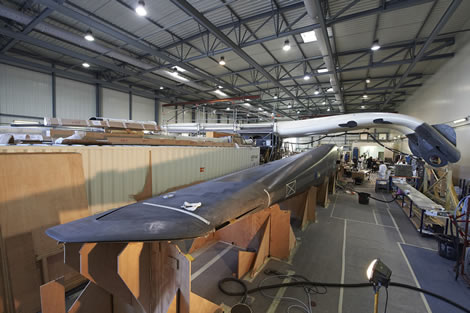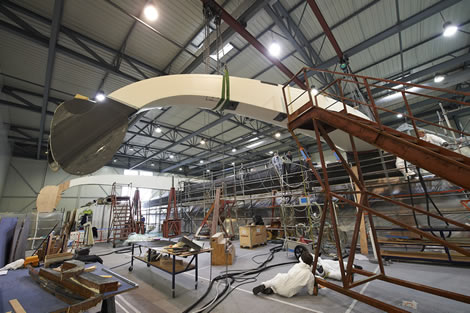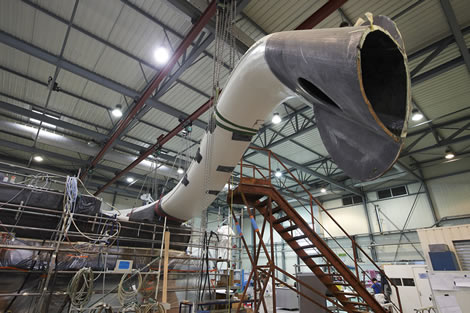 Back to top
Back to top