Gitana's latest hardware
In January, Baron Benjamin de Rothschild's Gitana Team announced its programme for the next five years.
This included Sébastien Josse's first participation in this November's Route du Rhum in which he will sail the MOD 70 Edmond de Rothschild. To achieve this, the 70ft trimaran is currently undergoing a refit in Lorient, where the emphasis of the work is on adapting her so she can be sailed singlehanded.
Most significantly though was the announcement of the return of Gitana to the IMOCA monohull circuit and its pinnacle event, the Vendée Globe, which next sets sail from Les Sables d'Olonne in November 2016.
After exploring its options, the team has now made some decisions. To modify a current generation boat or to design and build a new one - this was the first question Sébastien Josse and the Gitana Team needed to answer.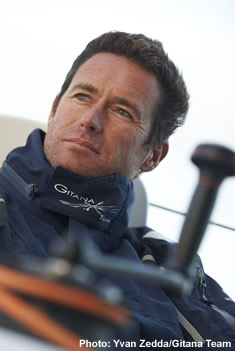 "Since the finish of the last Vendée Globe, a new class rule has been introduced," explains Josse. "To put it simply, it calls for a one-design mast and keel on all new boats. These rules put rather a new light on things and needed to be interpreted to determine if the gain in performance of a new boat was certain. After much study and deliberation we've come to a decision and we're opting to build a new boat!"

And it's not hard to see why Josse is happy... Not only does he have his sailing program laid out before him for the next few years, including competition in some of the world's top offshore races, he'll also have a state-of-the-art yacht in which to take part.
"To my mind, it's clearly more interesting to start out from a blank page," continues Josse. "There are no compromises to be made compared to modifying a boat that already exists. We're starting from scratch from the design choices to the materials required. We're relying on all the latest technologies that have been developed. It's a very exciting challenge and I feel incredibly lucky."

The new Edmond de Rothschild is the third new generation IMOCA 60 monohull that it has been announced will be built for the next Vendée Globe. Like the new Safran and Banque Populaire 60s, the new boat will be designed by VPLP-Verdier.
"The decision to go with this pair of naval architects was a natural and logical step for us," Josse says. "They have been working on all the evolutions in the IMOCA class over the last eight years and they've demonstrated that they can design very high performance boats. Because of their work on Safran and Banque Populaire, they are ahead of the game on interpreting the new class rule, which will enable some time saving in the evaluation process."

In addition to VPLP-Verdier, Gitana Team has also put together it own in-house design team comprising Antoine Koch and Sébastien Sainson, who will work in close collaboration with VPLP-Verdier. "Antoine Koch is a big asset," says Josse. "Trained as a naval architect with a degree from Southampton University, like Sébastien Sainson, Antoine is also a seasoned sailor (singlehanded and doublehanded transatlantic races both on monohulls and multihulls, Figaros, etc). Thanks to this double talent, he can just as easily translate the sailor's views into digital information for the project's engineers, as interpretating the work carried out by the naval architects. Antoine will be central to this project."

Design work for this new project will begin in mid-April while the build itself will commence in June and will take around a year with a view to launching the new IMOCA 60 during the summer of 2015.

Guillaume Verdier, commented: "I'm delighted to be working with Sébastien Josse again as I worked on the development of the monohull he sailed in his first Vendée Globe. The designer from VPLP and I have already created six IMOCA 60s together, with some great successes as a reward, and we're currently working on two new boats. Gitana will be the third monohull of this latest generation.
"What enables us to differentiate one project from another is the racer's experience in his design choices. The boats we design are prototypes specially tailored to the skipper. Naturally we base our decisions on scientific studies and trials. This 'scientific' element gives us the major factors to aim towards, but the 'human' element is vital to the process too."

Vincent Lauriot-Prévost added: "The Gitana Team's project is something that thrills our team for three reasons: working with the team, which is committed to the 2016 Vendée Globe and has great ambition, thus helping to perpetuate the supremacy of the VPLP Verdier designs in this race, as well as benefiting from the experience of Multiplast for the construction and optimising the architect-yard relationship thanks to our close proximity."
Bids for the construction of the new IMOCA 60 was put out to tender and the contract has been won by the Vannes-based yard, Multiplast.
The Gitana team's General Manager, Cyril Dardashti, comments on this choice: "This project for the Vendée Globe 2016 marks the second construction of an IMOCA monohull for Gitana Team. In 2006, we decided to build Gitana Eighty in New Zealand, but for this latest boat we favoured buliding closer to home. In Brittany, we're lucky to have some top yards at our disposal equipped with some of the industrial equipment. So the build is being entrusted to Multiplast. The expertise of their team doesn't need an introduction – the company's track record testifies to this. Timing was also important in our decision as our build schedule is pretty tight, but Multiplast was able to commit to meeting our deadlines. Gitana Team is very happy about this latest collaboration."

Yann Penfornis, Director of Multiplast added: "The entire Multiplast team is naturally very happy with this latest order, which represents over 25,000 man-hours of labour. We thank the Gitana Team for placing their trust in us. It's extremely motivating to be targeting victory in the Vendée Globe. As is the case for every one of our boats, the technicians from Multiplast will be pulling out all the stops to provide Sébastien Josse with a machine equal to his ambitions…"


Back to top
Back to top