Record entry for RORC Caribbean 600
With 65 entries, the sixth RORC Caribbean 600 has a record entry with 32 different makes of yacht, from 11 countries. The race is due to set sail on Monday, 24 February, the 600nm course circumnavigating starting from Fort Charlotte, English Harbour, Antigua and rounding 11 Caribbean islands as far north as St Martin and south to Guadeloupe taking in Barbuda, Nevis, St Kitts, Saba and St Barts en route.
George David's maxi Rambler 90 is the main line honours contender and will be packed with an all-star cast including Peter Isler, Jerry and Rome Kirby, Brad Jackson and Jan Dekker - and this is just mentioning the winners of the America's Cup and Volvo Ocean Race.
Bertrand De Broc's IMOCA 60 Votre Nom Autour du Monde is also in the race for line honours, but lacks waterline length. De Broc, who during the 1992 Vendee Globe famously had to sew up his own tongue, last year finished ninth in the Vendée Globe and came home sixth in the Transat Jacques Vabre, aboard his Finot-Conq design (that finished the 2008-9 Vendee Globe second as Armel le Cleac'h's BritAir).
IRC Zero sees a record-sized entry. While Rambler is the scratch boat, two racing Mini Maxis are favourite for the handicap prize. Hap Fauth's JV72 Bella Mente returns with a rock star crew including Mike Sanderson, John Cutler and Terry Hutchinson in the afterguard. In 2013, Bella Mente was becalmed in the wind shadow of Guadeloupe and rumour has it that the team have been gathering data this year, to try to avoid falling into this same trap again. George Sakellaris' RP72 Shockwave will compete for the first time in the RORC Caribbean 600, her crew including Richard Bouzaid, Mark Mendleblatt and Robbie Doyle.

Of the many high performance cruisers racing in IRC Zero, the top contenders are Fabrizio Oddone's Southern Wind 100 Cape Arrow and Anders Nordquist's Swan 90 Nefertiti, while the RORC's John Burnie, who has competed in every race and still holds the multihull record will skipper 94ft Frers maxi Bristolian. RORC Admiral Andrew McIrvine will be among her crew, taking part in his fifth race.

Other noteworthy yachts in IRC Zero include Johnny Vincent's TP52 Pace, which has been specially shipped out for the race. On board Volvo Ocean Race winning navigator Jules Salter joins Kelvin Harrap and Jeremy Robinson in the afterguard. Maximillian Klink's Botin IRC 65 Caro, took line honours in the ARC and includes seven Volvo Ocean Race veterans on board - Stu Bannatyne, Ryan Godfrey, Mark Bartlett, Jono Swain, Tom Addis, Justin Ferris and Michael Muller. James Grundy's brand new Carkeek 47 Grundoom, is also entered and will have yacht designer Shaun Karkeek on board along with Dee Smith and Steve Benjamin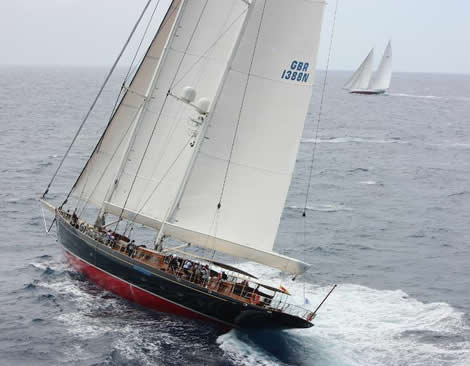 .

The giant schooners Athos and Adela will continue their gentlemen's duel in the Spirit of Tradition class. The Dykstra-designed Adela is the smaller of the two magnificent yachts at 182ft and over 200 tons. The sails and systems on board Adela are advanced, but manoeuvres such as handling her giant red 1000+sqm masthead spinnaker can require of up to 30 crew. Athos is the largest yacht competing this year's RORC Caribbean 600. The 203ft Hoek design weighs 370 tons, her rig is over 200ft high and she can hoist over 3000 sqm of sail downwind.

In IRC One, Piet Vroon's well travelled Ker 46 Tonnerre de Breskens returns for another RORC Caribbean 600. Last year the Dutch flyer was leading the race on time correction before the wind trap at Guadeloupe dashed her hopes. Colin Buffin's Uxorious IV returns for the third attempt, the British Swan 62 having been class runner-up in the last two races. Former IRC Three winner, Jonty Layfield returns with a new Azuree 46 Sleeper, which will include highly experienced crew including one of Antigua's best young Laser sailors, Sean Malone.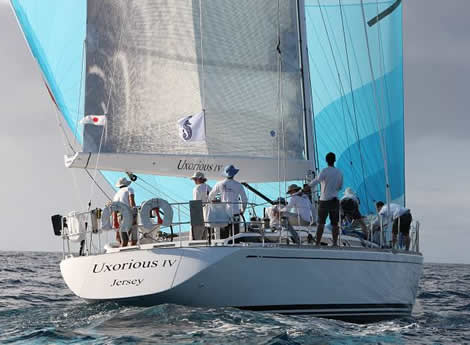 Race boat charter has become very popular in RORC racing in general and IRC Two is almost entirely composed of charter yachts that offer single berths, or the entire yacht, to paying clients.
Former RORC Commodore Peter Rutter's Grand Soleil 43 Trustmarque Quokka 8 can be counted as one of the favourites. Quokka has been chartered to Bernie Evan Wong to compete in his sixth race. A highly accomplished crew includes Phillippe Falle, Dana Nicholson and RORC Vice Commodore Michael Boyd. Peter Sowery will skipper First 40 Lancelot II. Sowery is a passionate amateur sailor, but Hugo Boss skipper Alex Thomson, who finished third in the last Vendée Globe, will bring a professional approach that must make Lancelot II a top contender for class honours. The First 40 Southern Child has been chartered by the Royal Armoured Corps Yacht Club, the British Army team is led by Paul Macro.

In IRC Three, Yuri Fadeev's Reflex 38 Intuition is the scratch boat. Fadeev has raced more RORC miles than most. Last year Intuition competed in seven RORC races, including the Rolex Fastnet Race and the Rolex Middle Sea Race, finishing sixth in class for the RORC IRC Season's Points Championship. Girls 4 Sail is racing the First 40.7 Hot Stuff, skippered by Nicola Henderson. The all-girl crew is a familiar feature of the Caribbean regatta circuit, but is making its debut in the RORC Caribbean 600. RORC Committee Member Adrian Lower returns to the RORC Caribbean 600 with the Swan 44 Selene. Lower is a highly experienced sailor having competed in numerous Fastnets and the 2010 Sevenstar Round Britain & Ireland Race. This will be Selene's second RORC Caribbean 600.

Aside from the giant schooners, two other classic yachts will enjoy their own private duel. The legendary 52ft ketch Dorade, built in 1929 to a design by Olin Stephens, won the 1931 Transatlantic Race and the Fastnet. Now lovingly restored to all her glory Dorade won the 2013 Transpac overall. She will be up against Carlo Falcone's Alfred Mylne-designed Mariella, built in 1938. Mariella has won the St Barth's Bucket and Antigua Classic Regatta. Both these yachts will be sailing their first RORC Caribbean 600.

Four Class40 are entered in the race, although Willy Baissante's Tradition Guadeloupe has elected to sail under IRC Two Handed. Gonzalo Botin's Tales II, designed by his brother Marcellino will start as favourite for the Class40 division, having most recently finished second in the Transat Jacques Vabre.

Last year's Class40 winner and course record holder, Peter Harding's 40 Degrees, is also hoping to join the party. The crew are sailing the boat up from Brazil with an ETA just before the start. Several more entries are also expected from Guadeloupe.

Sadly Ross Appleby's Scarlet Logic was dismasted recently in Antigua. All of the crew escaped serious injury and Appleby and co-skipper Tim Thubron are trying everything possible to get their boat back in the race.
Back to top
Back to top