Sodebo crosses the Equator
Friday January 24th 2014, Author:
James Boyd
, Location: none selected
In their quest to better Francis Joyon's singlehanded non-stop around the world record, Thomas Coville and his 102ft Irens-Cabaret designed trimaran Sodebo has ticked off the first stage have crossed the Equator earlier this morning.
The red maxi-tri passed into the southern hemisphere at 03:01:50 UTC this morning, fulfilling the routing before he left which indicated a passage from the start off Ushant would take less than seven days. Sodebo took 6 days 20 hours 19 minutes and 6 seconds have sailed 3,538 miles since setting off, at an average speed of 21.5 knots.
This is a faster time than Coville has managed the last three times he has made attempts on this elusive record, but remains 3 hours and 16 minutes behind the blistering pace record holder Francis Joyon set aboard Sodebo's sistership IDEC 2 in 2007 of 6 days 16 hours and 58 minutes.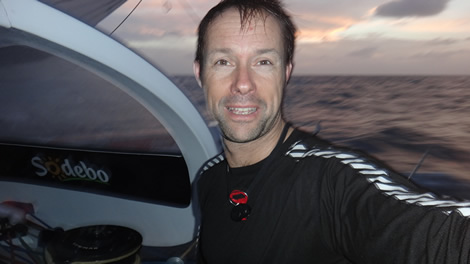 However Coville remains in the fight, thanks also to his shore-based routing team of routers, Jean-Luc Nélias, Thierry Douillard and Thierry Briend, despite a less than optimum start in upwind conditions, that caused Coville to get next to no sleep over the first three days. Once into the trade, Sodebo was rewarded with three days of great sailing in the northeasterly trades. Since yesterday afternoon, the speedo has dropped entering the Doldrums, but Sodebo hasn't stopped either.
Sodebo remains on a track some 180 miles west of Joyon's equivalent route on board IDEC 2. During his Doldrums crossing he slowed around lunchtime yesterday, again at midnight and around 0300 this morning, but since then Sodebo's average speed is up to 9-10 knots average. However the wind, normally southeast when exiting the Doldrums is at present almost due south and as a result Coville has been forced to sail on a more southwesterly course than he would like, as he waits for the wind to slowly back and hopefully build.
From here to the Cape of Good Hope is likely to be the most depressing for Coville, as Joyon was able to 'cut the corner' and as the chart below shows was able to take a southeasterly course from the latitude of Rio down to the Southern Ocean, cutting many miles off his route. At present it doesn't look like Coville will be anything like as lucky with the weather for this stage... (Click on images to enlarge them...)
Image above courtesy of Expedition and PredictWind.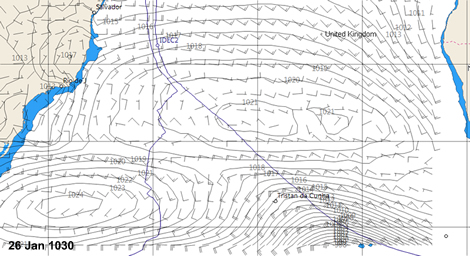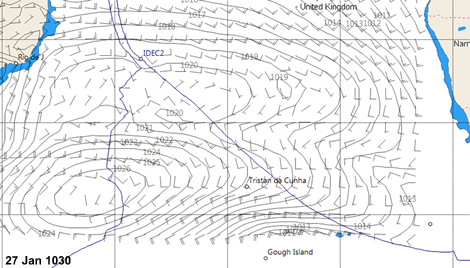 Back to top
Back to top