Coville due to set sail tonight
Having seemed to set to stand down from his attempt on Francis Joyon's solo non-stop round the world record, Thomas Coville and his maxi-trimaran Sodebo were preparing to leave Brest's Port Port du Château from 2000 local time. But with 30 knots in the marina, this was likely to prove easier said than done...
Coville will then head for the start line off the Créac'h lighthouse on the Atlantic side of Ushant, and was expecting to set sail properly at around midnight. Conditions for the start are forecast to be difficult with a southwesterly wind of 25 to 30 knots accompanied by squalls and a heavy swell. Theses winds are on the east side of a depression that is due to move across Sodebo's path as she crosses the Bay of Biscay, so Coville will take a hitch out to the west in order to get into the favourable NNWerly breeze on the western side of the low.
"They are not really dream conditions," Coville admitted. "Upwind at night in a complicated sea is not ideal singlehanded on a 30m long boat, but we must go with the wind to avoid getting stuck in Brest tomorrow morning when the forecast shows there being less than 7 knots.
"The situation is different for Lionel (Lemonchois, skipper of Prince de Bretagne who setting out tomorrow on record between Port-Louis, France and Port Louis, Mauritius). Starting from Lorient (80 miles to the south), he will leave after the depression and will have 15-20 knots tomorrow afternoon. That window is tempting. I have 12 and 14 hours upwind in strong winds before crossing the front and the wind fills in from the WNW. Then it will be a fast descent down to Portugal, and then it will be on into the Trade winds, past the Azores and on to the Cape Verdes."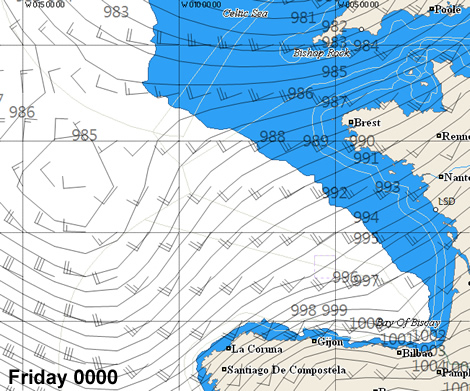 Back to top
Back to top