Strong line-up for RORC Caribbean 600
An international fleet of over 40 yachts is due on the start line of the RORC Caribbean 600 on Monday 24 February.

A battle of the giant schooners is set to take place again between the 203ft long schooner Athos and the 182ft Adela.
"The crew just love blue water racing," said Athos' skipper, Tony Brookes. "Our first goal will be to safely finish the race and then we hope to do better than last year. Sadly Athos bowman, 'Cappa' Antony Hussey will not be with us following a fatal road accident last September and we will be dedicating this race to him."
Up against Athos in the Spirit of Tradition class, is the smaller Adela, which last won this match race by a large margin last year and even claimed third overall under IRC.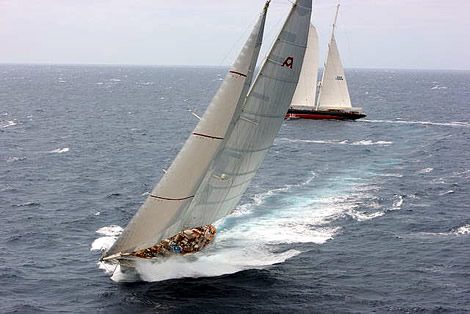 Among the pure racing maxis is George David's American RP90 Rambler returns leading the field in IRC Zero (as their new 88 footer remains in construction). In 2012 Rambler had a commanding lead on the water until the 218ft composite ketch, Hetairos, gunned her down as they approached the bottom of the course. While on paper, Andrew Budgen's VO70 Monster Project could take line honours and Adela and Athos may pose a threat in certain conditions, Rambler is once again the favourite for line honours.
"George David is a member of the RORC and has always supported this race," commented Rambler Project Manager, Mick Harvey. "It's bitterly cold in Newport, Rhode Island at the moment and the crew and George are really looking forward to getting down to Antigua for a well organised, fun and exciting race. Rambler will be returning with much of the same crew from 2012, plus Brad Jackson who will be strengthening the team."
The American Judel Vrolijk 72 Bella Mente's returns with 'unfinished business' in the RORC Caribbean 600. Hap Fauth's Mini Maxi won IRC Zero last year, but getting caught in the wind shadow of Guadeloupe cost the US team overall victory. However she will face stiff competition from another American Mini Maxi, George Sakellaris' Reichel Pugh 72 Shockwave, the team taking part in its first offshore race.
Johnny Vincent's Pace won Class Zero in the 2013 Rolex Fastnet Race and the British TP52 will make its debut in the RORC Caribbean 600. On board will be a highly talented crew including Volvo Ocean Race winning navigator Jules Salter and Jeremy Robinson calling tactics.

Vincent commented: "Most of the crew have done the race before but this will be my first time. Pace is in the Caribbean just to do this race because so many people have told me that it is a 'must do' event and it will definitely be warmer than the Fastnet!"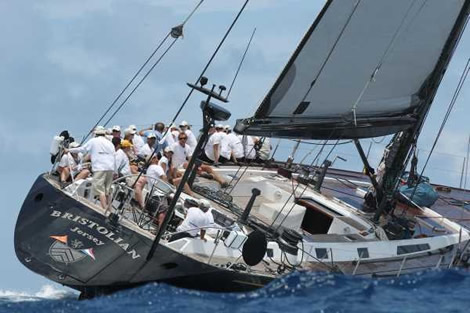 Following her win at the Newport Bucket in Rhode Island, the 98ft Bristolian is now in Antigua for another season in the Caribbean. Caribbean 600 co-founder John Burnie will be part of the crew, joined by Claude Thelier from Guadeloupe. Together they hold the Caribbean 600 outright record of 40 hours 11 minutes and 5 seconds, set in 2009 aboard the ORMA 60 Region Guadeloupe. Also part of her 22-strong crew will be RORC Admiral Andrew McIrvine.
Piet Vroon's Dutch Ker 46 Tonnerre de Breskens won her class in 2011 and could be the boat to beat in IRC One this year. However Colin Buffin's Swan 62 Uxorious IV has twice been class runner up in the RORC Caribbean 600 and will be aiming to go one better this year.

"At this time of the year, there is no better place to race than the Caribbean," said Vroon. "I always have preferred to race around 11 beautiful islands than around racing marks. The scenery is wonderful but it is also a unique offshore course. The route is very varied and no part of it is straight forward, with plenty of local weather effects which must also be considered during the race."

IRC Two looks set to be very competitive. Andy Middleton's First 47.7 EH01 is the scratch boat, competing in her fifth consecutive RORC Caribbean 600. The early entries are very evenly matched for speed: the J/120 El Ocaso is a proven winner in the Caribbean inshore regattas and is making her debut for the race, while the First 40 Southern Child and team mate Swan 51 Northern Child are regular competitors. Southern Child is being chartered by the Royal Armoured Corps Yacht Club, skippered by Lt Col Paul Macro. Past RORC Commodore Peter Rutter's Grand Soleil 43 Trustmarque Quokka has been chartered to local Antiguan, Bernie Evan-Wong, who has participated in every edition of the race and was the first to enter this year.
In IRC Three, Ross Applebey's Oyster 48 Scarlet Logic returns having won IRC Three on the last two occasions, and hoping to make it a hat-trick in 2014. Co-skippered by Tim Thubron, she will be sailed by an experienced crew, nine of which have competed in multiple Rolex Fastnet Races and who are 'paying to play' with Sailing Logic.

Gonzalo Botin's Tales II is the first Class40 yacht to enter and more are expected. Launched last year, Tales II was second home in the Transat Jacques Vabre.
Several yachts are still awaiting classification, including one of the oldest and most famous yachts to enter the RORC Caribbean 600. Dorade was designed in 1929 by Olin Stephens and won overall and line honours in the 1931 Transatlantic Race and the Fastnet Race that year. She went on to win the Fastnet again in 1933. She has been lovingly restored to her full glory by Matt Brooks and his wife Pam Rorke Levy who bought her in 2010. Dorade finished off 2013 by winning the 2013 Transpac overall. She last won the 2,225 mile race from Los Angeles to Honolulu in 1936.
Back to top
Back to top