The Netherlands back in the Volvo Ocean Race
The Netherlands is back in the Volvo Ocean Race this year with the return of Brunel, the Dutch recruitment giant that employs 11,000 people in 107 branches in 41 countries around the world. Also back, after not being involved in the last race, is Dutch round the world legend Bouwe Bekking, who is both running the team and will also be skipper of Team Brunel.
For Bekking, 50, this will be his seventh Whitbread/Volvo Ocean Race, equalling the record of Swede Roger Nilson. It will also be the first Dutch round the world race campaign Bekking has been involved with since his first lap of the globe co-skippering Philips Innovator with Dirk Nauta in the 1985/6 Whitbread. In between he sailed as a watch captain with Brad Butterworth on Dennis Conner's Winston, then followed this with the Merit Cup and Amer Sport campaigns with Grant Dalton and then as skipper of the ill-fated movistar and then Telefonica Blue for Pedro Campos.
"We have been working for a long time on this, over a year," says Bekking of the Team Brunel campaign. "When we started we said we have to have a Dutch team otherwise, it is going to die and sailing in general will lose a lot back home.
"Of course there are a lot of companies in Holland. We have been banging on doors and it takes time to get the right doors open. It always looks positive and in the end maybe only 1% of the time do you get something. It is hard work, sometimes it is frustrating - you do all the work and most of the time you get a 'no'. But that is part of the game - you just have to keep going and ultimately it's been very satisfactory for us of course."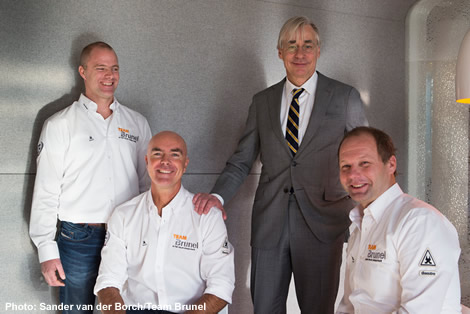 Bekking has been touting his campaign with Gideon Messink, who is handling the financial and sponsorship side of Team Brunel. Messink is a fellow Philips Innovator veteran crewman, who subsequently sailed on Equity & Law and Brunel's first campaign in 1997-8 aboard the Roy Heiner/Hans Bouscholte skippered VO60 Brunel Synergy. He was last involved in the race on the shore side for Delta Lloyd in 2008-9. In recent years, Messink has been better known in the marine industry as Nautor's Benelux agent.
For Brunel, this is the third time the Dutch company has backed a team in the fully crewed round the world race, the last time when they came on as the 11th hour supporter of Grant Wharington's Australian campaign in 2005-6. This time, with the race going one design, thereby placing more emphasis on the crew, it all the more relevant to a company whose core business is personnel.
With Dongfeng Race Team getting hull #1 of the new Farr-designed VO65 and Team SCA getting #2, Team Brunel will be taking delivery of #3 at the end of this month. According to Bekking they took out an option on that boat even before the sponsorship came through. "It was a good thing that Brunel realised that if they didn't say 'yes', then it could have taken quite a while extra [to get a boat]," says Bekking. "So everything came into place and they [Green Marine] started with the painting two weeks before Christmas. Now the yard is closed, so they have to get going again, but it has gone really quickly."
Bekking has yet to sail a VO65, but reckons it won't be a markedly different experience to the VO70. "They have really thought it through. It looks good. You can always argue you would have done it 'like this or that', but you see what you have got and there's no point in moaning and bitching - it is the same for everyone. Just get on with it.
"I have heard that downwind they go pretty well, but upwind and reaching they go a bit slower, which is what you'd expect from a slightly shorter boat. I still think it will be still be horrible when you have to go upwind in a lot of breeze and it will be nice when you go downwind. I think especially with the keel angle now I think it will be easier downwind, it won't be bury as much, but it will still be soaking wet."
Obviously the change to a one design means that there is a wholescale change in a Volvo Ocean Race team's activity in their build-up to the race, when previously they would be up to their necks with the design, engineering, build and then development of the boat and its sails. Now you just pitch up at Green Marine and pick up your boat. Then it becomes all about crew training.
"I think it is really good that James Dadd is involved," says Bekking of the RORC Rating Office's Chief Measurer, who is also Class Project Manager for the VO65, tasked with ensuring the integrity of the one design. "He will have a good grip on the boats being close to the one design concept. We have to start sailing the boat and see if it all stays together, but, from what we have heard from SCA, they have hardly had any problems, which is always nice, because then you can just spend time on the water."
At present there remains some aspects of the boat where it is unclear what the crew or shore crew can and can't do with it, either alongside or during the race. According to Bekking there is a meeting in Alicante this month between the teams and organisers to finalise this. "If you need to start laminating, then the guys have to fly in to do the work. I think for us we're just allowed to hose off and put the boat to bed in the evening ready go for another sail the next day. It all sounds very promising..."
While Bekking will be skipper, former ABN AMRO Two and Delta Lloyd crewman Gert-Jan Portman is the only other member of the sailing team so far announced. Bekking is in the process of recruiting the rest. While Team Brunel is a Dutch team, Brunel is an international company and they are happy for their boat to be sailed by an international crew, albeit with a Dutch ingredient.
The two spots for the under-30s will be decided by a selection process. "You have three or four key people, two under-30s, then all of a sudden with eight crew, there are not that many people left," Bekking continues. "It is really hard to pick the guys in the beginning of course who you think are good and who will be good for the campaign."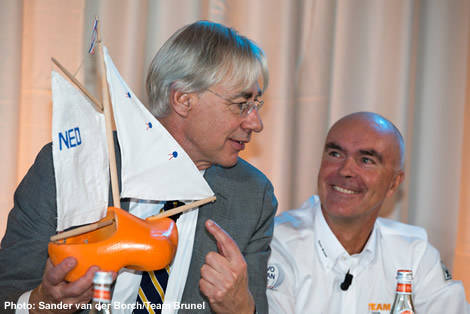 Bekking reckons Team Brunel will have its sailing team finalised by the end of June. He says he has received a deluge of candidates, particularly for the under-30s spots.
So does the boat being one design change the way crew is selected? Not really, says Bekking. "You still have to be strong and fit and a good sailor. I have done the race so many times that I know what to look for. You still need someone who can put a sail back together. Everything is probably overkill, but even if a sail is really, really heavy, then it flogs a bit harder, and can still flog to bits. So you still need all the similar skills as in all the previous races, so across the range - good drivers, good electrician, good hydraulic guys, etc."
Obviously with the boat going one design, the quality of the crew will be at even more of a premium than it has been in the past. This will be the case further still with crew numbers reduced down to just eight (with one extra for in-port races) this time. "Everything will be for the well building of the crew, to make sure they are in top shape, so physios and the doctors, etc," Bekking continues. "You can inflate that as much as you like. Then it basically comes down to salaries. We have our salaries set, so if more money comes in, then it goes into the sailing and it doesn't go to the guys. Everyone gets a good salary and anything more goes to the well being of the crew."
Team budgets for the next Volvo Ocean Race, Bekking reckons, will range from around 8 million Euros up to around 20-25 million for Team SCA, which started a year earlier than everyone else, bought a VO70 to train on and has legions of staff supporting them. In terms of the organisers' desire to squish campaign costs, this of course compares very favourably with the 51 million Euros Groupama spanked on their 2008-9 race winning campaign – a similar figure for Ericsson's two boat campaign in the race before that.
"The boat is still quite expensive, but you can see a big difference with the [less] shore crew and sailing crew and then of course the sails - they are a massive saving," says Bekking. "Plus you don't have design costs - that's one of the things people forget when they buy a boat, you have to pay a design fee on top of that. All in all, you save a lot of money."
Bekking says that Team Brunel has a "good budget", that has come principally from Brunel, but also from sub-sponsor, Moduleo Design Floors, a division of the Belgium International IVC Group. IVC Chairman Filip Balcean owns the heavily campaigned Baltic 112 Nilaya on which Bekking is a regular member of the afterguard.
"We have the budget now to do a really good campaign," says Bekking. "Of course some extra would be good, because you can always hire some more people and some more coaches. The grass can always be greener, but I am not complaining with how it is right now."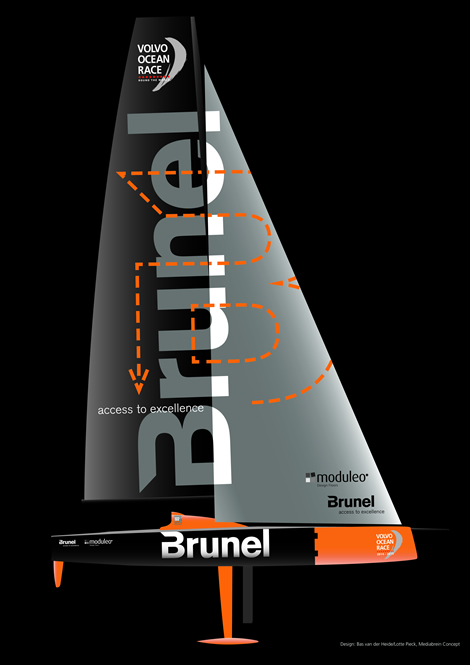 At present Bekking reckons that all seven of the VO65s due to be built will be on the start line in Alicante and there may possibly be one or two teams in addition. "Right now we don't know who they are all going to be. I understand that they are really close to a couple of extra announcements. It will be hard when all of a sudden you have a sponsor and no boats any more...
"I think some of the teams will be a little late, but they'll have good people and good set-ups. It will still be that the boat that is earliest in the water, especially at the beginning, that will have the advantage, working up the VPPs, the angles and the sails and the outriggers, etc. But of course the boats still all go the same and if you have a good group of guys, they'll pick it up really quickly..."
Team Brunel takes delivery of its new boat in late January and after commissioning and handover in Southampton , the team will then deliver the boat to Lanzarote where they will be based out Marina Rubicon, just south of where Team SCA are set up in Puerto Calero. Team Telefonica has just this as its training base in the past. "It is an easy connection from England in case there are some issues with the boat," says Bekking of why they chose Lanzarote. "Of course SCA is close by in case you have any breakage or if you need some spares."
The exact schedule for Team Brunel remains up in the air. The VO65s are sanctioned by the Volvo Ocean Race organisers to compete en masse in the RORC's Sevenstar Round Britain Race, but otherwise are not allowed to sail any races in which there are other VO65s. Bekking says they are not 100% if they will do the Round Britain, but will definitely be taking part in some events in Holland and one imagines this will probably include the North Sea Race. "It is a bit of a shame, because it would be nice to be able to sail a bit more against the other boats. There is talk about maybe doing a transatlantic race this year. Some teams are saying that they'd like to do that and sail it all together, for a bit of advertising."
Back to top
Back to top