The 'Swiss Army Knife' unveiled
When Bob Oatley's Rolex Sydney Hobart Race record holder, the 30m long maxi Wild Oats XI was lifted from the waters of Sydney Harbour today it became very apparent why the yacht is now referred to affectionately as 'The Swiss Army Knife'.
Extending from the hull below the waterline were five appendages of varying shapes and sizes, and protruding out to one side at the waterline was the latest addition – a radical, carbon fibre, wing-like hydrofoil which it is hoped will provide the speed needed to achieve a record-equalling seventh line honours in the 628 nautical mile Hobart classic, which starts on Boxing Day.
The concept is another world-first for 85-year-old Oatley, who more than a decade ago introduced the now universally accepted canting keel to the 100ft maxi class.
The lateral wing is a development of a concept designed by English company, Dynamic Stability Systems which primarily assists a yacht's stability. The system fitted to Wild Oats XI has been created to improve righting moment, while also reducing drag and increasing speed.
It has only been during the past 10 days that Wild Oats XI's skipper, Mark Richards, and his crew, have had the wind conditions needed to fully test the wing – and they are elated by the results.
"This year's Rolex Sydney Hobart Race is going to be one of the most keenly contested in recent times, for both line and handicap honours," Richards said today. "Wild Oats XI has just had her eighth birthday, so we had to do something to give the old girl a new lease of life. I think this wing will do it, especially if we get fast downwind conditions during the race."
Richards explained that the wing will come into effect when the yacht achieves 18 knots boat speed. At that speed the foil – which is fully enclosed within the hull when not in use – will be extended more than two metres out to the leeward side. When fully extended it will provide between eight and 10 tonnes lift.
"The trial results were quite remarkable," Richards said. "There was an impressive increase in speed. We're not getting too carried away, but from what we have seen, if we get the right conditions in the Hobart race the wing might make the difference."
"Last year we had very tricky seas, so we were doing a lot of nose diving. We started off looking at a foil in the bow to lift the bow up, but as it evolved, it moved further and further back. They've been doing something similar in Europe this year, and what we have come up with has worked out really well."
In addition to her permanent rudder and canting keel, Wild Oats XI has three other retractable foils below the waterline – two daggerboards and a short daggerboard at the bow, which is used for upwind sailing in light conditions.
Wild Oats XI will also gain a lot of extra stability from her new mast, which is some 200kg lighter than the old mast. Richards says that the mast issues are now behind them and its New Zealand maker is adamant all the problems have been solved.

There is a penalty, of course. There is never a free lunch in ocean racing and the new stabiliser blows Wild Oats XI's rating through the roof. She will need to finish a long way ahead of Perpetual Loyal to beat her on handicap, or anyone else for that matter.

But with three other super maxis, some blindingly fast V070s and the unknown quantity in Kark Kwok's new Botin 80 Beau Geste, it is all about line honours in the annual 628 mile race for Richards and owner Bob Oatley.

"All the new boats are Volvo oriented," Richards says, super-fast downwind, but at the cost of upwind performance.

"Wild Oats XI is designed for VMG," Richards says, because a typical Rolex Sydney Hobart throws at least one big southerly at the fleet. There hasn't been a proper northeast race since 1999 when the VO60 Nokia broke the race record in perfect running conditions. Although, in 2001, the VO60 Assa Abloy also took line honours in tight reaching conditions.

"Most Hobarts it is 50/50; northerlies and southerlies. We have the two most prominent conditions covered. It's all going to come down to the conditions we get. and avoiding crew errors," where a lost hour can cost 20 or 30 nautical miles, or, at worst, bring these highly strung beasts to a crashing halt mid ocean."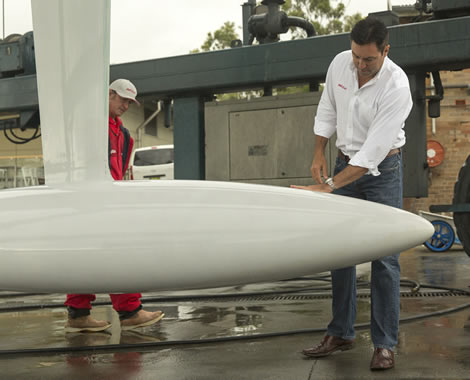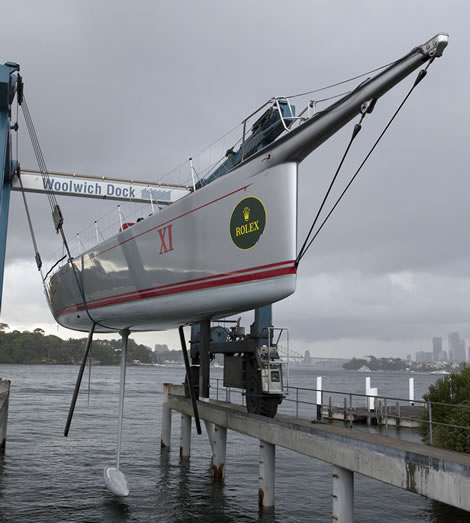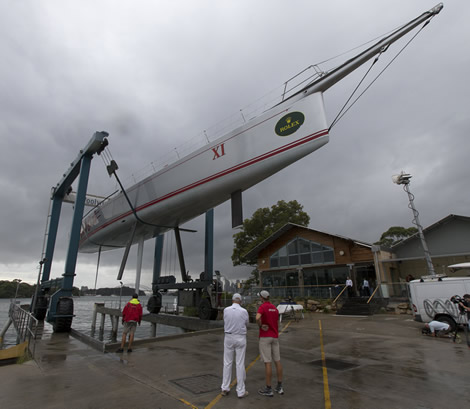 Back to top
Back to top