Maserati heads for Cape2Rio
The 2014 racing programme of Giovanni Soldini and his modified VOR70 Maserati was presented today at the Yacht Club de Monaco, welcomed by the club's long term General Secretary, Bernard d'Alessandri.
The Maserati team, skippered by Giovanni Soldini, is prepped and ready to set off on the yacht's latest ocean challenge. Having set a new record on the notoriously difficult Gold Route between New York and San Francisco in 2013 (47 days and 42 minutes), the Italian yachtsman and his crew will tackle two high-profile ocean challenges aboard the VOR70 Maserati in 2014.
The first, the 14th edition of the Cape2Rio, gets underway on 4 January 2014. This 3,300 mile dash from Table Bay, Cape Town to Rio de Janeiro is the longest race between the two continents in the southern hemisphere.
Launched in 1971 to encourage South Africa sailors to attempt ocean passages, and organised by the Royal Cape Yacht Club, the Cape2Rio immediately attracted huge international interest because it retraces the historic routes of legendary Portuguese navigators such as Pedro Cabral who discovered Brazil 500 years ago when attempting to sail to the Indies.
Over the decades, sailors of the calibre of Eric Tabarly and Robin Knox-Johnston have competed in the Cape2Rio.
Soldini will be joined aboard Maserati by a tried-and-tested international crew of nine: Italians Guido Broggi, Corrado Rossignoli and Michele Sighel, Boris Herrmann from Germany, Carlos Hernandez from Spain, Gwen Riou and the legend that is Jacques Vincent from France, Martin Kirketerp Ibsen from Denmark and, on his first outing with the yacht, Pierre Casiraghi from Monaco who will be wearing the colours of the Yacht Club de Monaco.
"I have been dreaming to participate to this historic race since I was a child," Giovanni Soldini said. "The crew is ready and very competitive. We also have two new entries: Frenchman Jacques Vincent and Dane Martin Kirketerp Ibsen."
"It is a great honour to take part in this race that represents an amazing challenge," Pierre Casiraghi said. "I've never raced with such an experienced team, I feel ready for the Cape2Rio race".
From May 2014, Giovanni Soldini and the Maserati crew will be on stand-by in New York awaiting a weather window to make a second attempt on the ambitious North Atlantic Speed Sailing Record from New York to the Lizard.
The outright fully crewed monohull record is currently held by Robert Miller's Mari Cha IV, a 140ft maxi schooner (ie double the size of Maserati) which completed the 2,925-mile passage in 6 days, 17 hours, 52 minutes and 39 seconds, at an average speed of 18.5 knots.
Soldini and the Maserati crew's previous attempt on the record was in 2012.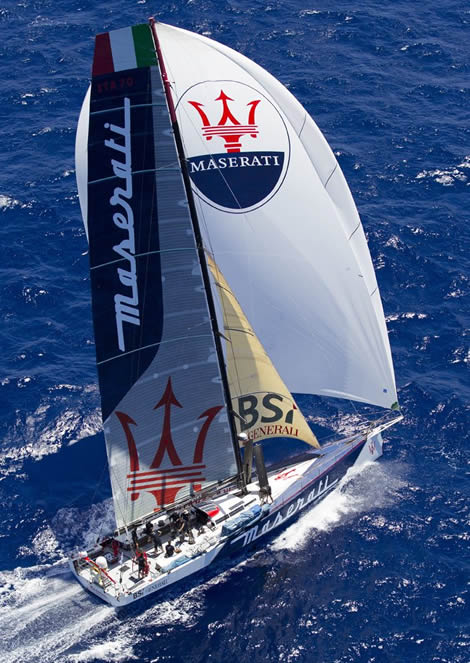 Back to top
Back to top