From Caterham F1 to Class40
Tuesday December 3rd 2013, Author:
James Boyd
, Location: none selected
Parallels between the grand prix end of yacht racing and Formula 1 have often been made. There was a lot of talk recently, for example, of Ben Ainslie attempting to coax Adrian Newey, Chief Technical Officer of the Red Bull Racing Formula One, to be part of the next British America's Cup effort. However Newey's opposite number (until recently) at the Caterham F1 team, Mike Gascoyne, has already made the leap, albeit into a different avenue within our sport. Yesterday Gascoyne finished his first ever shorthanded ocean race aboard his Class40 Caterham Challenge, competing in the Transat Jacques Vabre doublehanded race to Itajai, Brazil with experienced British round the world sailor, Brian Thompson. Read more about their exploits here.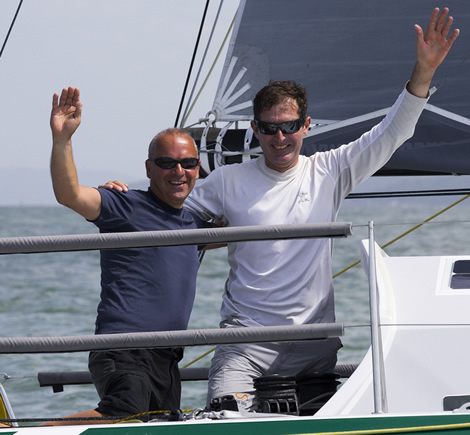 While shorthanded offshore racing is a new departure for him, Gascoyne has sailed all his life. Heralding from Norwich, where his father, a wood and metal work teacher, ran Norfolk Schools Sailing Association, his first sailing experience was on the Broads aboard a Wayfarer. Gascoyne says he has since repeated this experience with his own kids.
Gascoyne sailed up until the time he went off to university when he got lured off into paragliding and some ambitious mountaineering expeditions in the Alps and Himalayas. He embarked on his Formula 1 career more or less fresh out of university in 1989, initially as an aerodynamicist for McLaren, but his meteoric rise in motorsport came at Tyrrell and Sauber, working under the wing of the great F1 designer Harvey Postlethwaite. He was soon off on the F1 rollercoaster, perpetually on the road preparing for, or exiting from, Grand Prix around the world and with little time for anything else.
However over the last 15 years Gascoyne has returned to sailing and has owned cruising boats. Today he still keeps a Jeanneau 57 berthed in Barcelona. "I have had that for the last few years, because we do a lot of testing in Barcelona and there is the Barcelona race and I'd sail it over to Valencia for the race and over to Monaco. So I got four or five weeks on the boat each year without taking any time off," he says.
Making the leap from cruising boat in the Med to shorthanded transoceanic racing came about following a fortuitous meeting with Alex Thomson, who was on a corporate knees-up at the Monaco Grand Prix aboard his IMOCA 60 for sponsor Hugo Boss, which also backs the McLaren F1 team. This worked well for both parties - Thomson was looking to improve his IMOCA 60 team, with Caterham able to provide expertise honed in F1, while the seeds were being sown for Gascoyne to try his hand at shorthanded offshore racing himself.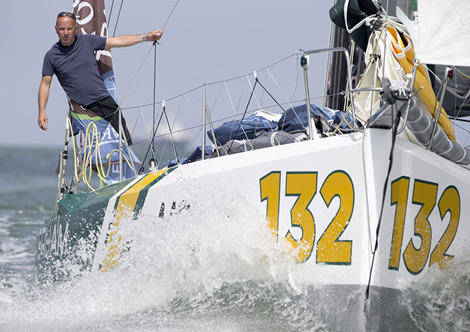 Changes in Gascoyne's professional life have also made this possible. Under its Malaysian ownership, Caterham is today much more than merely an F1 team. Caterham Group now also runs a GP2 team and a car division handling their new performance road car joint venture with Renault (to be Renault's new Alpine and Caterham's new C120 – the same car but with different bodies). There is also the famous Caterham 7, while its 'Specialist Engineering' division comprises Caterham Technology and Innovation which provides specialist engineering services to clients in the automotive, motorsport, marine and aerospace industries and Caterham Composites, which 'delivers turn-key lightweight structural solutions'.
Today Gascoyne is Caterham's Group Chief Technical Officer and is also CEO of Caterham Composites.
"After 20 years of travelling, it had lost its attraction a little bit," Gascoyne admits of his job change. "But I'd been talking about doing some solo sailing. I'd sat on the pit wall for 20 odd years calling strategy and you are 50 and you think 'do I become old and fat? Or do I give it a go?' So I sat down with Silvi my partner and said 'let's go and give it a go'."
Last year Gascoyne acquired an Akilaria RC1 Class40 and as a taster sailed it singlehanded across the Atlantic. This evidently was enough to prompt him to splash out for a latest generation Akilaria RC3.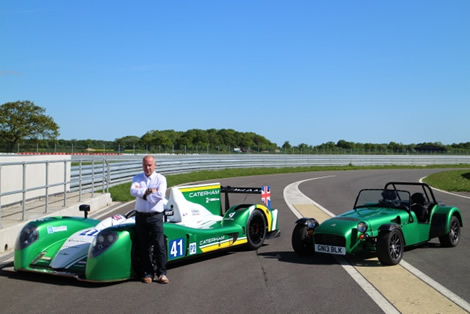 Business with pleasure

With his boat named Caterham Challenge, Gascoyne is also using the opportunity to mix business with pleasure. For example the sailing market is exactly the same demographic as Caterham is targeting with its other products. "There are a load of 40-60 years with £40-50k to spend on something, and they are the type of people who are looking to buy a sports car," he argues. So part of this is a branding exercise to show there is life beyond F1 for Caterham.
Gascoyne continues: "So the marine sector makes quite a lot of sense for us. We grandly call Caterham a 'lifestyle technology company': If it moves and it has got technology in it, it is somewhere we want to be in. You look at an F1 car and you look at carbon fibre boats - there are a lot of similarities and synergies in what we do, so the marine market is a very obvious one for us."
This is not just in technology, but also procedure. He compares the reliability record in Formula 1 20 years ago, when typically only half the cars would finish Grand Prix, to today when car reliability has improved dramatically and in turn the attrition rate reduced. "That is through engineering process, life-ing, rigorous crack testing and non-destructive testing," says Gascoyne. "In F1 every sub-assembly is life-ed - every part, you know what life it has done. A lot of it is simple spreadsheets and recording mileages."
For example, traditionally the attrition rate in the Vendee Globe is 50%, as borne out by the last race when of 20 starters 11 finished (technically 12, but Bernard Stamm was disqualified). What is this could be improved?
"With a boat, you record all the parts that go on it every time its goes out and the conditions it sees. And you have all these limits, so we know that that a padeye up the front has done all its mileage so we need to check it and then put it back on and up the mileage on it. Whereas a lot of people in the sailing world put something on, and, when it breaks, put another one on. You don't know how many miles it did, so you don't know when to change the next one and you just hope that nothing too drastic happens. Things like that aren't that difficult, but we want to bring that philosophy to racing without it taking 20 years."
Gascoyne also observes that improved reliability will also better for sponsorship and, for example, in the IMOCA fleet there would be less likelihood of keels falling on the first night of the Vendee Globe. "It is difficult enough environment to get sponsor's money into the sport and that type of thing just drives it away. Ultimately you should be able to get from a 50 to an 80% finishing record."
He also doesn't advocate one design (for this discussion point also frequently comes up in motor racing). "I don't believe that is the way to go. All it means is that things will then fail at the same time unless you do this process rigorously. Also look at the Vendee Globe boats from 16 years ago or the F1 cars from ten years ago and you think 'how did I design something like that?' You shouldn't stifle that design creativity. Look at how much cruising boats have changed in the last 20 years... You have to make it safe, and if you are always designing new things and they keep breaking, then the sport can't sustain itself. What we are saying is that there is process. You won't get people investing in racing if you can't guarantee to deliver them reliable boats that are going to finish and give the sponsor value for money. F1 now does that very well."
Among the products Caterham is offering is a marine data logger. "It records loads in things and deflections, so knowing that your keel is deflecting 5% more than it did 2000 miles ago, or that a spreader is moving 10% more or that you've exceeded a design load in the shrouds, so that you can go and check it. How many times does the mast come down only in 10 knots of wind? When the rig comes down, you are not going to get any of it back, but if you look at the data, you can see that a week ago it exceeded the design load."
Obviously data logging has been used by top sailing teams for years, but key to it is ensuring that data is recorded only when it needs to be recorded. So if the boat is in light conditions and loads are never going to be exceeded then the system switches off. But once conditions build it comes back on. The resulting data is then autochecked and unless any design loads are exceeded, the data is then just deleted. "Only when we think we've had an event that is important, like 'we exceeded the load in the D2', does it get flagged up so that the skipper or the shore should check it." Gascoyne observes that while this technology is typically the preserve of the grand prix end of the yacht racing market, he hopes that it will filter down all the way to the cruising market, just as it has to GoKarts in motorsport. Looking ahead, fitting such equipment fitted could enable insurance premiums to be lowered.
Aside from data logging, the Caterham gear also shows how boat performance compares with targets derived from the boat's polars and can display warning lights to show, for example, when you have wound on a runner up to a desired load. "All those things have been done in F1 and people have spent a lot of money giving visual information to a guy in a stressful sports situation," says Gascoyne.
But central to Caterham Composites' business is its engineering and expertise in composites and the finite element analysis of them (FEA). "That is our speciality. In the marine sector, more and more boats are being done in carbon fibre. They are expensive, but the better you design the structure, and the less carbon you use, the cheaper you make it and the more it filters down to mainstream and the more common the use of carbon will be."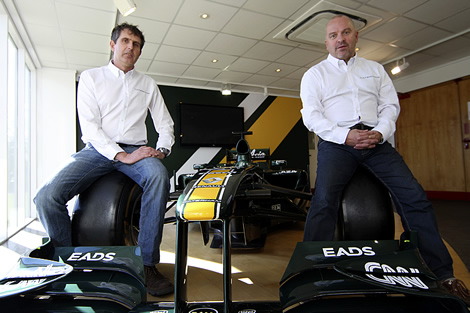 Class management

While increasing numbers of pro sailors are coming into the Class40 having failed to secure IMOCA 60 budgets, the Class40 is still a good place for amateur sailors and its popularity is unquestioned – while 26 boats competed in the Transat Jacques Vabre, more than fifty Class40s are due to compete in next year's Route du Rhum.
However Gascoyne does have reservations. "It amazed me the number of different boats and it shows it is affordable. But one thing it has lost is that 'fast cruiser' element, that it was initially meant to be. The trouble is now, because the competition is so great and design is advancing, you have to have the latest boat and they need to work out how they are going to limit that, because it does mean that you have to spend £500,000 every two years if you want to remain competitive."
Perhaps one of the most interesting lessons that sailing can learn from Formula 1 is how it is managed. For example in both motor racing and yacht racing there are both 'one designs' and 'box rules' and in both sports there are near identical conversations about the need to limit costs. But who ends up making such decisions?
In F1 today it is each team's Chief Technical Officer, probably the equivalent of CEOs, the Grant Simmer type figures, in some AC teams. It is they that oversee bringing sponsors on board, the best drivers, the right vehicles, technical personnel, etc. "One of the sayings in motor racing is 'never let a racing driver run a racing team' – that is the worst thing. It was one area where we were trying to help Alex [Thomson] with – he brought in Stuart Hosford, which was a step forwards in that you get a Technical Manager making value judgements. Sailors are like racing drivers – if you go to a racing driver and say 'this bit is quicker, but we have never done any race distance on it, so we are not going to put it on the car for this race, because we don't know it won't fall off', the racing driver will go 'I just want it', but put it on the car and if it falls off, it is your fault!" Or in sailing you'll get skippers who say 'my boat has got this on and I don't want to change, so I am going to vote for this rule because that is best for me'. But you are never going to get anything run properly if you do it like that. F1 used to be like that, but it has solved those problems."
In F1, there is the Technical Working Group [TWG], which comprises the Chief Technical Officers of each team and is chaired by the safety delegate of the FIA [Federation Internationale de l'Automobile]. The FIA can't change any rules in F1 unless it is on safety grounds. So the TWG has to suggest rule changes and then present them to the Team Principals. Once they have agreed them, the proposals go to the F1 World Council.
"In practice once it comes out of the TWG it is normally a seamless procedure," continues Gascoyne. "What usually happens is that the Chair, the FIA guy, will come in and will say 'we have got a problem xyz and on safety grounds I am going to install a regulation that you have all got to do xyz, unless you'd like to agree in this forum how you'd do it better'. Then you sit down and think 'well, we don't want to do that', and agree on a better idea."
The voting procedure also requires that any changes to be introduced for the following season must be unanimous, whereas changes two years hence require a 70% majority and in four year's time at 50% majority.
"But the point is that that is all Technical Directors. You don't let the skippers or the Team Principals do it," Gascoyne continues. The idea being that the Team Principals (ie the team owners) and the skippers/drivers have too much of a vested interest in each of their sides of the team's affairs.
F1 expertise to the AC

So what would someone like Adrian Newey bring to an America's Cup team? Gascoyne shares his viewpoint: "Adrian is the most unbelievably successful racing car designer and talented aerodynamicist. He could contribute to a design team and if there was going to be a British challenge, having him on board would be a big boost to that project and the project would benefit in terms of sponsors. But it would be rude to assume that a boat designer who has done it for 30 years is a complete idiot and someone could come in from outside and design an AC boat."
In particular, even compared to the best funded AC campaigns, F1 teams still exceed them in terms of the resources at their disposal. Gascoyne says he took the designer of the Akilaria RC3, Marc Lombard, on a tour of the Caterham facility. "He was just sitting there drooling... We showed him our £1 million supercomputer and then the aero department with 40 aerodynamicists and 15 CFD guys..."
Like the most of us, Gascoyne was mesmerised by seeing the AC72s racing this summer. "As I tweeted at the time, 'sailing has exceeded F1 as a technical sport'. To see those things foiling, flying for the first time you looked at them and thought 'I can't quite believe that'. You look at an F1 car, and you say 'well, I drive a car, but I don't understand that – it is too quick, too technical." When you watched the 12 metres, it was great sport if you were into sailing, but people who didn't look at that and say 'that's unbelievable' like they do with F1. But with this AC they did.
"It was the first time the average guy got the 'wow' factor. I told a lot of my guys at Caterham to watch it and a lot came back saying 'we're hooked' and they'd never watched a sailing race before. So I think that was a good measure.
"If they can make it affordable, so that more teams can enter with slightly smaller boats of the same type, they will be as quick in four years time as the AC72s are. But they need to be more affordable and reliable. They need to learn how F1 has done all of that and put some of those processes in place. In F1, if you look at the safety stuff and the Technical Working Group, how it self-regulates itself is very good and sailing could benefit from that."
Caterham production boat
So now Caterham has a new road car on the way, how about a Caterham production boat? This has been mooted, says Gascoyne. They have examined the motor boat market and they are contemplating a similar strategy to that of their new sportscar, ie delivering the likes of a Riva or a Wally tender, but at a fraction of the price. "Something with that style and sportiness that is £150,000 to me fits the Caterham model. You have technology, composites, hi-end quality, but affordable."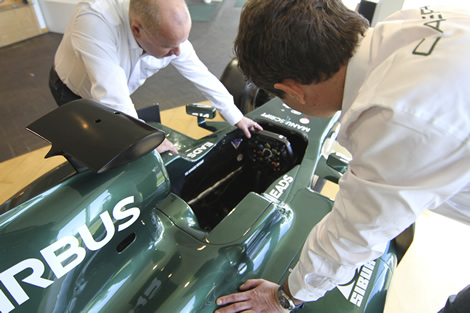 From here
Following the Transat Jacques Vabre, there is a good chance the Caterham Composites Class40 will enter the RORC Caribbean 600 and Gascoyne reckons the boat will end up competing in the Global Ocean Race, but not necessarily with him on board for the whole race, although he says he would like to get the Southern Ocean ticked off the bucket list.
"I am not saying 'I want to sail around the world solo non-stop and I'm going to keep trying until I do'. For me, I love the challenge, I've done the Himalayas, but there will come a time with sailing when I'll say 'I've enjoyed that now'."
He would like to get sponsors involved with his sailing project and his 'little black book' from Caterham F1 will undoubtedly help in this respect. And he may even directly tie the boat into Caterham F1 activities. Sponsors for example who can't afford to get into F1, could sponsor the boat which might be moored nearby at coastal F1 Grand Prix, such as Monaco, providing the opportunity for corporate to still be taken around the pits and watch qualifying, but could then go out sailing in the afternoon. "It is a great way to look after your clients without that F1 'I have to spend £5 million and all I get is two passes, sort of thing'. That is typical of Tony Fernandes [Caterham Group's most high profile owner], thinking around the program and making it accessible for everyone."
And sailing offers what F1 can't in that corporate guests can get the experience first hand, although in the past two seater F1 cars have been built to try and emulate this. "They have done two seaters, but even they are quite expensive. All you end up with is a guy in the back, who's had his eyes shut for five minutes and thrown up in his helmet!"
Already they are talking to some corporate guests about competing in the Caribbean 600 and another who wants to sail their Class40 back across the Atlantic singlehanded (as Gascoyne did in 2012).
And it may be that the Class40 is merely a stepping stone up to something bigger like an IMOCA 60. "I'd love to do some two handed racing with Brian [Thompson]. If I could end up doing the Barcelona World Race with him, that would tick off the limit of my ability I think."
But in the plan is also taking three or four years off to go cruising with his partner Silvi.
Yacht racing as a business also interests Gascoyne. He says he's studied the Clipper Round the World Race model, where novices get to fulfil their dream as part of an organised adventure or the 'Everest' model, where those in middle age are prepared to pay for someone to help them scale the world's highest mountain.
"Look at the all the old IMOCA boats you have got that are eight years old and soon there will be similar Class 40s, like the Akilaria RC1s and Pogos, because it is a competitive class you have to have a new boat. Why isn't there a pro-am class in these races? Why haven't you got 20 boats going off with really good skippers, good quick boats that are quite cheap with company CEO people - as I'm doing? That model makes a lot of sense to me."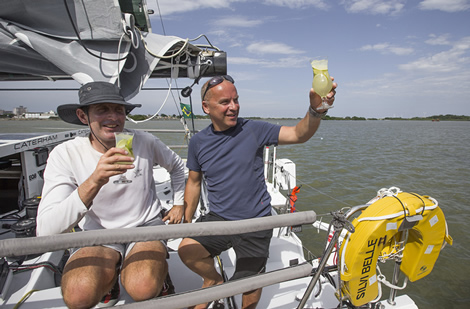 Back to top
Back to top