Difficult times ahead
Wednesday November 27th 2013, Author:
James Boyd
, Location: none selected
The backmarkers in the Mini Transat are being nailed at present as a shallow depression sits over the east Atlantic extending 1000 miles north up from the Cape Verdes. At present the boats east of 30°W are wallowing with boats such as Thomas Guilbaud's Planete Urgence which has made only 1.3 knots since the last sched.
Meanwhile at the front of the fleet, the trade winds continue to blow strongly and this has allowed Giancarlo Pedote on Prysmian to regain the lead from Benoît Marie on Benoitmarie.com. Assuming one of these two boats claims honours in the race - Prysmian has 1045 miles to go and at his present speed should be arriving on Monday afternoon - it will be the first time one boat has won the Mini Transat twice since Seb Magnen sailed his own design, Karen Liquid, to victory in 1997 and 1999. Benoitmarie.com (667) won in 2009 as Thomas Ruyant's Faber France, while 747 claimed victory in 2011 as David Raison's TeamWork Evolution.
The threat from the south in the form of Rémi Fermin's Boreal has eased slightly. He was 60 miles behind the leaders in terms of DTF yesterday, but has extended up to 79 miles at the latest sched. The front five in the Proto fleet have put a considerable distance between themselves and those chasing with now 275 miles back to sixth placed Julien Pulve on MEXT-ICA.
In the Series class Aymeric Belloir on Tout le Monde chante contre le Cancer continues to lead the charge, who remains up with the Proto leaders (he is sixth overall). His margin over second placed Justine Mettraux (TeamWork) remains much the same as it was yesterday at 97 miles. Mettraux's track remains to the north of Belloir's (who is now following the same route as the Proto leaders), while third placed Simon Koster on Go 4 It has dropped south and has dropped 66 miles back from Mettraux in terms of DTF. Fourth placed Jean-Baptiste Lemaire on Oeuvre du marin breton holds the most southerly position of the Series class leaders.
Behind Britain's sole entry in this year's race, Pip Hare on The Potting Shed, has over the last 24 hours gained a place and is up to 19th. Pip is on a gybe that is taking her to the northern side of the race track.
Weatherwise while the depression has sapped the wind from the east Atlantic by tomorrow night another weak depression will be cause similar havoc for all but the front runners as another shallow depression sets up at around 41°W due east of the Caribbean. This will create even more separation between the leaders and those behind. Matters will only get worse over the weekend and into the start of next week with light winds, from no apparent direction, across the breadth of the Atlantic as the latitude of the Mini Transat fleet. The GFS forecasts are indicating that the trade winds won't re-establish until the middle of next week...

Latest sched here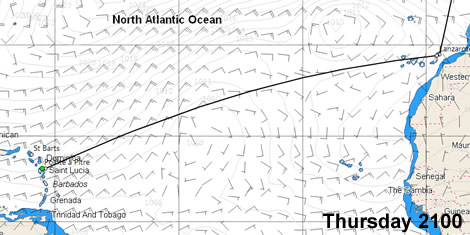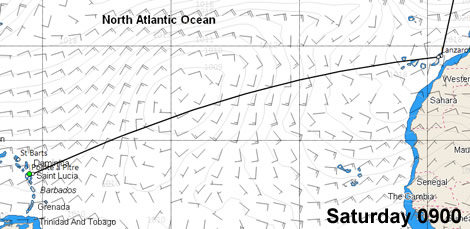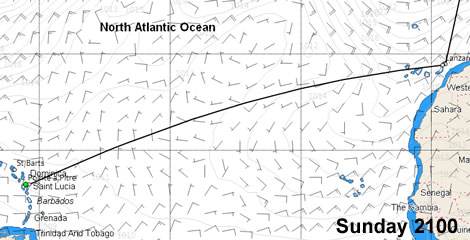 Back to top
Back to top