FenêtréA-Cardinal secures Multi 50 victory
Erwan Le Roux and Yann Elies aboard FenêtréA-Cardinal crossed the Transat Jacques Vabre finish line in Itajaí, Brasil at 03:40:15 local time, (05:40:15 UTC) early this morning winning the Multi50 class.
FenêtréA-Cardinal's elapsed time since leaving Le Havre on Thursday 7 November is 14d 17h 40min 15s. Their average speed on the theoretical course of 5,450 miles is 15.3kts. They actually sailed 5872 miles on the water at an average speed of 16.6kts.
The French duo finished at pace, covering the final miles into the finish line off the city in southern Brazil at around 20 knots to close out a well earned victory. Le Roux and Elies have led the Multi 50s since 12 November – except for one day on 16 November when their rivals on Actual seized the lead for a few hours while exiting the Doldrums.
In a thrilling final head to head match race down the Brazilian coast they kept their only real challengers in check. Second placed Actual, sailed by Yves Le Blevec and Kito de Pavant, were within 16 miles of the class winners yesterday morning. Actual was making 12-13 knots 80 miles from the finish line as the winners crossed.
Le Roux and Elies, this year's Solitaire du Figaro winner, were jubilant as they tied up at the dock in Itajaí's Transat Jacques Vabre race village. They arrived with their Multi 50 completely intact, recalling how unsettled they were when rivals Arkema Region Aquitaine capsized 12 days ago and how they battled hard to stay ahead of nearest rivals Actual in a head to head dogfight down the Brazilian coast to Itajaí. Even last night Yves Le Blévec and Kito de Pavant were only 15 miles, less than one hour behind, and, they revealed this morning they had come close to capsizing.
For Le Roux, victory with the 2009-launched VPLP-designed Multi 50 which was originally the former Crepes Wahou! 3, on the longest course yet for the Transat Jacques Vabre more than makes up for narrowly missing out on the overall win in this summer's Route des Princes fully crewed race around Europe.
It is the second time Le Roux has won the Multi 50 class in the TJV, but the first as skipper. Winning today follows up on his victory as co-skipper with Franck Yves Escoffier when they won this race on this boat in 2009 into Costa Rica.
And for Elies, winning on his first major double handed multihull ocean race caps a remarkable season after making history this summer becoming the first sailor ever to win back to back solo Solitaire du Figaro races.
Erwan Le Roux: "It is worth all the effort to get here. We had to really push to contain Actual's challenge. We had a lot of fun together and this is the just the peak of a beautiful race when everything really comes together. This second victory (Ed Le Roux won in 2009 as co-skipper) is all the sweeter because I am the skipper of the project, so obviously it has a special flavour."
Yann Elies: "Winning can be learned, you learn to cultivate it. This year I have improved. And I am really happy to share this win with him. I told him this morning after the 0330 sched that no matter what happens I have had a great time. We always made the right choices. It was so intense crossing the Atlantic on a multihull. It is is something I had never done before. On a daily basis the commitment is similar to the Figaro, but this is 15 days. Because the boat is so demanding I loved having to attack all the time. As a duo there is always some comfort with the other person there, solo on a mulithull must be different."
Erwan Le Roux: "Sharing it together is is great. I learned a lot with Yann , I understand why he won two Solitaire du Figaro, you can see why . Having sailed with someone like that you come away improved, better . It was a great adventure , a great story , and it's great that it ends like this. But we are not alone in this project we have a great team behind us."
Fatigue
Yann Elies: "Physically it is hard, we are tired. Coming to the finish in these final hours we never stopped pushing, always trimming and making little adjustment. And when you finish, even though you dont want to admit it, you feel it, you are physcially drained. We had two very difficult hard days, especially when the solent opened when the furler failed, and when we had problem with the mainsail track carriages, and the electronics failed and then, the cherry on top, a fishing net.
"And of course for the win to be great there has to be a great second place and Yves and Kito have always been there, they have sailed a great race, keeping us under pressure to the end. Until this morning (yesterday ed) when they tried something one last time, which they knew might not work, but they tried. They also have put so much into this race, you can see from the rankings that they were always attacking us."
The pressure from Actual
Erwan Le Roux: "The race could have been lost in the Doldrums but really it was about the whole of the race, in the management of the Bay of Biscay but also we were very shocked at Arkema's capsize.
Yann Elies: "This victory was established before the start because even though we did not really know where to set the cursor, to set our level, we knew how we wanted to drive the boat to get there. And we get here with nothing broken. In the end Actual made us push extra hard. We had some techncial issues."
Speed and life on board
Erwan Le Roux: "14 days and 17 hours went quickly. We did a lot on the rhumb line, on the direct course downwind and reaching with open sails, it was fast and uncomfortable. But there were such moments of pure speed, skipping effortlessy from wave to wave like a flying fish, just extraordinary sensations."
Yann Elies: "It is hard to live ebing constantly soaking wet and salty. The Transat Jacques Vabre is intense and stressful. Trying to stay fast and on the right route requires a lot of energy and commitment. Twice we got too close to the edge, once off the Cape Verde and once this morning. But pure happiness is going at 30kts without even thinking. I loved this boat, it would be more manageable alone than a 60 footer. I want to continue with multihulls."
Capsize of Arkema
Erwan Le Roux: "It was a real blow to our morale. Over that day we had been pushing hard to get past them. We had our bow pointing at their transom. And we talked and filmed. I could see their lights at night, and then suddenly nothing. But it's a multihull and yes you can turn them over. Those are the risks you have to accept."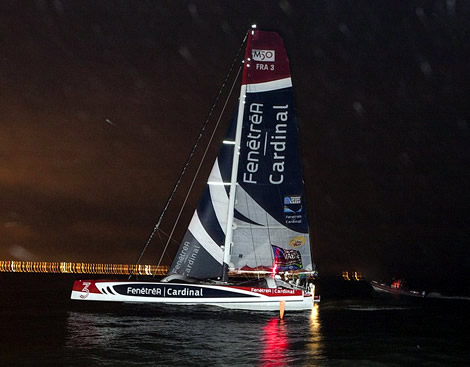 Back to top
Back to top