The Puerto Calero parade
Monday November 18th 2013, Author:
James Boyd
, Location: none selected
There's a grand parade going on in front of Puerto Calero. One after the other, the Minis speed along the coast of Lanzarote before making their final choice of route through the Canary Islands. Head south as soon as possible like Giancarlo Pedote (Prysmian) and Aymeric Belloir (Tout le Monde Chante contre le Cancer) or stick to the rhumb line like Benoit Marie (benoitmarie.com) and Justine Mettraux (TeamWork). Although the two leaders, in the Protos and Series, are securely established, behind them the battle is raging.
As he passed Lanzarote, Aymeric Belloir had the chance chat on the VHF with friends ashore. The leader of the fleet confirmed what we expected: he is on the attack, he's in great shape on a boat that has apparently came through the bad weather unscathed. But he knows only two well that he has two keen competitors snapping at his heels and neither Justine Mettraux (Teamwork) nor Simon Koster (Go 4 it) will give up.
In the Protos, the road ahead opens up even further for Giancarlo Pedote following the decision by Bertrand Delesne (TeamWork Proto), who has been forced to stop following the malfunction of his fuel cell since the start in Sada. Delesne had to economise on using his autopilot and spent most of his time at the helm, which makes his performance all the more outstanding as he was second to pass through the Lanzarote gate. The stop by Delesne in La Palma, as well as some of other favorites in Lanzarote, means a change in situation for other sailors who now see new possibility opening up ahead of them. Benoît Marie now finds himself up to second place. Two other sailors who are reaping the dividends of those making pitstops from a well managed first part of the race are Remi Fermin (Boréal) on the Proto he built and designed himself, and Catalan Bruno Garcia (Sampaquita) who is sailing the Proto built for Lionel Lemonchois in 1999. They are on course for an amazing race.
In the Series class, the trio of Aymeric Belloir, Justine Mettraux and Simon Koster now have a relatively comfortable lead over their immediate pursuers Jean-Baptiste Lemaire (L'œuvre du Marin Breton), the race veteran Robert Rosen Jacobson (Postillion Hotels), always one to watch, Tanguy Le Turquais (Terréal Rêves d'Enfance), Eric Cochet (Abers & Co) and Alberto Bona (Onelinesim.it). Leader Belloir has headed south quickly and seems to be making gains, while his two rivals have not yet openly committed to their route. In the relative short term, this could yield a very significant lateral deviation. However, monitoring of your competition is almost impossible in the Mini Transat since the positions of the boats are not revealed to the competitors, only their distance to the finish is provided during the official reports.
In Puerto Calero, the walking wounded of the first leg are hard at work. All have expressed their intention to return to sea as soon as possible, even though it will not be easy for everyone. Even Stan Maslard's brand new Proto (Groupe Sefico) has not been spared as a result of the broach from hell. The boat remained on her side for tens of minutes and the final toll was heavy: a lost gennaker, a broken halyard, the front pulpit damaged ... There is a lot of work to restore order. For others, the problems to be solved are more typical: power problems for Louis Segre (Roll my Chicken) and Renaud Mary (www.runo.fr), a bowsprit to rebuild for Nicolas Boidevezi (Nature Addicts).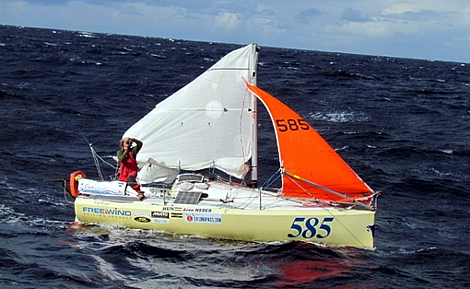 Everything must be done quickly and well. The danger of these stops is the slow erosion of the determination of both an individual. You can quickly feel out of the race, or at least, out of the race as you imagined it, and as time passes it becomes increasingly difficult to find the motivation that will enable you to recover in the race. This was well understood by Bertrand Delesne and Louis Mauffret (Solidaires), who were both victims of power problems. One in La Palma and the other in Madeira, they kept their stops to the minimum of 12 hours imposed by the regulations. Others do not worry about these problems. Today one of the escort boats went to rendez-vous with Aron Meder (Felicity 2), who is under jury rig, but has lost none of his love of life, even taking some pictures of the escort boat as it came to check in with him. He expects to arrive in the port of Safi within three days. In the meantime, he enjoys the pleasure of being at sea - sometimes happiness lies in simple things.
Series at 1500 UTC

1. Aymeric Belloir (810 – Tout le Monde chante contre le Cancer) with 2534.7 nm to the finish
2. Justine Mettraux (824 - TeamWork) + 10 nm
3. Simon Koster (819 – Go 4 it) + 18.8 nm
4. Jean-Baptiste Lemaire (607 – Œuvre du Marin Breton) + 66 nm
5. Robert Rosen Jacobson (602 - Postillion Hotels) + 140.7 nm
Protos at 1500 UTC

1. Giancarlo Pedote (747 – Prysmian) with 2489,2 nm to the finish
2. Benoit Marie (667 – benoitmarie.com) + 3.9 nm
3. Bertrand Delesne (754 – TeamWork Proto) + 34.8 nm
4. Rémi Fermin (741 – Boréal) + 47.1 nm
5. Bruno Garcia (240 – Sampaquita) +101.5 nm
Back to top
Back to top