24 hours til blast off
30 days have now elapsed between the theoretical start date of the Mini Transat from Douarnenez and the race has still yet to get further than Northern Spain.
The new start date from Sada, close to La Coruna, is 12 November for what will be the longest leg ever sailed in the history of the Mini Transat.
With the majority of skippers having had to deliver their boats from Gijon in heinous conditions, with huge seas and winds gusting up to 40 knots - many competitors admitting that it was the first time they faced such difficult conditions.
Sofie de Clercq on Ville de Marseillan reported: "During my delivery, I had an autopilot problem. To get some rest I decided to heave to several times. But at no time did I think to stop. In any case, I'm really glad I did that. The scenery was really beautiful and I discovered something that I never would have known otherwise. In Minis, 35 knots is acceptable, but 40 knots, it's just too ... "
Hugues Chollet on Soutenez le Bel Espoir added: "I never thought I'd be able to do what I did. When we left Gijon, we were not making headway, we couldn't make decent progress. Like many others, I stopped at Moras. At this time, I was at the bottom of a hole, really depressed. With some other competitors we found ourselves on one of the accompanying support boats where they gave us a good meal. The next day, morale had returned, it was almost beautiful. We knew there would be wind, but I told myself, this is a challenge, you have to go. We took a good bashing, but we made it. Looking back, I am proud to have managed it. "
Now on the pontoons of Sada, they are now steadily getting into race mode. Computers are operating at full capacity, the latest weather files and the analysis of the best experts are tracked, compared, disected ... only a few competitors remain on their delivery trips. The last have left the port of Moras, where Jean-Pierre Dick and his keel-less Virbac Paprec 3 took refuge during the last Vendée Globe before crossing the Bay of Biscay, and they are due to arrive in Sada tonight.
Right now, everyone is in a hurry for the long wait to be over. They first had to wait in Douarnenez pending an unlikely weather window to start. This wait that was all the more infuriating because the two weeks of build up to the start of the Mini Transat took place in idyllic weather conditions. Two days earlier and the fleet would have comfortably passed Cape Finisterre and been hurtling on Lanzarote. This is something that the organisers will be exploring for future races, to be able to adjust the possible start date, bringing it forward a few days if weather conditions require.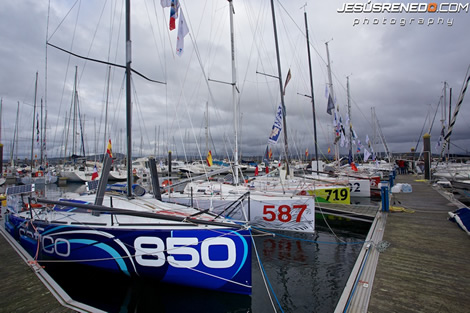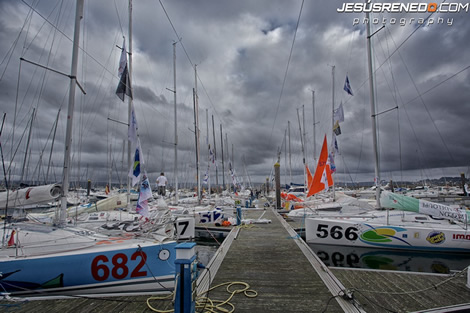 Back to top
Back to top