Bora Gulari - Moth World Champion for a second time
At the McDougall + McConaghy Moth World Championship in Hawaii last week, American sailor Bora Gulari proved to be the class act, winning the world title for a second time, following his 2009 victory on The Gorge in Oregon. It is now becoming something of a tradition of the class since they began foiling a decade ago that World Champions win twice – both Aussie Rohan Veal and Britain's own son Simon Payne also managed this.
"Three of us have won twice on foils," confirms Gulari. "But I did it in the same boat and the class was little harder." This latter statement is indisputable, with a formidable line-up competing at the regatta, held out of Hawaii's Kaneohe Yacht Club, including Olympic medallists, America's Cup and Volvo Ocean Race sailors.
Gulari says it was not just the 80 strong fleet (bearing in mind none were already based in Hawaii), but the quality of the competitors this year that surprised everyone. And this bodes well for next year's Worlds in Hayling Island when more than 100 boats could be on the start line...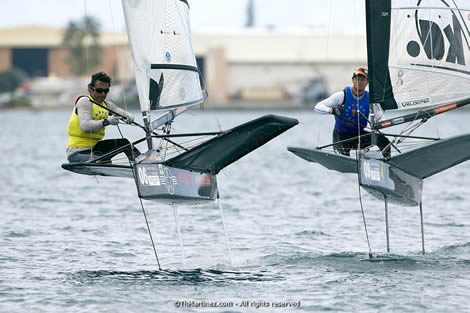 This season sees a return to form for the Turkish-born Michegan-based sailor, who explains the sad reasons why: "My mum had a severe brain injury two years ago and being the only child, I have one mum and I pretty much dropped everything in my life to make sure she was going to recover and make it down the road. So I dropped off the scene for a while. I made last year's Worlds, but I hadn't had the chance to really get back into it until this year."
Fortunately his mother is now recovering well and received her son's first phone call on hearing he'd won the Worlds. "She is great and super excited. I lasted about five seconds talking to her on the phone before I started tearing up."
Gulari has got his life well set-up to campaign his Moth. He runs a joint program with former ABN AMRO Two crewman and fellow Michegan sailor, George Peet and in addition to their Moth sailing, the two also campaign the West Marine Rigging/New England Ropes boat on the Melges 24 circuit, finishing a frustrating one point off the podium at the recent Sperry Top-sider-backed World Championship for the class in San Francisco.
However Gulari it admits that his strongest competition in the Moth class – notably Nathan Outteridge – was tied up for most of this summer racing a somewhat bigger foiler around San Francisco Bay.
"I was able to complete my busy schedule earlier in the summer and really focus on my Moth in the middle of the summer leading up into this. George did a good job getting our Melges ready and he let me focus on the Moth until the very last moment. And it paid off."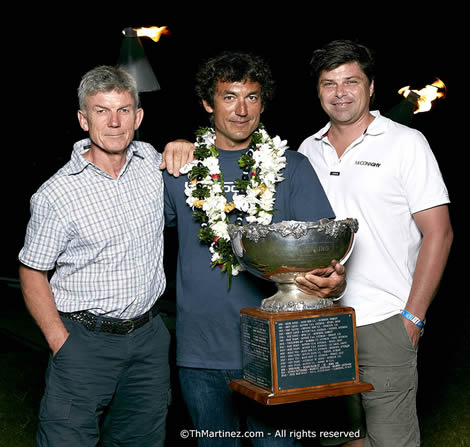 In preparation for the Worlds, Gulari and Peet set up a training base at Muskegon on the east coast of Lake Michegan (opposite Milwaukee) with Gulari basing his campaign out of the local boatyard, Torresen Marine. "They helped me with everything from rigging to painting to splicing..."
Conditions off Muskegon were a good simulator for the Hawaii venue. "I literally got to sail for about a month and a half undisturbed, just focussing on the Moth. That made a difference."
Gulari attributes the training group that worked out of Muskegon as the main reason for his success, paying particular homage to US Virgin Islander and former 49er sailor, match racer and J/24 World Champion, Anthony Kotoun. "Instead of going to the America's Cup Open Moth Invitational, he came to Muskegon and I can't say enough about the fact that he was the difference maker. I was sailing a lot by myself and when you go around by yourself you look at the GPS and you tend to reach a lot and you look at the big numbers. When he showed up, he forced me to sail upwind... He was very, very key to my success this year."
Among Moth sailors, Gulari is at the heavier end of the spectrum and so the uncharacteristic light conditions experienced in Hawaii for the Worlds, didn't best suit him. "It was definitely the bottom end of my preferred sailing conditions," he admits. "I feel I can tack with the best of them, but the British, I think their foils were optimised for slightly lower Reynolds numbers and speeds than mine. But I was able to survive and make it count when it got windy and just hang on when it was light."
Of course the Moth is a development class and Gulari, who describes himself as "part engineering geek and part sailor", spent much time and resource optimising and tweaking his kit.
For the Worlds he sailed a Mach 2 boat with a sail developed by Chris Williams from North Sails' Connecticut loft. On windier days he used a Mach 2 medium mast and on lighter days he had a CST. Of interest was the main foil he uses – designed by Dave Lister and Luka Damic, and known as the 'albatros foil' because the wing tips turn down to keep more of the foil in the water when heeled (the flap stops short of these tips). The foil has a fairly high aspect, and a chord ratio slightly thinner than the other foils.
His rudder was a Mach 2 small anhedral, again designed to keep the tips of the foil in the water when heeled.
"I didn't change any gear besides the mast throughout the week. Most people were changing foils. I think one of my virtues was that I had a platform on which I could survive - I was fast in anything from the light to the moderate, and my performance would just improve as it got windier and windier. Only we just never really sailed in any breeze..."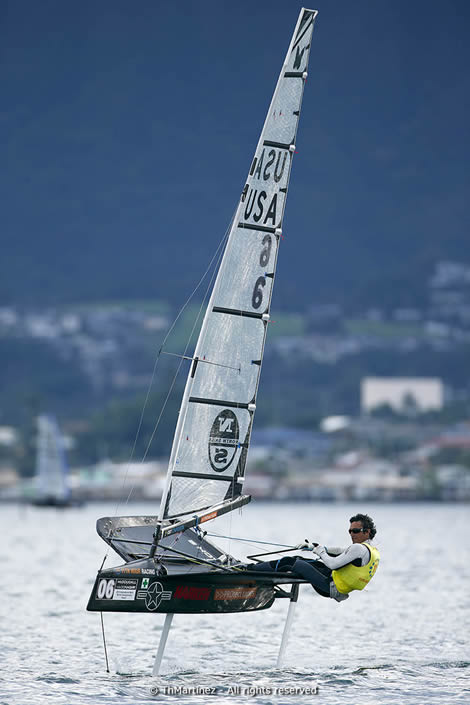 Over and above this, Gulari had obviously pimped his boat. "I went through it with a fine toothcomb and did whatever an engineer would do, and put proper bearings in the right spots and really attacked the aero."
The engineer in him, clearly loves all this. "In my mind, the C-Class is very expensive, but the Moth class is really the poor man's America's Cup. We are free to do whatever we want and everything is on a smaller scale."
A significant in helping Gulari scratch his engineering itch was the acquisition of a 3D printer. For those unfamiliar with this technology it is basically a machine that allows 3D objects created in software to be turned into physical objects. Unlike the milling machines frequently used, for example, to make moulds in high end race boat building these days, a subtractive process that carves the 3D object out of a solid block of whatever material is required – foam, metal, etc, a 3D printer is an addictive process that builds up the desired object from paper thin layers. For example Gulari acquired a Makerbot 3D printer which can construction objects in layers as thin as 0.1mm. Fully commercial 3D printer 'resolution' can be as a little as 0.016mm.
While not good for production manufacturing, the technique is ideal for prototyping or creating custom parts for one's World Championship-winning Moth. In Gulari's case he used it to make items like rudder bushings to fairings on the back of his compression struts and wing bars, the inspiration for the latter coming from the beam fairings used on the AC72s.
"Everything is a little bit of a learning curve, learning the capability of the materials was part of it, but I was able to create some very impressive pieces, that I could make very easily, without a mould," he says. "It is not the fastest manufacturing process, but, for making one-off stuff, it was extremely useful and I think the results spoke for themselves. It is hard to quantify the aero gains that I had, but I really think that this is something that I had an advantage on. I think I had the tidiest aero package of anyone out there, but everything is cumulative. It certainly didn't make it hard for me..."
He adds that he is thinking of putting up the files for the parts he manufactured up online so that others in the class can copy them. Theoretically this should no harder than taking the files for the desired object down to your local 3D version of Prontaprint...
Aside from 3D printer fun, Gulari also went through his boat attempting to reduce friction in bearings and in particular the wand mechanism that now features some cute titanium ball bearing races.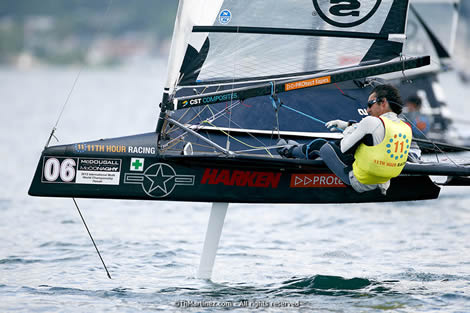 Intriguing new Moth projects

Gulari has some interesting Moth projects currently on the go. He is into the final stage of building a new wing. To date wings haven't proven to be race winning kit in the class, but Gulari is persevering and has a wing that is just a week and a half away from being completed. "I am going to lose my boat for a period of time in shipping now, so the timing is perfect to eek out and finish some projects I've been putting off," he says.
While the wing will be revealed in its full glory in due course, Gulari says that it will have no slot. "I have a good idea of how to have twist limiters instead of twist inducers," he says. "Also I think I have increased the durability quite a bit." And at the same time he has managed to reduce its weight.
In addition to this he is also developing a brand new foiling Moth with uber-skiff designer Julian Bethwaite. According to Gulari this is a project they have been working on together for some time and it seems set to be one radical boat. "It will be an airplane that floats, rather than a sailboat that flies," Gulari says cryptically. "Julian has done quite a few lines for Moths before, but in terms of having one on a race course at a world class level, I don't believe he has. When you see it - the lines will look familiar, I promise you that." So a flying 49er... One imagines the Moth racks will become 'wings' used to generate lift.
Moulds are currently in construction nearby to Gulari in Michegan and they will then take time to work it up on the water. "There are no promises whether it will be right on its first iteration, but we will be on the water very soon with that." So watch this space.
Otherwise...
Meanwhile Gulari is still focussing on his Melges 24 sailing and is heading off to the next World Championship in Australia with a team that has been bumped up with the addition of America's Cup and 49er legend Jonathan McKee. He is also the regular navigator on Steve Benjamin's Carkeek 40 Spookie.
Then there are the Moths Worlds coming down to earth with a bump when they head from Hawaii to Hayling Island next year. "I have a whole new bag of tricks I have been thinking about that I have to work on. Part of the Moth class is not unveiling your secrets too soon," Gulari says of what we might expect from him there.
With all his work on the Moth and his clear ability on the boat, Gulari says he hopes that he gets a chance to sail on or work on a big foiling cat in the future. "I think I know how to make a foiling boat go around the race course." Fortunately there are several big players from the America's Cup active in the Moth class, who might make use of his talents. "I would enjoy the chance to be able to move forward onto a higher level."
Back to top
Back to top