So near, but so far
After six months of race preparation, race qualification and willing her name to move up the 2013 Mini Transat race entry waiting list, this year's Mini Transat is now beyond the reach of Artemis Offshore Academy Mini sailor Nikki Curwen.
It is a big disappointment for Nikki who has endured a long wait with baited breath, moving to 86th on the entry list following a few sailor withdrawals and missed qualification deadlines, with just two more drop-outs seeing Nikki make the cut.
The start of the 4,021 mile solo transatlantic race was scheduled for last Sunday, but had to be delayed due an Atlantic storm moving across the Bay of Biscay. After a briefing last night the 84 Mini 6.50s skippers, including seasoned British Mini skipper Pip Hare, were told that the start of the Mini Transat could be delayed for up to another 10 days due to the conditions.
"I've been dreaming of the Mini Transat start line since I qualified for the race back in May and being unable to compete has come as a devastating blow," said Nikki, who had aspired to follow in the footsteps of Dame Ellen MacArthur and her father Simon Curwen, the highest ranking British skipper in the Mini Transat. "However, this is the nature of the Class Mini circuit and with the Mini Transat entry list filling up almost as soon as it was released, an agonising waiting game with a high chance of disappointment was always on the cards, but it doesn't make it any easier."
Undeterred by her disappointment this time around and fuelled by her passion for the Class and Mini racing, Nikki already has her sights set on the 2015: "I wouldn't have made it this far this year without the support of the Artemis Offshore Academy and without that final helping hand to the start line from Disk Manufacturing Services Ltd (DMS). I've always loved the Mini, it is an incredible boat and the atmosphere and spirit among the class is so exciting. For me this is just the beginning… I will now look to manage my own successful sailing campaign and assert myself in the Proto class and to qualify for 2015 Mini Transat."
Artemis Offshore Academy Sailing Team Manager, Charles Darbyshire commented: "Of course we are disappointed that Nikki hasn't managed to secure a place on the start line this year. We worked hard as a team to qualify early, but the entry rules are clear and the entry list of 84 boats is respected. This year the race returns to its more classic course to finish in the Caribbean and this has made it significantly more popular than recent editions. We'll be following Pip's race closely as the sole UK entry, and wish all the competitors a safe passage across the Atlantic."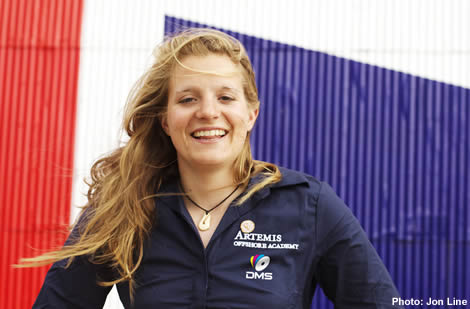 Back to top
Back to top