Virbac Paprec MOD70 capsizes
The MOD70 Virbac-Paprec 70 capsized this afternoon during training for the Transat Jacques Vabre.
At the time the boat's doublehanded crew Jean-Pierre Dick and Roland Jourdain were sailing in 15-20 knots of wind. They were surprised by a strong gust and were unable to prevent their multihull from capsizing conventionally over its leeward. The mast broke into three pieces.
Roland Jourdain was able to protect himself under the cabin top, while Dick was ejected from the cockpit violently into the water. Initially the whole team informed everyone that they were safe and sound, but later Dick was discovered to be suffering from back pain. In the end, Dick was winched up by helicopter and taken to hospital in Lorient. He has been diagnosed with collapsed vertebrae and will be kept under observation for two days. The boat is being towed to Lorient as we write.
Dick recounted what happened: "I am still in shock. Everything happened so fast. I felt a strong gust hit us from behind. I gave the sheet traveller some slack, but probably not enough. Everything changed very quickly. I fell from a great height. I hit something and fell into the water. It was violent. Fortunately, I managed to get back on board very quickly. I quickly realized that my back hurt. We waited for the rescue teams feeling great sadness."
Roland Jourdain added: "We were sailing in a settled 15 knot wind, but it was irregular with gusts of 18-20 knots. The conditions were workable. Suddenly, there was a gust that was stronger than the others. The boat lifted and lifted. It stayed stationary for a few interminable seconds. I eased out the solent jib. We thought we were going to fall on the right side, and well no, the boat capsized. I was very frightened for Jean-Pierre. It is the first time that I have capsized. I am shaken."
CHAVIRAGE DE VIRBAC-PAPREC 70/VIDÉO À BORD
by Virbac-Paprec_SailingTeam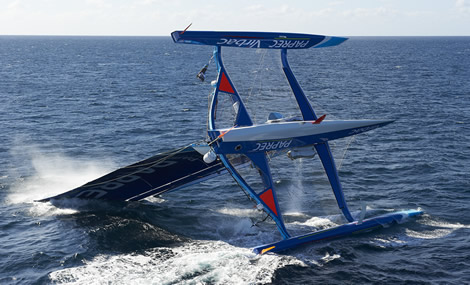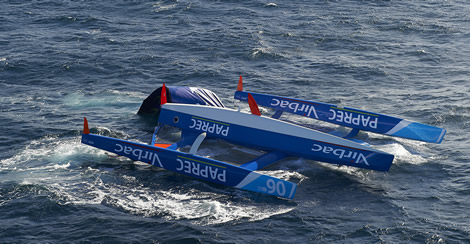 Back to top
Back to top