Once in a lifetime?
The Rolex Fastnet Race this year has been blessed with a distinct rarity - a line-up between the world's two largest racing trimarans, Dona Bertarelli and Yann Guichard's Spindrift 2 (ex-Banque Populaire Maxi) and the Armel le Cleac'h skippered Banque Populaire (ex-Groupama 3). They once sort of raced across the north Atlantic, but left New York at different times, chasing the outright fully crewed west to east record. But the Rolex Fastnet Race was the first time that the pair of three hulled giants has lined up in proper yacht race.
It should be pointed out that both crews are relatively new to their boats having only recently acquired them from their previous owners. And neither crew had much chance to train on them before this race – Spindrift having been tied up MOD70 racing (and capsizing) in the Route des Princes and le Cleac'h focussing on his Solitaire du Figaro campaign with Banque Populaire.
Very impressive in this race was that despite a huge length disparity, three boats in the multihull fleet led on the water, with Spindrift port tacking the fleet off the line on Sunday (40m long trimarans are useful bits of kit for achieving this), but with the MOD70 (half her size) Oman Air-Musandam ahead after she was the first to tack north, being one of the minority to slip north between the Longships exclusion zone (TSS) and Land's End. Then on the beat across the Celtic Sea she was in turn overhauled by the 31.5m long Banque Populaire.
According to Yann Guichard, they made a mistake in splitting with the other boats just before the TSS. "We just waited five minutes too long before tacking [north] and then there was the TSS, so we had to continue and after the wind did a big left, we needed to bear away a bit and we lost out. With the current we should have tacked earlier - we spent too much time on starboard and lost 10 miles."
Fortunately 10 miles is a mere bagatelle in maxi-multihull racing and the mighty Spindrift 2 eventually powered through to lead Banque Populaire around the Rock, rounding just 3 minutes 27 seconds ahead. From there they hoisted kites and sped off downwind.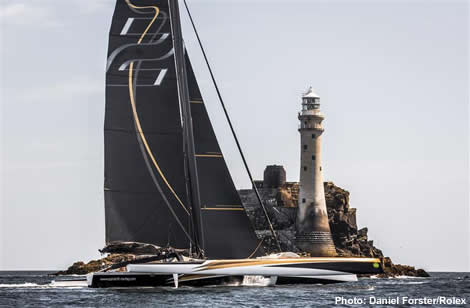 Unfortunately despite the 8.5m difference in length between the two boats, Spindrift 2 was unable to shake her smaller rival. "Downwind we had a battle with Banque Populaire, same speed, same angle and it was gybe, gybe, gybe..." recounted Guichard. "Banque Populaire is really fast, because she is really light and we are too heavy, so we're really close on the water. But it was interesting for us to have her really close, because we could trim the boat and learn some new set-ups - it was perfect."
It was only after rounding Bishop's Rock that Spindrift 2 finally started to edge away. While passing the Lizard she seemed to have it almost in the bag, when just 2 miles from the line the wind shut off - the world's largest trimaran, that in the afternoon had been making 36-37 knots away from Ireland, had run out of wind, despite having a 47m wingmast and colossal sail area.
In the distance those of us out on the water in the small hours could make out the nav lights on Banque Populaire very slowly getting bigger and further apart as le Cleac'h's team, catching a brief glimpse of piping its rival at the post, fully concentrated on attempting to pull off a 'Buffalo girls' manoeuvre, sailing around the giant Spindrift.
However it was not to be. After at least an hour of lolloping around, Spindrift picked up the slightest breeze, ghosting across the line at 02:53:58 BST. Despite closing to less than half a mile, it took Banque Populaire a further 22 minutes and 44 seconds to cross the finish line off Plymouth breakwater.
Dona Bertarelli was very pleased to have won her first ever offshore race: "The ending was not certain. We knew it would be difficult, especially with the light conditions, but we managed to manoeuvre well, keep up good speed and chose the right sails to stay ahead of Banque Populaire."
She compared the conditions at the finish to sailing on Lake Geneva, where she regularly competes in the D35 catamaran class with her Ladycat team, winner of the notoriously light Bol d'Or Mirabaud in 2010. "The Fastnet Rock is beautiful," she continued. "I was mentally prepared to do the race in more wind, especially this first race with the boat, but it was very pleasant, but also very difficult, because of the wind."
Bertarelli seemed to enjoy her first offshore racing experience, although mercifully with this Rolex Fastnet Race, she has been eased gently into life on the ocean wave: "It is completely different. The trick is to get into a rhythm and sleep when you are not tired and you don't feel like sleeping, but you know when the time comes you'll need it because you'll be tired - and the same with eating and all the normal life. Your body has to get into a rhythm. It was fun to experience something completely different."
She added that Spindrift would return to compete in the Rolex Fastnet Race again, "if we can..."
While this is the first time Spindrift Racing and Banque Populaire have ever lined up in anger in a major yacht race, it is possible they may clash in another yacht race next year when, incredibly, both may compete in the singlehanded Route du Rhum. This is certain to happen for Banque Populaire which has already won the 2010 Route du Rhum in the hands of previous skipper, Franck Cammas, as Groupama 3. She has already been fitted with a shorter rig aimed at singlehanding.
In the meantime the intention is for Spindrift 2 to go on stand-by from mid-September to break the Channel Record fully crewed, one of the last records on the WSSRC books to be held by Brian Thompson/Helena Darvelid/Adrienne Cahalan and the crew of Tracy Edwards' Maiden 2 maxi-catamaran. Then there is also the issue of when her America's Cup winning brother Ernesto, also a keen multihull sailor, is to get a go on board... (Spindrift is bigger even than his 33rd America's Cup catamaran Alinghi 5, that is now parked in sorry state on the entrance into Valencia's Port America's Cup.)
Dona Bertarelli says that they will make a decision about the Route du Rhum later this year and their program for 2014 will either be geared towards this or staying with the boat in a similar configuration to how she is at present, with a program of attempts on outright, fully crewed records. "We are studying the Route du Rhum very seriously to see if it is physically possible. Before Cammas did it, everyone said he was crazy – it is the same story now with us. We need to look at it. There might be a chance if physically it is possible."
However this would require Spindrift 2 to be fitted with a shorter rig.
Banque Populaire – a very close second

On board Banque Populaire, with a crew including match racing veteran Bertrand Pace and Essex's own son Nigel Musto, Armel le Cleac'h said that Banque Populaire's start had been slow and they had left the Solent in only fifth or sixth position. Passing Land's End and heading out into the Celtic Sea they did well and after overhauling Oman Air-Musandam, they at one point had managed to pull ahead of Spindrift 2 by six miles.
The run back from the Rock had been a blast with the wind gusting into the mid-20s. "Our boat speed was 35 knots, but we were very happy because we didn't lose distance to Spindrift."
Approaching the finish line they saw on AIS that Spindrift 2 had ground to a halt short of the line and not surprisingly this had strongly motivated them. "At one moment we had some wind, but then it changed," said le Cleac'h. "We were very happy with the result because when we started we thought Spindrift would be much faster than us. To finish 20 minutes behind is very good for our team and for our crew."
Surprisingly for such an accomplished offshore racer and even having grown up in a sailing family living on the Channel coast of France, le Cleac'h was a Rolex Fastnet Race virgin until this week. "Before I was either doing the Figaro or preparing for the Vendee Globe," although he has raced in these water extensively in the Figaro class races.
"It is an interesting course," the man they call 'the Jackal' says. "There are a lot of options and the weather was fantastic this year – sun and wind and the south coast of England is very beautiful and we got a good look at the Fastnet Rock. It is a very good race for my first Fastnet."
While Spindrift 2 is contemplating some fully crewed records while the team hums and harrs about whether to do the Route du Rhum or not, next up for le Cleac'h is getting in as much practice singlehanded as he can aboard his monster trimaran. In September he plans to make a solo attempt on the Transmed record from Marseille to Carthage in Tunisia, currently held by Thomas Coville on Sodebo.
Le Cleac'h last offshore race shorthanded in a trimaran was not a happy one, when he took over from Alain Gautier as skipper of the Foncia ORMA 60 trimaran for a Transat Jacques Vabre and promptly capsized it early on with co-skipper Damian Foxall. "The ORMA 60 was very dangerous to sail alone. This boat feels much safer. I need to get some training, to experience the boat in all weather, but I'm happier to be on this boat."
Prior to next year's Route du Rhum he plans to make an attempt on the Route of Discovery record from Cadiz west across the Atlantic to Salvador in the Bahamas, before making an attempt on Francis Joyon's recent west to east solo transatlantic record.
Meanwhile in parallel the Banque Populaire team has announced that it plans to build a new IMOCA 60 (to the new rule, including several one-design elements) with the aim of le Cleac'h competing in the Vendee Globe in 2016-7,where it might be a case of 'third time lucky' having finished second in the last two races.
"It's exciting," le Cleac'h says. "It means a lot of jobs for my teams, which is good, because at the moment there are not too many people with a three to four year long programs. Banque Populaire have been sponsoring sailing for 25 years, they are good sponsor, they like sailing in all boats – they back the French Olympic team, sailing schools and the Pen Duick Association."
Let's hope the two giants will line up again in 2015.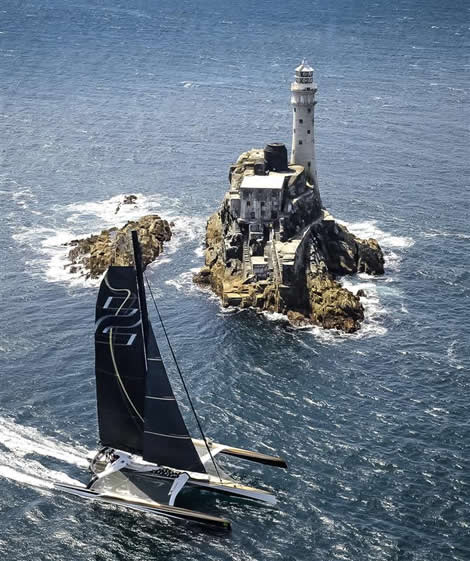 Back to top
Back to top