Groupama 34 wins Tour Voile 2013
In crossing the line off La Seyne, Franck Cammas' Groupama 34 won the Tour de France à la Voile 2013. Courrier Dunkerque and Bretagne Crédit Mutuel remain tied for second place and Sodebo, which finished second today, is still in a threatening position. While Cammas may have won, the fight for second is far from over.
The leg from Gruissan to La Seyne was a tricky one with a lot of wind shifts along the 123 mile course (scored with a 3x co-efficient). Groupama 34 claimed her 18th victory out of the 30 races sailed since the Tour Voile started in Dunkirk on 29 June. Cammas and Groupama 34 have won despite the race not finishing until Saturday in Marseille on Saturday and with six races left with a combined scoring co-efficient of 7 or 98 points ahead of the teams.
Groupama 34's first place overall is symbolised by a blue spinnaker, but the team is still looking to claim the green (offshore ranking) and red chutes (inshore ranking) as well. And to top it off, Groupama 34 is gunning for a 100-point lead over the second placed team.
As of today there are two runners up: Courrier Dunkerque 3 and Bretagne Crédit Mutuel, both tied on points after Bretagne was disqualified during one of the in-port races in Gruissan. But the second two places on the podium remain wide open with Thomas Coville's Sodebo team only 12.7 points from the podium.
Nantes St Nazaire E.Leclerc and Iskareen did very well too, taking 5th and 6th. OmanSail finished in 11th place and is now fifth overall, 40.7 points behind Sodebo.
Franck Cammas, Groupama 34 skipper commented: "Clearly I'm happy we won! We heard about our overall victory only when coming in La Seyne. It's a relief, we feel like we did a great job. I'm proud of the team. They're a motivated and focused group. I think it's just great to sail such an intense race, with both offshore and inshore races."
Daniel Souben, Courrier Dunkerque 3 skipper added: "We are delighted to catch up to Bretagne, we've been looking forward to these points for a long time! We are tied for points today and it's a restart. We are both on equal terms and Sodebo is not far behind with 12.7 points. Three boats are fighting for the second and third place. It's going to be a great match. And Groupama 34 won the Tour by far. They are very good and they deserve this victory. But as far as we are concerned, we are going to give it our all tomorrow."
Thomas Coville said: "It's a satisfying feeling to take second thanks to an option we thought about and chose to do. It gives us the possibility to finish on the podium. It's a positive leg and congrats to Groupama. It's tough to escape from them, they are so fast. Like a jet!"
Overall results after 30 races:
1 GROUPAMA 34, CAMMAS Franck 1137 pts - Spi Bleu
2 BRETAGNE CREDIT MUTUEL ELITE, TROUSSEL Nicolas 1039 pts
3 COURRIER DUNKERQUE 3, SOUBEN Daniel 1039 pts
4 SODEBO, COVILLE Thomas 1026, 7pts
5 TEAM OMANSAIL, POULIGNY Cédric 986 pts
6 TOULON PROVENCE MEDITERRANEE - COYCH, BERNAZ Jean-Baptiste 901 pts
7 VILLE DE GENEVE - CARREFOUR ADDICTIONS, METTRAUX Elodie-Jane et GROUX Nicolas 895 pts
8 NANTES - SAINT NAZAIRE - E.LECLERC, DOUGUET Corentin 879 pts
9 NORMANDIE, CHOQUENET Baptiste 826 pts
10 MARTINIQUE - BE.BRUSSELS, WOLTERS Delphine et MOURES Matthieu 785 pts
11 ISKAREEN, DITTMERS Christiane et BRUHNS Sönke 774 pts
12 BIENNE - VOILE – SRS, PETER Luzius et KUNZ François 703 pts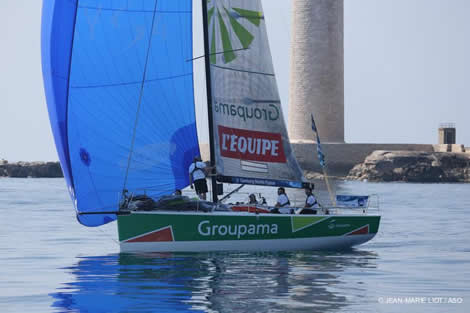 Back to top
Back to top