Rogues and Tripon claim opening leg
Thursday July 11th 2013, Author:
James Boyd
, Location: none selected
The end of leg one of the Class40's Les Sables-Horta-Les Sables race concluded yesterday in the Azores. The leg ultimately turned into a Mach 40 match race between Sébastien Rogues and Armel Tripon on the newest boat in the race, GDF Suez and German Jörg Riechers and French co-skipper Sebastien Audigane on mare.
Ultimately after a long wait for the wind to fill in just short of the finish line, the leg was won by GDF Suez which came out on top in the erratic winds blowing down the channel between the islands of Faial and Sao George, when Mare struggling in the wind shadow of the latter island. Ultimately GDF Suez crossed the line at 12:38:28 local time (GMT +2) after 5 days 17 hours 36 minutes and 28 seconds at ea.
Rogues said that aside from when it went light at the finish, conditions on this first leg across the Bay of Biscay, past Cape Finisterre and out into the Atlantic to the Azores island were ideal. "We had a little sport at Cape Finisterre but we remained cautious. The goal was not to break anything. We have many things in development on the boat - we try to innovate. Our spinnaker is part of the innovation.
"With Armel on board, we had good fun from beginning to end - he is an exceptional guy. One of these days, we will do a Mini Fastnet - as historically that is our first love. We must do it soon because Armel is beginning not to be very young..." At that moment Rogues 'accidentally' fell into the water.
Riechers and Audigane on mare crossed the finish line in second place at 14:16:15 local, 1 hour 37 minutes astern of the leader, their deficit coming entirely from the wind hole they fell into.
"It was a great test for Sebastian and me, for the Barcelona World Race," said Reichers. "In contrast, we had a lack of speed under spinnaker, so we had to take more risks in our options." Aside from the wind hole, Reichers added that the rest of the leg was great. "With Sebastian, it was extreme good in terms of helming, trimming, human relations - he is an extraordinary guy. We're a great team, I'm really happy."
Sailing an exceptional race was top French executive Catherine Pourre (a director of French property company Unibail-Rodamco) and Goulven Royer aboard their Verdier-designed Tyker Evolution 40 Mk2 Eärwen. Part of this was down to their dramatic option to split from the fleet and stay south of the Azores islands of Terceira and Sao Gorge, whereas as everyone left them to port, passing to the north of them.

They managed to hold on to third place, arriving at 16:11:12 local (GMT +2) . "Even if it is older, it is a proven boat," said Pourre of her steed. "We are not afraid to push her. We would have liked to get a little closer to Mare, but the conditions decided otherwise."
Goulven Royer explained their tactics for the Azore: "To go up the passage between Pico and Sao George was daring, but it was planned. We had analysed the weather to the north of the Azores there were no wind, so we decided to go south of the islands."
Halvard Mabire and Miranda Merron on their Pogo S2 Campagne de France crossed the finish line at 19:38:30 (GMT +2) in fourth place.
"We were 30 miles away from first but in the end we arrived eight hours behind them," said Mabire on stepping ashore. "You say eight hours, but that represents 50 miles if you want to regain it, so you need to sail an extra ten miles each day. Except through breakage or a big mistake, that is doing to be difficult, and in any case, you'd never wish that on a competitor. In any case, our boat is going very quickly and our friends on Eärwen they sailed very well. We're really happy to be here. This is the problem with Horta, it's like the Quebec-Saint-Malo there are part so good that you never want to leave."
| | | | | |
| --- | --- | --- | --- | --- |
| Pos | Boat/Crew | FInished | DTF | DTL |
| | | | | |
| 1 | GDF SUEZ - Sébastien Rogues / Armel Tripon | Finished at: 10/07/2013 10:38:28 UTC Time: 5d 17h 36min 28s | | |
| 2 | Mare - Jörg Riechers / Sébastien Audigane | Finished at: 10/07/2013 12:16:15 UTC Time: 5d 19h 14min 15s | | |
| 3 | Eärwen - Catherine Pourre / Goulven Royer | Finished at: 10/07/2013 14:11:12 UTC Time: 5d 21h 09min 12s | | |
| 4 | Campagne de France - Halvard Mabire / Miranda Merron | Finished at: 10/07/2013 17:38:30 UTC Time: 6d 00h 36min 30s | | |
| 5 | RED - Mathias Blumencron / Axel Strauss | Finished at: 10/07/2013 18:22:40 UTC Time: 6d 01h 20min 40s | | |
| 6 | BET 1128 - Gaetano Mura / Samuel Manuard | Finished at: 10/07/2013 23:41:12 UTC Time: 6d 06h 39min 12s | | |
| 7 | Phoenix Europe Carac - Louis Duc / Stéphanie Alran | Finished at: 10/07/2013 23:50:11 UTC Time: 6d 06h 48min 11s | | |
| 8 | Groupe Picoty - Jean Christophe Caso / Aymeric Chappellier | Finished at: 10/07/2013 23:54:02 UTC Time: 6d 06h 52min 02s | | |
| 9 | Solidaires en Peloton - Victorien Erussard / Thibaut Vauchel-Camus | Finished at: 11/07/2013 01:17:03 UTC Time: 6d 08h 15min 03s | | |
| 10 | Mr Bricolage - Damien Rousseau / Stéphane Le Diraison | Finished at: 11/07/2013 02:16:10 UTC Time: 6d 09h 14min 10s | | |
| 11 | Marie-Galante - Dominique Rivard / Olivier Grassi | Finished at: 11/07/2013 02:27:13 UTC Time: 6d 09h 25min 13s | | |
| 12 | Partouche - Christophe Coatnoan / François Coquerel | Finished at: 11/07/2013 05:36:10 UTC Time: 6d 12h 34min 10s | | |
| 13 | Momentum Ocean Racing - Emma Creighton / Dan Dytch | | 7.6 | 0 |
| 14 | Deltacalor - Lionel Régnier / Giovanni Pastorino | | 30.3 | 22.7 |
| 15 | Kogane - Patrice Bougard / Gilles Dadou | | 51.4 | 43.7 |
| 16 | La Belle Équipe - Bruno Rzetelny / Vincent Duguay | | 108.4 | 100.8 |
| 17 | Croix du Sud - Michelle Zwagerman / Patrick Conway | | 279.8 | 272.2 |
| 18 | Ecoelec - Eric Darni / Erwan Rivallain | | 302.7 | 295 |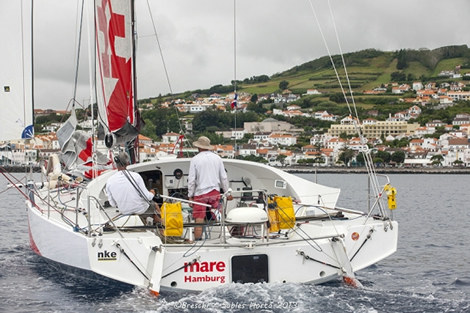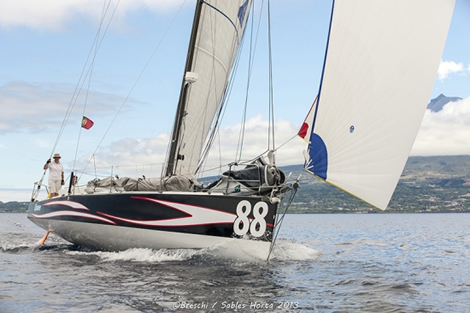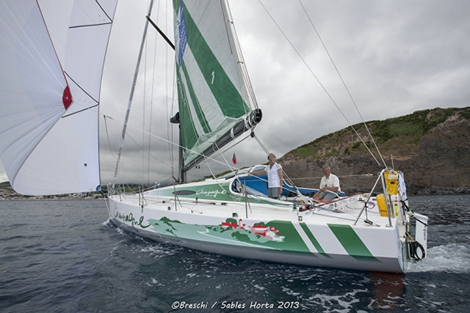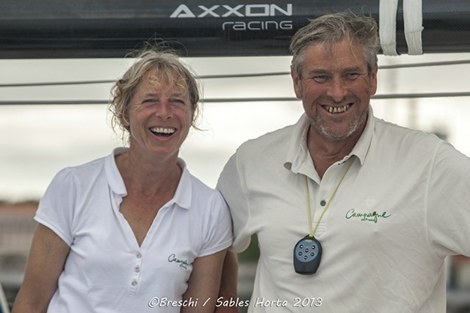 Back to top
Back to top