Second leg win for Groupama 34
Franck Cammas and his Groupama 34 crew have done it again! They sailed a relentless upwind leg from Breskens, Holland, to Dieppe, earning their second consecutive offshore victory. Bretagne Crédit Mutuel Elite took second, 8 minutes behind and 3 minutes later Sodebo took third.
Groupama 34 crossed the finish line 25 hours after yesterday's leg start in Breskens. The other eleven M34s all finished with 51 minutes. The fleet sailed upwind for 25 hours in the rain, fighting current, heavy waves and taking almost 200 times.
"We are happy to arrive," admitted Groupama 34 navigator Erwan Israël. "It was a bit long. The M34 is tough and physically demanding.
"We had a good fight with Sodebo, Bretagne Crédit Mutuel Elite and Team OmanSail yesterday afternoon, shortly after the start.
"Crédit Mutuel was super fast and we took a small lead on the others. We were a bit lucky when sailing past Dunkirk. The wind shifted to the right and we were on the right – it gave us a little boost. We stayed in the current longer and increased our lead by sheer luck. After Gris Nez we only had to keep the fleet to our stern."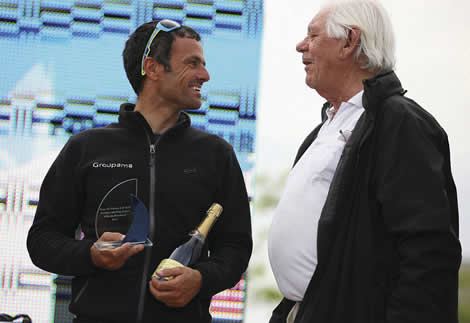 It was a gruelling sail. The wind dropped from 15 to less than 10 knots and shifted constantly between the southwest and the west. Many competitors went aground on sand banks. Visibility was poor due to the fog. Hours of hiking (sitting on the rail) are exhausting; sleep deprivation leads to seasickness and cold food hardly provides sustenance.
The sailors are truly relieved to be in Dieppe tonight, especially the race leaders as points were multiplied by a factor of 4 on this leg. The rest of the fleet earned a much anticipated stretch, meal and rest.
Nicolas Troussel, skipper of Bretagne Crédit Mutuel Elite said: "We were counting the miles left and it was a bit long! We didn't sleep much and hiked lots to make the boat go fast. We paid a visit to the sand banks too. We will count how many tacks we did… And we did a few.''
Thomas Coville, skipper of Sodebo added: "It's incredible how much you have to go through to get to the third place! We knew it would be tough but it was just so difficult to do all these efforts and only take third. Anyway we put up a good fight but Groupama nailed it."
Groupama 34 leads the temporary overall ranking and Bretagne Crédit Mutuel Elite climb to second place. Sodebo is third overall after crossing the line in third. Meanwhile, Courrier Dunkerque drop to fourth place overall and OmanSail drop to fifth overall. Normandie barely lead the amateur ranking, tied for points with Iskareen.
Overall results after nine races:
1 GROUPAMA 34, CAMMAS Franck 347 pts - Blue spninnaker
2 BRETAGNE CREDIT MUTUEL ELITE, TROUSSEL Nicolas 316 pts
3 COURRIER DUNKERQUE 3, SOUBEN Daniel 308 pts
4 TEAM OMANSAIL, POULIGNY Cédric 308 pts
5 SODEBO, COVILLE Thomas 289 pts
6 VILLE DE GENEVE - CARREFOUR ADDICTIONS, METTRAUX Elodie-Jane et GROUX Nicolas 279 pts
7 TOULON PROVENCE MEDITERRANEE - COYCH, BERNAZ Jean-Baptiste 267 ts
8 NANTES - SAINT NAZAIRE - E.LECLERC, DOUGUET Corentin 263 pts
9 NORMANDIE, CHOQUENET Baptiste 231 pts
10 ISKAREEN, DITTMERS Christiane et BRUHNS Sönke 231 pts
11 MARTINIQUE - BE.BRUSSELS, WOLTERS Delphine et MOURES Matthieu 219 pts
12 BIENNE - VOILE – SRS, PETER Luzius et KUNZ François 210 pts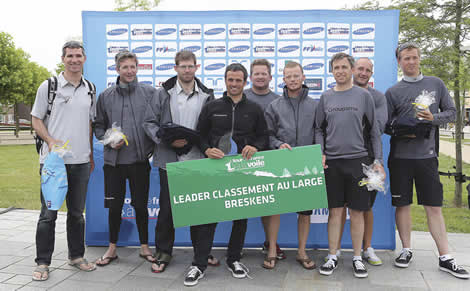 Back to top
Back to top