Better days for Souben and Troussel
Two M34s mastered the very light and changing weather today for the Breskens inshore races of the Tour de France à la Voile: Nicolas Troussel's Bretagne CME and Daniel Souben's Courrier Dunkerque. Two in-port races were sailed in 5 to 10 knots of wind from the southwest and a diffuse fog.
"The first race's favourable side was clearly the right side," said Bretagne CME trimmer Charlie Dalin. "We've been a bit lucky. There was some current and not much wind but our tactician Dimitri Deruelle did very well! We are fast again after sailing slowly in similar conditions in Dunkirk. Part of the team was inside the boat to sail faster upwind and downwind. It's a bit of a strange way to sail. It's our first victory on the Tour and it's very nice."
Groupama 34 followed in second in with the Swiss team on Ville de Genève Carrefour Addictions third. Sodebo was OCS and never caught up, finishing last.
Franck Cammas' Groupama 34 was once again just beaten in race 2, allowing rival Courrier Dunkerque to score their first bullet of the Tour. Souben's team picked the right side and that paid well off – they led the entire race. "We are trying to come back and we will keep working to be back at our best level," said bowman Bertrand Castelnérac. Sodebo took third. Normandy sailed two very smart races, earning them a 7th and 6th, and currently flies the pink spinnaker as leader of the amateur fleet.
Following her results today Bretagne CME has bumped up to the third place overall while Courrier Dunkerque is up to second overall, while Groupama is still the overall leader.
The fleet leaves Breskens tomorrow at noon for the second offshore leg, which comes with a X4 coefficient, 142 nautical miles to Dieppe in Normandy. Competitors are looking forward leaving Holland's calm conditions behind – many of them spent the day below deck to optimise weight for the anticipated light conditions. "It's not the most interesting part of the sailing sport," confessed Castelnérac. "But it's for a good reason."
Today Sodebo obtained redress for a broken bowsprit after they made contact with Bretagne CME at the start of the first offshore leg from Dunkirk to Breskens. Sodebo scored 10th because their performance had been compromised. Bretagne CME was at fault and Sodebo will therefore score the average points on all the offshore legs (including th eRound Ile of Groix race) until they reach St-Gilles Croix de Vie. Bretagne CME was not penalised since they absolved themselves immediately following the collision.
Overall results after eight races: 


1 GROUPAMA 34, CAMMAS Franck 247 pts - Blue spinnaker
2 COURRIER DUNKERQUE 3, SOUBEN Daniel 224 pts
3 BRETAGNE CREDIT MUTUEL ELITE, TROUSSEL Nicolas 220 pts
4 TEAM OMANSAIL, POULIGNY Cédric 220 pts
5 VILLE DE GENEVE - CARREFOUR ADDICTIONS, METTRAUX Elodie-Jane et GROUX Nicolas 199 pts
6 SODEBO, COVILLE Thomas 197 pts
7 NANTES - SAINT NAZAIRE - E.LECLERC, DOUGUET Corentin 193 pts
8 TOULON PROVENCE MEDITERRANEE - COYCH, BERNAZ Jean-Baptiste 191 pts
9 NORMANDIE, CHOQUENET Baptiste 171 pts
10 MARTINIQUE - BE.BRUSSELS, WOLTERS Delphine et MOURES Matthieu 163 pts
11 ISKAREEN, DITTMERS Christiane et BRUHNS Sönke 163 pts
12 BIENNE - VOILE – SRS, PETER Luzius et KUNZ François 146 pts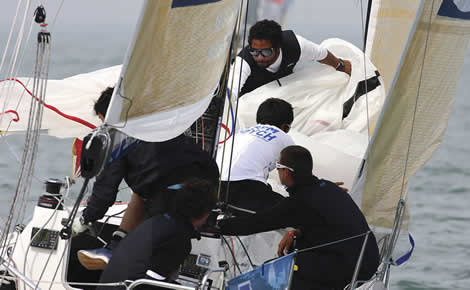 Back to top
Back to top