First offshore leg to Groupama
The first offshore leg of the Tour de France a la Voile was a wet, intense and happy sprint from Dunkirk, France to Breskens, Holland. The fleet started at 2100 in calm conditions: sailing downwind in 12 knots from the west on flat seas.
At the first turning mark buoy OmanSail took the lead, but trouble soon followed when there was contact between Bretagne Crédit Mutuel and Sodebo which cause the bowsprit to be broken off Thomas Coville's boat. Sobedo's crew improvised, hoisting their spinnaker from the bow but the boat's performance certainly suffered.
After dusk the wind built to 20 knots, peaking to 25 knots overnight. In pitch black, the boats were surfing down the waves at speeds approaching 20 knots, as the sailors had to negotiate the numerous perils: cargo ships, fishing nets and geographical hazards.
The leaders completed the leg in 12 hours. They rounded a mark just off Rotterdam and then sailed upwind to Breskens until 7am. The fleet was rewarded with a final hour under spinnaker before crossing the finish line off Breskens.
Groupama (1st) overtook OmanSail (2nd) just 20 miles from the finish, finishing 54 seconds only ahead of them. Bretagne Crédit Mutuel (3rd) completed the podium. Courrier Dunkerque took 4th after some ships came a bit too close for comfort. Nantes St Nazaire E.Leclerc was 5th and TPM Coych 6th. Sodebo was relegated to 10th place thanks to her broken bowsprit. Martinique - BE.Brussels was home in 7th, and leads the amateur ranking.
Franck Cammas, Groupama 34 skipper and leg winner commented: "It didn't come down to much. The race was difficult. We would not have been very happy to lose the top spot having just arrived. It was a very, very good fight with weather that was not easy in the very dark night. At night it was very windy, we were rarely calm gybing the boat in 20-25 knots.
"We enjoyed a good fight with Oman from beginning to end. They led for most of the race and at one point we were within a few lengths of each other. The race could have gone either way, but fortunately for us, it ended like this.
"It wasn't easy to leave at 21h and sail into such a rough night. We had to refocus heading into the technical beat early this morning, and the crew stayed awake all night. We all need a little rest now!"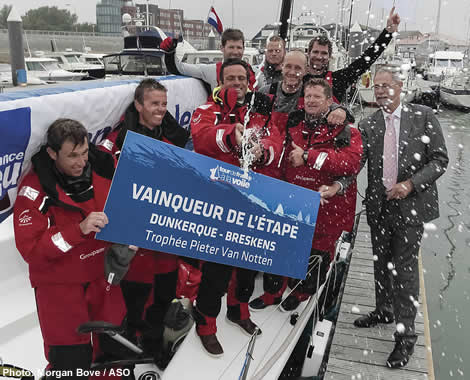 Cédric Pouligny, Team OmanSail skipper, leg runner-up added: "We were very fast and strong downwind. We've done some nice gybes in strong winds. But we went a bit too far and we got very tired. I've been steering most of the time and I'm a bit burnt. We took some risks to be fast. The start was key and we've been rather fast downwind, we did well against Groupama. They overtook us upwind. We took some time recovering from it but we did come back on them."
Christopher Pratt, navigator on Bretagne Crédit Mutuel Elite, said: "It was a great leg! It started badly because there was a small accident with Sodebo. We are very sorry that they were not able to sail the leg under normal conditions. The Omanis took the lead and we never managed to catch them.
"The leg was truly magical. We had an amazing downwind ride. It was a very dark night and the waves were incredible. We are quite happy with the result even though we wanted to do better. Groupama has set the bar very high and Team Omansail sailed very well. They almost deserved to win. We had an amazing encounter with a cargo ship and Courrier Dunkerque. Daniel Souben went behind the ship and we just ahead. When you're sailing in 15-16 knots under spinnaker it is not very easy to manoeuvre. Courrier Dunkerque had to gybe to pass behind."
The 96 sailors are now going to get dry, get some rest and some food. In-port racing resumes tomorrow with three races, weather permitting (coefficient of X1 per race). Departure time from the dock is at 0900 local.
Overall results after six races: 



1 GROUPAMA 34, CAMMAS Franck 199 pts - Blue Spinnaker
2 TEAM OMANSAIL, POULIGNY Cédric 180 pts
3 COURRIER DUNKERQUE 3, SOUBEN Daniel 177 pts
4 BRETAGNE CREDIT MUTUEL ELITE, TROUSSEL Nicolas 174 pts
5 SODEBO, COVILLE Thomas 161 pts
6 NANTES - SAINT NAZAIRE - E.LECLERC, DOUGUET Corentin 158 pts
7 VILLE DE GENEVE - CARREFOUR ADDICTIONS, METTRAUX Elodie-Jane et GROUX Nicolas 154 pts
8 TOULON PROVENCE MEDITERRANEE - COYCH, BERNAZ Jean-Baptiste 154 pts
9 MARTINIQUE - BE.BRUSSELS, WOLTERS Delphine et MOURES Matthieu 133 pts
10 ISKAREEN, DITTMERS Christiane et BRUHNS Sönke 133 pts
11 NORMANDIE, CHOQUENET Baptiste 133 pts
12 BIENNE - VOILE – SRS, PETER Luzius et KUNZ François 113 pts
Back to top
Back to top