Second leg win for Oman Air-Musandam
After winning two of the three offshore legs sailed so far on the Routes des Princes multihull race around Europe, the Sidney Gavignet-skippered Oman Air-Musandam now leads the overall MOD70 standings by the smallest possible margin. With only Friday and Saturday's inshore race series and the last offshore sprint to Morlaix-France still to be raced, they top the table only on tie break.
Oman Air-Musandam slid across the finish line on Plymouth Sound at 18:53:06 BST on a glorious sunny Wednesday evening, then threaded their way through the local sailing fleets engaged in their club racing, the international crew drained but contented after a nerve shredding, intense leg from Dun Laoghaire, Ireland which started on Monday morning.
The Omani MOD70 finished just 15 minutes and 27 seconds ahead of second placed Edmond de Rothschild, crossing the finish line 2 days 7 hours 53 minutes and 6 seconds after starting in Dun Laoghaire.
Third MOD70 to finish was Jean-Pierre Dick's Virbac-Paprec 70 at 19:45:56, 53 minutes and 50 seconds after the leg winner.
Oman Air-Musandam had initially lost out on the fast downwind leg to the first points scoring opportunity at Wales' Bardsey Island, but then made initial gains when they held inshore at Tuskar Rock, off Wexford, cheating the adverse tidal currents but running something of a risk as the winds close to the land were, they felt, lighter than offshore.
But Gavignet's team got the equation right and was able to eke out a small lead on the southeast and southern Irish coast, leading around Fastnet Rock.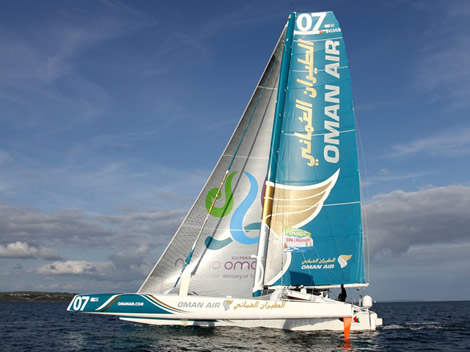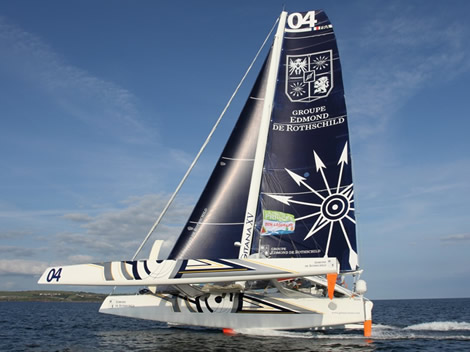 Although Oman Air-Musandam all but left its two MOD70 rivals standing after Fastnet Rock, stretching out to lead by a substantial 47 miles at one stage, it was always expected that the breezes would die off again before Bishop Rock at the Scilly Isles.
But when it did, suddenly, the MOD 70 dropping from 30 kts boat speed to one knot over a 30 minute period, their main rival Sébastien Josse's Edmond de Rothschild, then reached up to them at speed. But the Oman Air-Musandam crew held their nerves and their focus when the re-start happened. They crept away again to win the two vital bonus points at Bishop Rock.
Oman Air-Musandam won the first leg from Valencia to Lisbon thanks to an early breakaway move, but finished third, 33 seconds behind second placed Edmond de Rothschild into Dun Laoghaire. Skipper Gavignet admitted that they had learned from their disappointing final miles into Dublin Bay when they lost out by 33 seconds to Josse's crew.
"The thing I can say is that I think we deserve it," said Gavignet upon his arrival. "We sweated a lot, especially when we had a bit lead, 40 miles or something like that and went from 30 knots of boat speed to one knot in less than 30 minutes. And two hours later we saw lights on our weather side, we were doing one knot of boat speed and they were doing 14kts on the AIS. But we kept fighting and we made it. Thinking about the end of the last leg we were more vigilant this time.
"We work well together as a team. We have done some good things in navigation, even if we have no navigator, I have to say I am happy with what we have done there (on the SE Irish coast when they stayed inshore at Tuskar Rock).
"It made a big difference to be inshore there. We planned to be there for a long time in advance. And then we kept playing that game, staying inshore on the Irish coast, there was much less current there. The charts were saying two knots but there was easily twice that, and when we went in, there was less current and when you have less current against you have more wind. We were not so sure about our position at that time because of the overnight black out, but when we saw them on the AIS crossing behind us that felt good.
"At the Fastnet it was difficult, the GRIBs were not showing anything conclusive, but we took what we had and used it, and the same at Bishop Rock, I guess we got a bit lucky, we took what we had then too. It was very tight with Edmond de Rothschild, it could have gone either way.
For a team which purports to have no specialist navigator, skipper Gavignet and offshore ace Neal McDonald combining their thinking to devise their key strategies, Oman Air-Musandam has established a very strong record offshore. Of the offshore points scoring opportunities, it is only at Bardsey Island that they have not taken the points as leg leaders.
"Sidney and Neal have done a great job at putting us in the right place, they work well together on strategy with clear ideas," explains Irish crewman Damian Foxall. "The situation can change very quickly and literally in 5 to 10 minutes you can miss a breeze and find yourself in something totally different. We end up looking at the big picture to see not where the wind is now but where it is going to be in three or four hours and what is the low risk option, what are the advantages and potential losses and I think we are doing that well."
From Virbac Paprec 70, skipper Jean-Pierre Dick said: "We got off to a great start on Virbac Paprec 70. We were first around the mark. Then we didn't really get into gear. Oman took a daring route close to the Irish coast. They then took off during the night. It really was a very good option. They had the right vision of things.
"Naturally, it's a little frustrating not to make a comeback in this leg, even if there wasn't a great time gap at the finish. It wasn't exactly a brilliant leg. I hope that the next leg will be more fun for us!"
Overall standings after Leg 3
1- Oman Air-Musandam, 126pts
2- Edmond de Rothschild, 126 pts
3- Spindrift, 122 pts
4- Virbac Paprec 70, 98pts

Wednesday 12 June 2013 - Finish day by routedesprincesTV
Back to top
Back to top