Third Multi 50 winner
As Erwan Le Roux and the crew of FenêtréA-Cardinal crossed the Plymouth finish line in warm summer sunshine and light airs to win Multi 50 honours on leg 3 of the Routes des Princes this afternoon, they became the third different victor following three consecutive offshore stages which have brought the fleet from Valencia to Lisbon, on to Dun Laoghaire and now to Plymouth.
On the 340 mile leg which started off Dun laoghaire on Monday morning, FenêtréA-Cardinal only finally got ahead in the very early hours of this morning at crawling speeds between Falmouth and the finish line. She held further to the east, offshore and managed to lift away from long time rival Arkéma-Aquitaine Region, going on to win by 37 minutes and 7 seconds.
With overall race leaders, Yves Le Blévec's Actual, left to finish third, arriving 1 hour 43' 30'' after the winners, the Multi 50 leaderboard is now much more compressed as the crews contemplate the one last sprint to the final finish line in Morlaix, which starts on Saturday evening.
Actual's total margin is now trimmed to just two points ahead of Arkéma–Region Aquitaine with FenêtréA-Cardinal now just six points off the overall lead thanks to their win today. Erwan Le Roux's team has now finished third, second and first on the offshore legs.
It was a painfully slow finish to an intensely tactical leg from Ireland marked by periods of very light unstable winds. Although Actual built a good lead on the first part of the leg they hit the wall of light winds first.
On the light wind beat towards Land's End and the Scilly islands, Arkéma-Aquitaine Region jumped back into contention when she made a big gain on a local lifting breeze which allowed Lalou Roucayrol's crew to lead by 5.5 miles at the Scillies. She collected the two bonus points at Bishop Rock, but again the leader's hazard of running into the light airs zones first, gave the others a chance to catch up once more.
"That's it - we finally won one!" said a grinning Le Roux as he docked in Plymouth. "But this was one we had to go out and win. In the Irish Sea after Bardsey Island Actual were 15 miles ahead of us. But we were just so motivated, and we have not missed out on anything since. We had a moment of doubt before the Scillies when Lalou Roucayrol got through, but we got back to it and it has paid off. From the start we felt like we were in it and so here we are, it feels good this win.
"This leg was complicated, very complicated! Every time we seem to have made a good start then half an hour afterwards it has gone wrong. A few miles out of Dublin Actual had to make a gybe and soon they were 13 miles ahead. We had to push really so hard to get back at them and once we had managed to do that and were in the match with them, Lalou Roucayrol came back at us on the other side and got ahead. He did what we would have done in his position. That's how they got the better of us and got ahead at the Bishop Rock. But as we didn't have the exact positions, we thought we had won the bonus. But then, we looked downwind of us and saw them. We couldn't believe it but that encouraged us to give it our all to catch them.
"We just hung on to their heels and would not let them get away. In the end we kept a gap we created in the night without really knowing why. We got a little bit of luck which we did not get in the first two legs. It was hard at night. It was tense, speeds were very low. But we continued always to push the boat at 100%. It is great. We tried a slightly different watch system which meant we always had three on deck. We always had someone fresh driving and always someone watching the nav. We are happy. This re-sets the points a good bit. I am happy with the boat and the crew."
The 340 mile course took the four Multi 50 trimarans from Dublin Bay to Bardsey Island off Wales's Llyn Peninsula – where Actual won the two points bounty offered there, past Bishop Rock lighthouse west ofthe Scilly Isles, to Eddystone Light and on to the finish off Plymouth's Knap buoy this afternoon.
FenêtréA-Cardinal's elapsed time for the course is 2 days 3 hours 37 minutes and 50 seconds. Their average speed over the course is 6.59 knots.
Lalou Roucayrol on Arkéma-Aquitaine Region added: "We had a pigeon on board for more than 24 hours. We said he brought us luck! In fact, we got lucky to stay in the middle and make a big gain, the others went to the east In this kind of race nothing is over until the end, we had the lift and then bingo. But it is so uncertain. With FenêtréA-Cardinal last night we were side by side all night getting past and then this morning, he went further offshore, while stayed at the coast. And here FenêtréA got away. But we are very happy to have raced so close with them with this boat. All along it was the concertina effect, it was very random. Even 2-3 knots of current is not to be forgotten. The Scillies were good, and then fell into the light stuff we got sucked in by the current ... we were going backwards. There is a lot of nervous and physical tiredness because we were really on the deck all night. We spent all night trimming. We are really happy to be here!"
Multi50 Results Leg 3, Dun Laoghaire to Plymouth.
1.FenêtréA-Cardinal, 2d 3h 37mn 50s, 40 pts.
2.Arkema – Région Aquitaine, 2d 4h 14mn 57s 36 pts.
3.Actual, 2j 5h 21mn 20s, 32 pts.
4.Rennes Métropole – Saint-Malo Agglomération, 28 pts.
Provisional overall standings:
1.Actual (Yves Le Blévec) 114 pts
2.Arkema – Région Aquitaine (Lalou Roucayrol) 112 pts
3.FenêtréA-Cardinal (Erwan Le Roux) 108 pts
4.Rennes Métropole – Saint-Malo Agglomération (Gilles Lamiré) 84 pts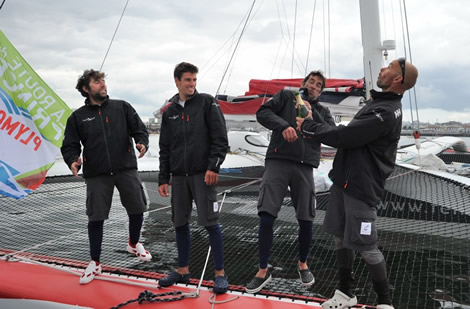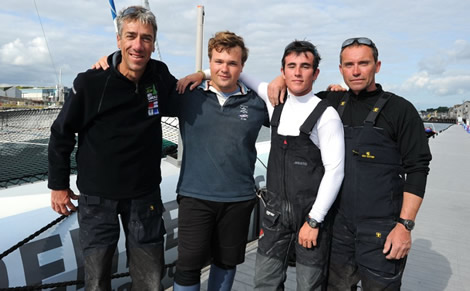 WEB TV - Wednesday 26 June
by routedesprincesTV
Back to top
Back to top