Oman Air-Musandam consolidates
Tuesday June 25th 2013, Author:
Andi Robertson
, Location: none selected
Just as they did on the very first leg of the Routes des Princes, so once again Sidney Gavignet and the crew of the MOD70 Oman Air-Musandam have managed to steal a meaningful march on their opposition.
On Leg 1 in the Mediterranean they separated from the fleet and built a lead of more than 20 miles which served them well enough to win that opening leg into Lisbon.
When they passed Fastnet Rock in the lead of leg 3, from Dun Laoghaire to Plymouth, this afternoon at 12:40 UTC Oman Air-Musandam already had more than 20 miles in hand over their two rivals Edmond de Rothschild and Virbac-Paprec 70. But their big bonus was to break out of the wide corridor of very light, hesitant winds into faster reaching conditions.
Gavignet and team were soon making 23 knots away from the when the other two MOD70s were averaging six or seven knots and still had more than 10 miles to sail to reach the rock milestone during which the Oman-flagged MOD70 had already nearly doubled its lead.
The big breakway was a scenario that the French skipper had warned about when he spoke on the morning radio vacation with Race HQ in Plymouth, not fully knowing that they would be the big beneficiaries. Oman Air's lead is expected to continue to grow but there are likely to be other slow-downs ahead, although the remaining stages of the course will not be decided until the leader is approaching Bishop Rock where the second bonus points of this stage are awarded.
In the MOD70s Oman Air-Musandam's strategic choices have been strong. Cheating the contrary tidal current at Tuskar Rock last night was key and they have been able to multiply their lead since, always holding closer to the Irish coast. In fact Ireland's Damian Foxall on board will have taken great pride in passing Fastnet in the lead again, as they did also en route from Lisbon to Dun Laoghaire. Then they took the bonus points but slumped to third by the finish line. This time Foxall and the crew will be hoping they can win their second offshore stage.
Sidney Gavignet described their situation: "We are in very light winds, about seven knots, there are dark clouds over the land, very thick. It's a little stressful because we do not know who will get out of this windless zone first and in to the other side, whoever does will gain a big lead but for now it's okay, but that is the way it looks.
"We thought about going inside the DST by the coast for a long time, because there is a very strong current. There was at least four knots and so we went to protect ourselves a bit in the shallower waters, it was a bit risky because there was less wind, but it paid off, it was pretty good. The forecasts show we in a windless area, it is not really clear at all, this is a band that is about twenty miles wide and you must find a way to cross it and you need a little luck also. After that the first who gets away from the first Fastnet will get a good wind so it could open up a lead at the front. Lats night, we slept normally, our watches giving us two hours of sleep. I heard a lot of snoring last night so I think the rest was good..."
From Virbac-Paprec 70, skipper Jean-Pierre Dick added: "The night was fairly quiet with very low visibility this morning. Here now sky is gray, the sea is gray, there is not much visibility and quite a thick fog. It is a bit chilly, summer does not seem to have arrived yet in Ireland. There is a little low pressure here with some dark, stormy clouds around. We are a bit melancholy. We need to try and pick it up a bit but its not easy when the position reports come in and we see the gap to the leaders getting bigger. We had a little stress during the night with boat speed and some headseas. This morning the conditions are not great, but anything can happen, you can easily catch up again. I am not too stressed.
"At times, you see some puffs and little gusts just ahead of us. We found ourselves becalmed last night for 2 hours. Never have we been so slow with this MOD 70.
"The wind is very light, we have to keep going, even if we are a little bit behind, the race is definitely not over. We can see Edmond de Rothschild not far away. Oman is currently seeking an option rather inshore for now they are closer than we are to Fastnet. We have our fingers crossed for that it is not so far to the passage of this legendary rock.
"Everyone is fit, Vincent did a lot last night. We will try to catch up with our watches The atmosphere is really good on board Virbac-PAPREC 70. The crew always have a smile, and that is good even when we are not in a great position, that's how we will get back again, by believing and not letting not taken."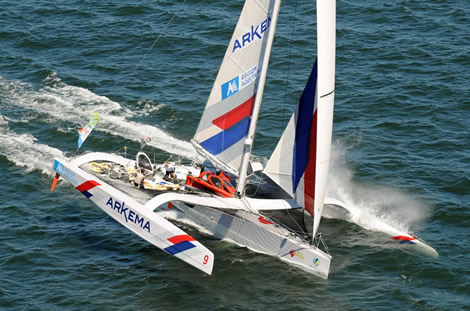 First to Bishop Rock at the Scilly Isles this afternoon was the Multi50 Arkéma-Aquitaine Region. From his team's slightly more westerly position Lalou Roucayrol took advantage of a lifting northwesterly breeze which allowed them to sail more directly towards the Scillies, while the two leaders, Actual and FenetreA-Cardinal were forced to tack upwind in a southerly
The direct, shortcut saw Arkéma-Aquitaine Region overturn a deficit of more than three miles to lead around the Bishop Rock where they collected the two bonus points. In the same 'rich get richer' situation as with the MOD70s, her lead is growing fast as she is making 13 knots reaching while rivals Actual and FenetreA-Cardinal are still doing only 6-7.
Gilles Lamiré on Rennes Metropolitan –St Malo Agglomération reported: "We are moving, it's going okay. We are staying in the match a bit now. We were pretty happy yesterday because we were in good shape when we got around Bardsey Island in second place. We are going the right way towards Bishop's Rock. I don't know where the others really are but I hope we get there before they get away. There are some misty patches. There are some puffs of wind on the water. We do watch our competitors on the AIS and everyone seems to play the game well."
With very light winds expected overnight and into tomorrow the Multi50s were waiting to hear this afternoon if their course would be shortened at Eddystone light off Plymouth or whether they might have to tackle the even more complex, strong currents and fickle breezes which the longer course might bring.
Whatever the situation is currently in both classes, given that the weather files continue to show variable breezes for the approach to Plymouth and in the western English Channel, 2-3 knots at the most at times, it is clear that this stage will not be decided until the first boats are across the finish line.
Standings at 15:44 UTC
MOD70
1- Oman Air - Musandam, Sidney Gavignet
2- Edmond de Rothschild, Sébastien Josse, +31.86 miles
3- Virbac - Paprec 70, Jean-Pierre Dick, +45.64 miles
Ultimate
1- Maxi 80 Prince de Bretagne, Lionel Lemonchois
Multi 50
1- Arkéma - Region Aquitaine, Lalou Roucayrol
2- FenêtréA - Cardinal, Erwan Le Roux +2.97 miles
3- Actual, Yves Le Blevec, +3.88 miles
4- Rennes Métropole - Saint Malo Agglomération, Gilles Lamiré, +9.29 miles
Back to top
Back to top