Underway again
Heading to Plymouth, the Routes des Princes fleet of eight grand prix multihulls left from Dun Laoghaire, at 1100 this morning.
For the teams the return to perfect sunshine with only moderate winds at start time proved an ironic change from the blustery, chilly gales which prevented any of the planned inshore racing being completed over the weekend.
When they left the National YC dock this morning they were leaving MOD70 race leader Spindrift tied forlornly to the pontoon. Plans to dive to recover the rig – broken when they capsized on Saturday - sails and standing rigging are well advanced, weather dependent.
On the initial, short 7.2 miles circuit before leaving Dublin Bay it was Virbac-Paprec 70 and FenêtréA-Cardinal which took command of the MOD70 and Multi 50 classes respectively, but this penultimate offshore leg to Plymouth promises to be very tactical, peppered with several zones of stop-start sailing. Once more a close finish, in light winds, is anticipated by the MOD70 skippers.
As well as the sunshine and very light winds, there will be rain clouds at times, thick fog banks and strong tidal currents along the south coast of England, all providing different challenges or opportunities for the teams.
Leg 2 from Lisbon to Dun Laoghaire, Ireland was notable for successive opportunities for crews to claw back miles when the leaders slowed into light winds first, and on Leg 3, even more of this compression and even re-starts are anticipated.
The Multi50 course has been shortened to 345 miles by eliminating Fastnet Rock from the route which was originally planned for them. For the MOD70s it will be at least 514 miles to Eddystone Rocks off Plymouth via Fastnet and Bishop Rock where the final marks will be detailed to the MOD70 teams.
All were heading southeast this afternoon, working downwind in a fading northwesterly breeze towards Bardsey Island, which lies about two miles off the tip of Wales' Llyn Peninsula. That is the first of the two marks where bonus points are awarded to the class leaders, the second being at Bishop Rock by the Scillies.
First to Bardsey Island was the Ultimate class trimaran, Lionel Lemonchois' Prince de Bretagne at 14:25 UTC followed by Edmond de Rothshcild taking the two points as first MOD70 at 14:32 UTC.
"We made the decision to shorten the course for the Multi50s due to the very light weather conditions forecast in the Irish Sea in the next 24 hours. Thus, instead of racing the 514 miles originally planned, they will do 345," said Sylvie Viant, the Race Director.
For the MOD70s and Prince de Bretagne the 195 miles section from Bardsey to Fastnet will start mainly upwind into a veering breeze, but by the rock they will enter a confused area marking the centre of a low pressure cell. Out of the Fastnet on the course to Bishop Rock there might be the chance for a sudden gain for whichever boat manages to escape first into a W'ly pressure flow but this will die off before the Scillies.
The entire fleet should meet up at Bishop Rock lighthouse where winds will be very light, just 4-5 knots at times and then racing on towards Eddystone light and Plymouth where the final finish of the race is expected on Wednesday afternoon. The tidal coefficients are high – between 100 and 105 which means currents might be up to 5-6 knots, and fog banks – especially off the Scillies and into the western English Channel.
Sidney Gavignet, FRA (Oman Air-Musandam): " It will be light. It will probably see stretching and catching, some people will get away with more pressure and then have to wait in lighter winds ahead. It could be tight at the end because it will be light towards the finish again.
First it will be quite busy, quite intense as it is important to get the point off Wales. There will be a light patch at one stage going downwind. We should get to the island around six o'clock. Then going to the Fastnet the transition will be when we are not upwind anymore but kind of reaching, getting very light. Then the final beat to the Fastnet will be very tricky, very light and there is some good flow out to the west of Fastnet and so maybe one boat can escape there. Then he would wait at Bishop Rock because it will be light there. And then it is light. In the Channel there is a lot of current and that can be something.
It is sad to have lost Spindrift. I still think there was something strange the way it happened. Something not normal happened."
Jean-Pierre Dick, FRA (Virbac-Paprec 70):" It will be a leg which is not easy, but fortunately with not much wind. So there will be ridges and fronts which are not too active but sufficient so that wind will be changing direction which will be key. The important thing also will be the current. There is a very strong tide during this leg which will mean big currents on the south coast of England. That will play a role. If we have a current of four or five knots even if the boats are fast there is still an effect. It will be very interesting to follow because the winds are going to change. There will be opportunities for boats which are a little bit behind to come back. So I think it will be a good leg. There are so many points where there can be changes. Portland Bill can be strange with big currents.
It is a pity to lose Spindrift but the competition level is still very high. Just because there is three the interest will not diminish. There will be a good game and we will show that."
Seb Josse, skipper of Edmond de Rothschild looked ahead at the course: " It looks interesting. It will be sunny weather to the Fastnet and then a tricky situation there and in the Irish Sea. We have to manage that. And then it should be okay to the Scilly Islands, not so good for the last part from the Scilly Isles to Plymouth. With these type of boats the current can help move the boats.
"It is not good to lose Spindrift, losing the best boat of the fleet. So it will different now but remember on the last leg we only finished two boatlengths ahead of Oman Air-Musandam."
Damian Foxall on Oman Air-Musandam added: "We are one boat down so that will feel different on the start line. Being on the start line today with the black boat on the dock with no rig will feel weird. There you go that is part of this circuit fortunately. We will have a good race though because Gitana have been pushing us hard and Jean Pierre is getting to know his new boat well. And so it is looking good out there and we need to make up for the lack of inshore racing here. It will be nice to put on a bit of spectacle in Dublin Bay before the start.
"I think it will be nice to the Welsh mark, downwind. A bit of upwind and reaching to Fastnet, a couple of little rain clouds and then lightening breezes as we get towards Plymouth. It will be a nice leg. And to be honest every one of the legs so far has been fantastic so far. We have had no really tough conditions. We had that small low off Finisterre during the last leg. The strongest wind we saw was that gust on Dublin Bay on Saturday! It has been a good couple of days here. I have had a few friends come up here and see the boat which has been great."
Among the Multi50 skippers Lalou Roucayrol, on Arkema - Aquitaine Region said: "It will be extremely difficult because there will not be much wind, we'll have to concentrate fully on trimmingthe boat. I don't like no wind! We got the good news to be able to unseal our anchors if necessary. It will be frustrating and might lead to a new experience for us on Arkema. Looking at what might happen our strategy will be difficult because it is a big no wind area which will make passing Land's End tricky."
Yves le Blevec on Actual added: "We are in a summer regime with a high pressure that pushes on Europe, and it does not generate a lot of wind. This is a situation with areas of significant transitions. It's gonna be really hard to know which side we stand. The weather systems will move faster than us, so sometimes it will be difficult to understand and predict, the scenarios can be very different. Staying cool is important because if you get behind, you should not need to panic because there will be re-groups, and it also works the other way! Frankly, with FenêtréA-Cardinal, I'd be one hour ahead of them than one hour behind them. We're going down the St. George's Channel with a steady wind, however, at the entrance to The Channel, it will be more complicated towards the Scillies because we will be forced to cross this zone becalmed"
Standings at 1400 UTC Monday
Multi 50
1- Actual, Yves Le Blevec
2- Rennes Métropole - Saint Malo Agglomération, Gilles Lamiré, +7.60 miles to leader
3- FenêtréA - Cardinal, Erwan Le Roux, + 8.61 miles to leader
4- Arkéma - Region Aquitaine, Lalou Roucayrol +16.10 miles to leader
MOD70
1- Edmond de Rothschild, Sébastien Josse
2- Virbac - Paprec 70, Jean-Pierre Dick, + 1.32 miles to leader
3- Oman Air - Musandam, Sidney Gavignet, + 1.64 miles to leader
4- ABD - Spindrift Yann Guichar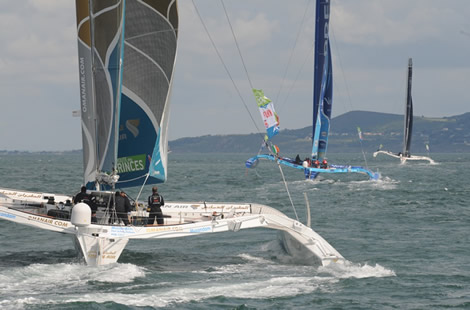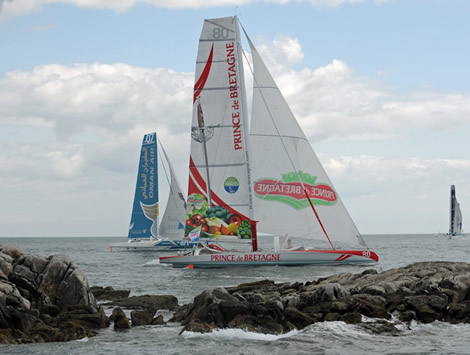 Start of the third leg: Dun Laoghaire-Plymouth
by routedesprincesTV
Back to top
Back to top