Edmond de Rothschild hat trick
Three wins, including two inshore races in which they led at every mark, has demonstrated the initial superiority for Sébastien Josse and his polished crew of Edmond de Rothschild, who will leave Valencia on Sunday with the best of the inshore points in the bag when the Route de Princes fleet head off on the 1,800 mile opening offshore leg to Lisbon, Portugal.
While the first offshore stage out of the Mediterranean is expected to be slow in light winds, the three short sharp inshore circuits off Malvarossa beach Saturday were contested in a gusty, puffy cross-offshore breeze which topped 20 knots at times, especially testing boat handling and sheer speed.
Edmond de Rothschild was on imperious form, inshore tactician Sebastien Col and navigator Charles Caudrelier combining to produce some key layline calls and astute use of the gusty winds. The crew's slick handling around the corners was obvious, but skipper Josse confirmed that their performance was equally attributable to a good feeling on board, a day when everything ran smoothly for them.
"It was a good job done today. We are not lucky, we went well today from each start. Our tacks and our gybes were all good. There is no rule or pattern to what we did well, that made the difference I think because on the first start we started last. We made a great layline and good manoeuvres at the mark. I think the crew were just really strong in our boat handling. For sure Seb Col did a good job as tactician as it is not easy to get the laylines right and he did that nine times today, so I think he had a better feeling than the others today with that. But everyone did well today on board.
"It does not mean too much to have lead at so many marks. Sometimes you are in the groove and sometimes not. We have something today that we see and we feel. Personally I have a better feeling when it is windy rather than when it is light.
"The first leg is different. This is just a warm up. I think we can see Virbac Paprec did well today and that was a little bit of a surprise for everyone. They did a great job at the starts and could take the pressure and so finished second twice. They add to the pressure so we have to think about them. It will be an upwind leg in the Mediterranean, maybe really light winds to Benicarlo and then to Cap La Nao so wait until we see in Lisbon, it will be a more open leg."
While Edmond de Rothschild's success today could be said to reflect the form book, their team enhanced by the recruitment of Caudrelier and Col who won last summer's MOD70 European Tour with Michel Desjoyeaux's Foncia, the surprise package perhaps today was Jean-Pierre Dick's Virbac Paprec 70. They had back to back second places and only by virtue of a second place in the third race today - which brought the complement of Valencia inshores to six - did Spindrift steal second overall, on countback.
Clip Routes des Princes Valence Inshore - Jour 2
by routedesprincesTV
Jean-Pierre Dick commented: "We are quite happy. There was quite a lot of wind so for us a 2,2 and a 3 is not bad for the day at all. It could have been better because we made some little mistakes, but I think everyone did with the exception perhaps of Gitana they made a perfect day. We are quite happy because we are really not too far away despite being the last ones to join the class."
Finishing runners up in the last race was an important boost for Yann Guichard's team as an emergency tack in the first race, precipitated by a close encounter with Virbac Paprec 70, left them stranded head to wind, resulting in a last place.
Xavier Revil, deputising for absentee Yann Guichard on Spindrift's helm, commented: "The first race was a bit difficult for us, because it was quite windy and gusty and we went with the full mainsail and it was a little too much. On the last leg we were very close with Virbac and they made a tack and we thought they were too close and so we made a crash tack without preparing anything and that was bad and we stayed head to wind and were last. But after that with the reef we made two good races. In the next one we made a good start but the wind dropped and then came back from the top so the others caught us. In the last race we concentrated to be in front of Virbac and the team work was good so we got the second which keeps us second overall which we are happy with because we did not train so much as a team before here.
"Gitana we are not surprised about. They made a lot of training with short races. We only really trained for the short races from Thursday we have three guys who are new on the boat and it is not the same game when there is 25kts, sometimes we made some small mistakes and it was not easy for me it was the first time for me steering in so much wind on the small courses. On the first race there was a lot of pressure for me on what I do. It was really important for me, at this stage, to keep the boat in good condition before the first offshore leg. So to come back to the dock with the boat in good condition is important. I think we will be very good on the long distance race, Yann will be back."
With a 2,2,3 for the day, Jean-Pierre Dick was happy with the first inshore series for Virbac Paprec 70. That was not so much the case for Sidney Gavignet's team on Oman Air-Musandam, who allowed too many small errors to cost them valuable early points and finished up fourth.
Damian Foxall summed up: "Gitana is pretty regular and will be hard to beat. The others we can beat but not if we sail like we sailed today and like we sailed yesterday. Yesterday I did not think we were that far off it, but today we were quite far off. We should be getting closer not further away! I think we are going around the corners well enough, we need to be generally being on the start line fast and going in the right direction. Boat handling wise I don't think we made any big mistakes. There were a couple of little furling problems with the gennaker when the wind was up, you still want them furling fast. We have some work to do.
"I think there is a big tactical element to being in the right place, not necessarily being on the inside on the tacks, on the gybes and at the turning marks, but quite often you see boats which lead at the start or even at the pre start and then get locked out in the process. We need to start thinking a lot more like an Extreme 40 format and less about strategy. We have the ability we just need to bring it into play."
MOD70's Valencia Inshore Final Standings after six races:
1. Edmond de Rothchild (Sébastien Josse) 54 pts (2,1,3,1,1,1)
2. Sprindrift (Xavier Revil) 42 pts (1,3,2,4,3,2)
3. Virbac-Paprec 70 (Jean-Pierre Dick) 42 pts (3,4,1,2,2,3)
4. Oman Air-Musandam (Sidney Gavignet) 30 pts (4,2,4,3,4,4)
More images from Mark Lloyd/www.lloydimages.com/Oman Sail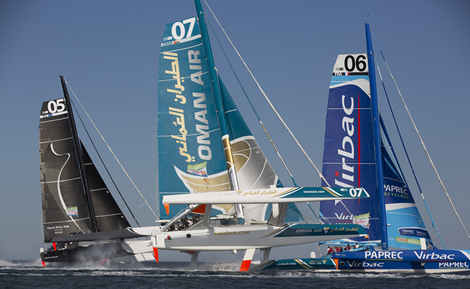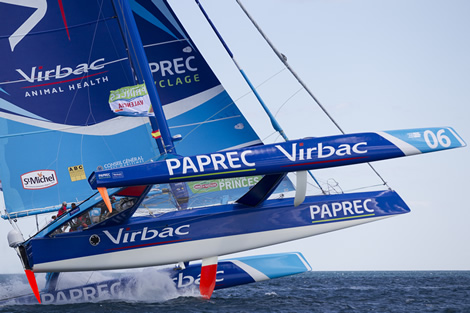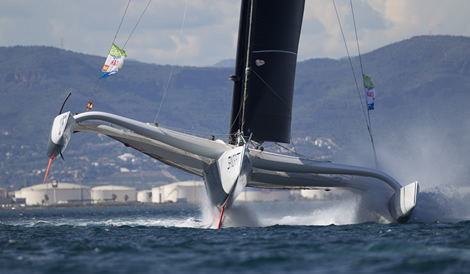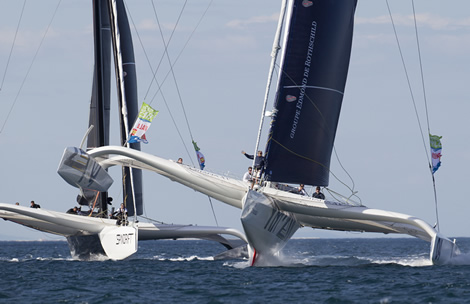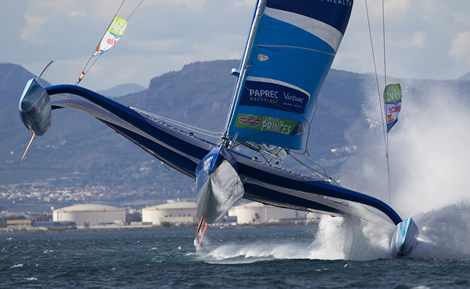 Back to top
Back to top