Practice race
As the final dress rehearsal for Friday's first points scoring inshore races of the Route des Prince, two training races today gave an immediate insight into how close the short, sharp round the buoys course racing will be.
Two days of these inshore races, or up to six races, are scheduled before the fleet leaves on Sunday for the opening leg of the Route des Princes from Valencia to Lisbon, Portugal.
Honours, little as they may be worth, proved to be pretty even after the Route des Princes fleet took to Valencia's waters off Malvarossa Beach for a first informal skirmish sailing in the typical Valencia conditions, with 12-15 knots of sea breeze and sunshine.
Two races were held today. It was the newest MOD70, Jean Pierre Dick's Virbac Paprec 70, which made the best start in the first until Sébastien Josse's crew on Edmond de Rothschild took over the lead. But they could not defend against the advances of Oman Air Musandam and it was Sidney Gavignet's crew which took the first winners' gun with Spindrift in second and Edmond de Rothschild third. In the Multi 50s it was Erwan Le Roux's FenêtréA-Cardinal which won the training race.
There was little change in the conditions for the second race and after Oman Air Musandam led early on, this time it was Spindrift which triumphed while FenêtréA-Cardinal completed the double in the Multi50s.
Earlier in the day Xavier Revil announced that Yann Guichard, skipper of Spindrift will only be joining the crew moments before the start on Sunday (and will miss tomorrow and Saturday's inshore races). This is because Guichard and Dona Bertarelli are taking part in the Geneve-Rolle-Geneve on Saturday and Sunday, before high-tailing it to Valencia.
In Guichard's place on the Spindrift helm for the inports in both Valencia and Lisbon (when there is a clash with the Bol d'Or Mirabaud) is Xavier Revil, who in 2012 sailed on board Foncia winners of last year's MOD70 European Tour. Like Guichard, Revil is a former French Tornado Olympic sailor. While Guichard competed at the Sydney and Athens Olympiads, Revil represented French in 2008 in Qingdao.
More from Mark Lloyd/www.lloydimages.com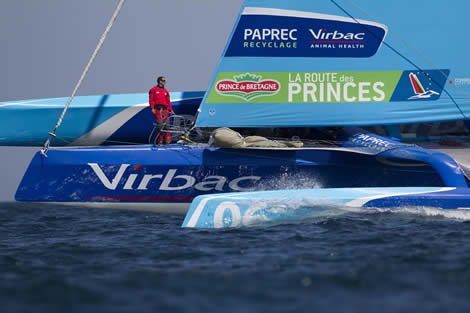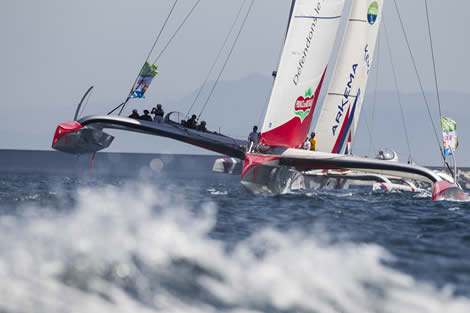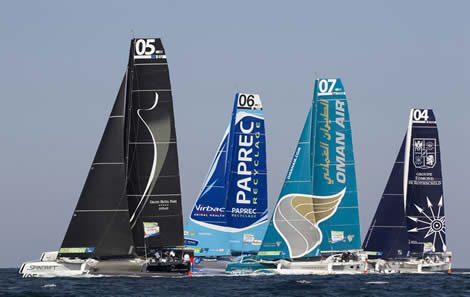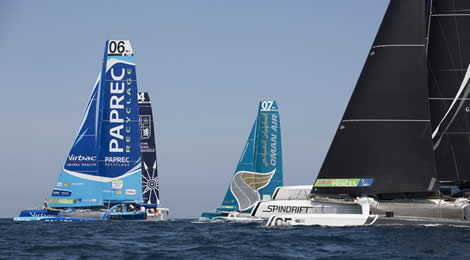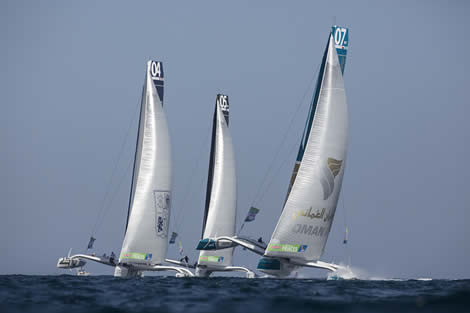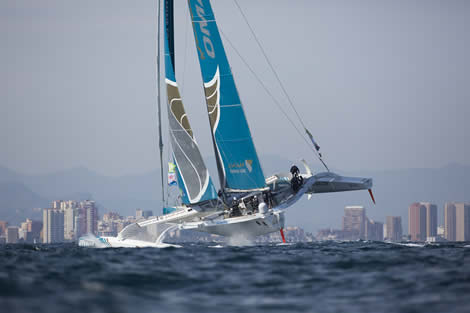 Back to top
Back to top