Artemis duo out of the UK Mini Fastnet
Monday May 13th 2013, Author:
James Boyd
, Location: none selected
After setting off on the 561 mile UK Mini Fastnet 6.50 on Sunday, Artemis Offshore Academy Mini sailing duo Nikki Curwen and Lizzy Foreman are this morning back on dry land after a broken tiller caused them to retire after 12 hours of racing.
"We were putting a reef in the main sail and the rope got caught around the tiller," Curwen recalled. "Perhaps this weakened the carbon tube, as about an hour later the tiller snapped before the joint. We taped and lashed it back together as best we could and continued sailing for about an hour and a half. The closer to we got to the big winds and large seas of the Irish Sea, the more dubious I became about our tiller repair holding out. I was worried that we may have needed some kind of outside assistance if we continued, so prudent seamanship decisions took over and we decided to retire back to Plymouth. It would have been crazy to risk this Autumn's Mini Transat unnecessarily.
"It is obviously very disappointing to have had to turn back, especially as we had done the hard bit, a storming power reach in 20 knots off Lands End, already. The race had been really pleasant up until that point, even with the strong upwind conditions, which are not ideal Mini sailing conditions.
"It is always painful to abandon a race, but at least I was lucky that this incident happened now and not during any of my previous qualifying races."
Artemis 438 is the third of four Minis to have retired from the race in less than 24 hours, with British skipper Tom Webb [Yellowfin] having dislocated his knee, French Proto Chache retiring due to sail damage and this morning a fourth Mini, Pannacota, retired from the race for reasons unknown.
The UK Mini Fastnet 6.50 started from the Royal Western Yacht Club, Plymouth yesterday at 12:00pm, with the course taking the now remaining 13 Minis and their double-handed crews to Fastnet Rock and back again via the Coningbeg Light Vessel mark.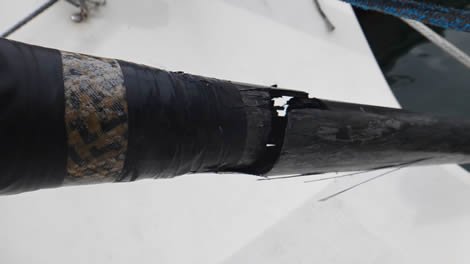 Back to top
Back to top