Fundamental changes to the IMOCA rule
Wednesday April 24th 2013, Author:
James Boyd
, Location: none selected
Following the significant IMOCA AGM in Paris last week, more information is emerging about the latest iteration of the rule for the shorthanded globetrotting 60 foot monohulls. The decisions made at the AGM were the culmination of two years of hard work by the class with the aims of reducing costs, improving reliability and simplifying the boats.
The latest rules are certainly the greatest fundamental change to the class since Open 60s came into existence in the 1980s when for the second BOC Challenge, the organisers started rule-making, going from a rule that was simply limited length (56ft for the first BOC Challenge in 1982) to requiring the fitting of watertight bulkheads and movable ballast through the introduction a 10° rule whereby, simply, a boat must heel by no more than 10° with all her movable ballast (then water ballast) deployed.
Another bout of rule making occurred in the late 1990s after the spate of Open 60s inverting and, thanks to their wide flush (and occasionally concave) decks, remaining inverted. This was particularly prevalent during the 1996-7 Vendee Globe when Jerry Roufs, the Canadian skipper of Groupe LG 2 lost his life in the Pacific. This led to the introduction of limitations on the Angle of Varnishing Stability (AVS - the angle at which a boat wants to capsize more than it wants to right) and on the size of the cabintop (to encourage righting) and on a mandatory inversion test from a full capsize without a rig, introduced prior to the 2000 Vendee Globe.
The latest iteration of the IMOCA rule has finally eliminated two cornerstone rules that have defined Open 60s for years - the 10° rule has finally gone as has the 127.5° AVS limit.
"It is going to be very interesting," says Hugo Boss skipper Alex Thomson who sits on the IMOCA Executive Committee and was integral to the meetings between the EC and the IMOCA Technical Committee. "We are starting afresh. Losing the 10° rule is going to make a big difference to the boat."
The AVS 'worse case', ie with all the ballast and gear stacked unfavourably, remains and has been raised once again from 110 to 114° (originally it was 108°) which we understand is a consequence of other aspects of the rule changing. Also a new righting moment limit of 22 tonne metres is being introduced at 25° of heel, replacing the previous 32 tonne metre maximum righting moment rule. According to Thomson the effect is the same as what there was before, only that 25° is a much more realistic angle of heel for the traditionally ultra-stable IMOCA 60s.
Movable ballast has also been severely limited. It is assumed that all future IMOCA 60s will be fitted with canting keels, but these will now have a maximum cant angle of 38° (rather than erring into the 40s as present boats are).
While the amount of water ballast carried has previously been unlimited provided a boat complied within the rule's stability requirements, now it has a finite limit - 1500lt forward and 750lt aft. With tanks required to be centreline mounted, it appears water ballast is now aimed at primarily being used to change fore and aft trim rather than the recent generation of boats which have been able to bring on board as much as 5-6 tonnes of water, thereby increasing their displacement by up to around 75%... So no longer will IMOCA 60 be giant water tankers and this new rule is also likely to enlarge the interiors of the boats.
Thomson gives his view on the water ballast: "It makes the boat quite expensive to put in those ballast systems. We all had problems with them. Often they leak and you put a lot of time and energy into that area without going that much faster. There is a lot of pain for not a lot of gain. Now we are just going to carry more lead in the bulb."
So the new generation IMOCA 60s will be more VO70 like, with more lead in the bulb and less moveable ballast. However again, at present there is no indication of if there is going to be a maximum (or minimum) bulb weight. Thomson reckons that the upshot of the new water ballast requirements will be that in light conditions the new boats will be heavier but they will be lighter when fully ballasted.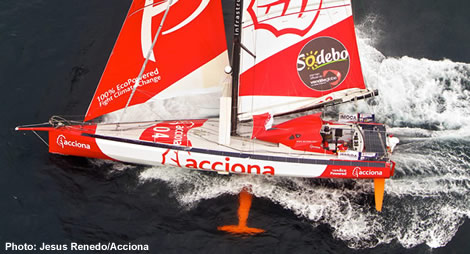 Maximum beam, another prime component of a boat's stability has also been limited to 5.85m. This is wider than say the latest Vendee Globe winner, MACIF, which has a 5.7m Beam max.
In line with the Class40 rule, the bow section of the boat has been defined. This is in order to prevent the scow bow used famously on David Raison's Mini Transat winning Mini being scaled up.
But the most drastic areas of the new rule are one designing parts of the boat. This includes the keel foil, which now must be stainless steel , forged in one piece, engineered with higher safety factors, while there will also be a standard hydraulic ram package across all the new boats. However again at present it hasn't been revealed if news boats will have to have two rams and what materials the rams will be made of – presumably not titanium....
It should be noted that the keel foils on existing boats will be grandfathered. Older boats without forged steel keels will be required to carry some degree of weight compensation. But all boats, new and old, will have to comply with the new keel rules by the time of the next Vendee Globe, although exactly how this will work has yet to be determined, given that old boats will have to stick with their original bulb.
Thomson shares his views: "From a technical point of view it is not the greatest thing in the world, as I think lots of people would prefer the possibility of carbon [for the keel foil], but it is great to be able to get rid of the fabricated fin and by the next Vendee we'll all have solid forged keels, which is an extremely sensible decision." Keels dropping off IMOCA 60 was the significant issue of the last Vendee Globe cycle.
Also to be standardised are the masts. The school continues to be out on whether wingmasts are preferable over fixed masts. The two winners of the recent Vendee Globe for example - MACIF and Banque Populaire - both had wings, whereas Hugo Boss and Virbac Paprec 3 both had fixed rigs with spreaders. As a result the new rule specifies there being a fully one design version of each type.
Was this overkill as the issues with rigs appears to have improved. The wingmast on Sam Davies' Saveol was the only rig to drop in this last Vendee Globe and while there were other examples in this four year cycle (Maitre Coq, Akena Verandas, Gamesa, etc) it was considerably short of the 19 rigs that went atumblin' prior to and during the 2008-9 Vendee Globe. Another solution could have been like the VO70 rule's in adding a minimum weight and VCG for the rig.
Thomson believes going one design for the rigs is a good thing: "We'd all be pushing the masts harder. So effectively we have a two one designs rule for the rigs, and it's worked out that while one is heavier with a lower CoG [the wing], the other is lighter but with a higher CoG [the classic mast] and the moment is the same for both. That is going to make sponsors more happy to invest because the reliability will be better and it should be better for the insurance companies as well." At present IMOCA 60 rigs are all but uninsurable.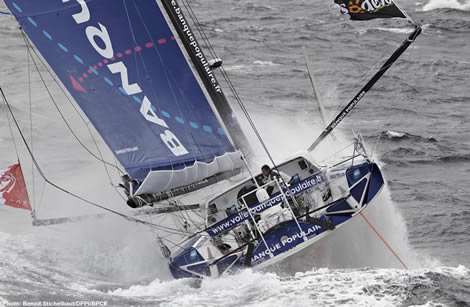 So the rigs will be completely one design, built by one supplier rather than box rule, and one wonders if this extends to other features such as how the mast is stepped, whether they will have halyard locks or not, what type of locks, etc.
At present there also doesn't appear to be any legislation regarding composite rigging and its termination which seems to be a more common reason for dismastings at present than tube failures.
It appears that the only mandatory change for existing boats is the keel fin, and that the current fleet can go around the world again with their existing rigs. However Thomson clarifies this: "With an old boat, like our Farr, we could choose to go to the new rule or choose not to, apart from the keel. What you can't do is cherry pick the items [of the new rule] that you want."
There is also set to be a limitation on materials (again obviously with old boats grandfathered), although further details of this have still to be decided.
With a team looking at building anew [at present there appears to be three or four teams looking to press the button as soon as the rule is finalised] for the next four year Vendee Globe cycle, the rule changes are significant, but welcome, says Thomson. "We are over the moon. The most important thing was to get a decision so that we can start to move forwards and that people can start building boats. The key point for all of the Executive Committee was to try to meet the objectives that we have set for a long time which was simplify the boat, try and control the costs, make it easier for people to come in, etc. It will be interesting to see if this new boat is faster than the new Volvo 65!"
And it seems there are lot of new 'Associate' members of IMOCA. These include a deluge from Classe Figaro including Jersey's finest, Phil Sharp, Nicolas Troussel, Morgan Lagraviere, Christophe Pratt and even former Banque Populaire ORMA 60 and maxi tri skipper, Pascal Bidegorry.
The latest iteration of the IMOCA rule is set to be finalised over the next two to three months. "The Technical and exec committee are under pressure to get it through as fast as possible and get some boats being built," says Thomson.
Also impressive is how business-like the decision making process within IMOCA has become. Alex Thomson recalls early IMOCA meetings he went to in smoke filled rooms which were decidedly more casual affairs. Now it is very different. At last week's AGM the IMOCA lawyer was present and the meeting was efficiently run by class President Luc Talbourdet and by Vincent Riou, heading the technical side, and with Sir Keith Mills' and his new Open Sports Management contingent of sports marketing heavyweights in attendance. "It does feel that the class is moving steadily in the right direction," says Thomson.
And the voting appears to have happened both logically and democratically too. Initally there was a vote to determine whether the rule should be more closed or more open. All but around six voted that it should be more closed. Then it was voted whether a new rule should be more closed or completely one design and only around three parties put their arms up for the latter. "It is good that we have gone through this whole process. It has been quite hard to do, but everyone has been quite sensible about it," says Thomson, who adds that until they sit down with their designers it is going to be hard to know how much the new rule will affect the look of the latest generation boats.
But will all this succeed in bringing costs down? Unlikely, but perhaps most importantly it looks set to prevent costs from escalating. "I think the cost isn't going to be much different, to build a boat than it is today," admits Thomson. "Even if we were go to build a one design the cost won't be significantly reduced. But we will be making one keel for a full four year program and we are going to have masts which are really reliable. I imagine in the procurement process in the keels and masts we should be able to make significant savings with increased reliability and a better warranty.
"We take the view that if we were to build a one design to match the existing IMOCA fleet, it represents the same amount of carbon. You can make some savings on the mould and the design, but to make them go as fast as the existing fleet won't be that easy. Some people will still have more money and will still spend that money to make them the fastest, whether you go one design or more open. At least this closes the gap while keeping the ethos of the class remaining open. It is a reasonable, sensible compromise which is going to be really good news for the class."
So will this mark the return of the pencil thin IMOCA 60?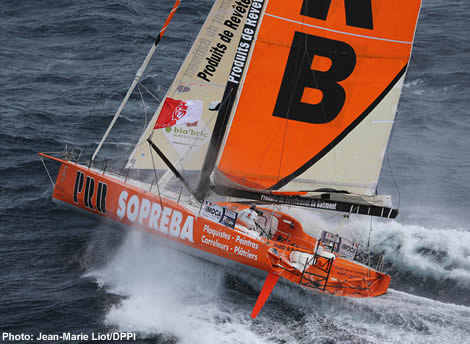 Back to top
Back to top