Richard Brisius on Team SCA - part 2
Thursday April 11th 2013, Author:
James Boyd
, Location: none selected
This article follows on from part 1 here
Significantly for the next Volvo Ocean Race, the organisers have recognised that for a female team to be competitive on a grunty heavyweight canting keel monohull then they need to be allowed to take several more crew. As a result, while the male crews will sail the Volvo 65 one designs eight up, all-female crews will be allowed to go with 11 (plus the OBR media crewman).
Brisius says that they are aiming to train up a squad of more than 11 in order that they can have some reserve crew in case of injury or burn out. Here again running a women's team is an issue compared to a male team. While there is a pool of male sailors with recent Volvo Ocean Race experience from which to choose, there is no such female equivalent.
Further crew will be trialled over the course of this year with the aim of gathering the best team together and unlike past campaigns, they are in no hurry to appoint a skipper. Brisius says that because there are no stand out candidates for skipper (what about Sam Davies???!) they are aiming to have a flatter management structure. "We are not stressed about making that decision and so far the group hasn't been either. I think we can work for another year without appointing a skipper, so don't expect that to be announced soon..."
Saying that, Brisius acknowledges that the sooner they finalise the crew line-up, the sooner they can focus on training them up to compete in the race.
To help pick the crew, as well as to man the ex-Puma VO70 that they have as their training vessel, Atlant has brought in several old hands. These include hugely experienced Kiwi hand Brad Jackson and Joca Signorini (both ex-Ericsson 4), the legend that is Magnus Olsson, as well as Martin Stromberg (ex-Ericsson 3 and Groupama) and Casey Smith, who was on Puma for the last two races. The team has located itself in Puerto Calero on Lanzarote in the Canary Islands, where the Ericsson team was based prior to the 2008-9 race, as was Groupama last time.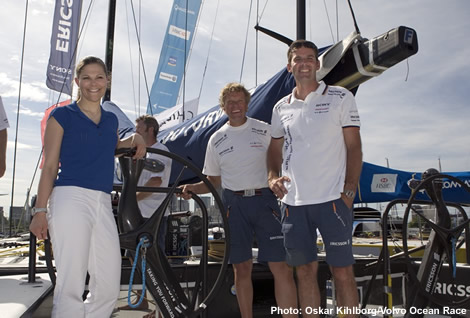 Back in the day: Crown Princess Victoria of Sweden visits Ericsson during the 2008-9 Volvo Ocean Race Magnus Olsson, Technical Director (now 'head cheer leader' with Team SCA) and Richard Brisius of Atlant Ocean Racing
"This group of coaches is pivotal in how we build up the team," explains Brisius. "That is a key part of the management of the sailing program. They provide a really good opportunity for the crew to focus on becoming as good sailors as possible."
In terms of what they are looking for in individual crew, Brisius says they initially examine past experience, plus the skills and talents of each sailor has. Obviously offshore experience helps considerably, but this isn't essential (for example Annie Lush has spent most of her racing career competing inshore). The assessment includes the candidates having in-depth interviews with the coaches, while Atlant has also hired in recruitment specialists. Then there is how they get on sailing the VO70 and how each individual works within the team.
So even with 11 crew on board, can a women's team be competitive with the men this time around? "I think we can be competitive if we do things right and prepare in the best way and find the right people," says Brisius. "In some points experience pays off obviously, but in others less so or you can bridge it." However he admits "we lack experience and then in some cases, the [lack of] physical strength is a downside."
Maybe we will see a few Amazonian-types on board who stand a chance of matching male horse power? Brisius reckons not. "I think everyone has to spend a lot of effort and time in the gym. It is partly about size and weight, but it is also about how strong you are and how hard you are. A really small, tough and angry bowman can be as useful as a big heavy grinder at times." We are thinking here of Liz Wardley, but Brisius reckons this to be true among male crews too.
"For us it is much more about training and developing crew into becoming the best possible sailor. I think that we can come together as a team in a better way than the typical male old school crew that has been around forever," says Brisius.
Unfortunately while there will be more hands on the Team SCA Volvo 65 than on the male boats, they aren't allowed to change how their boat is set-up to make it more suitable for the additional crew. For example it would be interesting if they could change winch gearing. "That would make sense," agrees Brisius. "So like the runner winches - you can only be one person turning the handle, and there can't be more women on the handle than there would be men, and even they are on the limit."
And similarly with the sail selection which, although it hasn't been announced yet, is expected to be fully one design.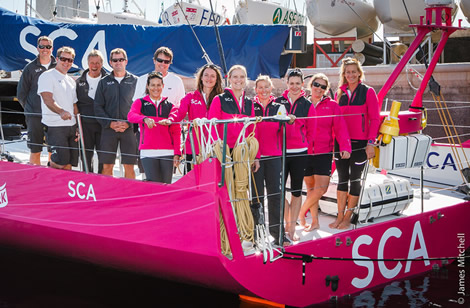 As to the race generally, Brisius observes there seems to be fewer teams confirmed this time around. However he adds that one of the upsides of going one design is that teams can come in late and still be competitive. "Because you know that the other guys haven't spent 10,000s of hours designing, I think you can get into the race quite late and still do something serious."
Team SCA looks set to be getting the second of the new 65s once it is launched at Green Marine. The first 65 is due for launch in June and the girl's boat should be finished a few weeks later.
Whether it is on the VO70 or their new 65, according to Brisius, they are likely to spend most of the time training out of their base in the Canaries. They may depart from there at some point, but that has yet to be decided.
Brisius observes that at present their campaign feels very different to previous ones he and Salen have been involved with. At this point they would normally be up to their ears working on the design, if not the build, of their boats. This time this is all out of their hands Fortunately the crew aspect is keeping them busy. "It is different and we have no clue how this whole one design concept will work out. We have a few good one design racers with us and they all say that there has never been a one design that is properly a one design. So that is a big question mark..."
Although it is too early to start making predictions about this, Brisius is concerned about a possible lack of entries. Having followed the last race from the sidelines when there were moments of profound carnage, none more so than the leg around Cape Horn to Itajai, he believes six boats is too few for the race. "That is no good for any sports event. Hopefully the one design will lead to more solid boats, but as always with anything new there will be issues and we don't know what the limits are. Hopefully they will sort themselves out before the race starts. I am not kidding myself that it will all be perfect and nothing will break."
Eight of the Volvo 65 one designs are being built and Brisius hopes that they will all make it to the start line with strong campaigns and that there won't be boats that get broken or teams dropping out on the way round. "That is not good for the Volvo Ocean Race for sure."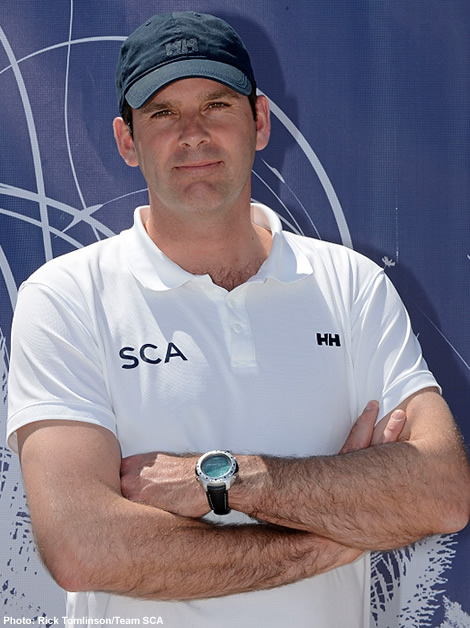 Babies and bathwater
Since Brisius' first participated in the 1989-90 Volvo Ocean Race, the event has undergone profound changes, in particular to the course and the type of boats. However he warns that it is important that events such as this respect their traditions. Heritage counts. "If you start to dilute things too much then in the end you have nothing left. Of course there is always a reason to do that, normally because you don't have enough sponsors or entries, but in the end this is a round the world race and we should carefully treasure that as it is and not start to dilute it, in a way that might cause people to lose interest in the main aspect of it, namely that it is the only professional, fully crewed race that has the whole globe as its race track."
Brisius says he understands why the race has gone one design, but hopes this won't be a permanent feature. "Ever since 1973 it is has been a technology race, about boat design and boat builders. So much has been invested into that, building the brand of the race, with the R&D, etc you cannot throw that away. So you have to be careful about that. The one design is going to be used in the next two races, but I hope that afterwards we can gradually go back into some sort of development, otherwise it is also heading for a natural death."
He also bemoans how the Southern Ocean segment of the race is today. "These icegates take away all the Southern Ocean stories. It is just the greatest sailing down there, apart from the fact that it is cold and miserable..."
As to the costs, Brisius says it is too early to tell the exact budgets and whether in fact that the one design will work out cheaper than a custom-built VO70 campaign. "We know that the price of the boat has turned out more expensive than what it cost us to build Ericson 4 in our own yard. Why that is, I don't know, but I suppose it is still a big boat with a lot of yards involved and a lot of logistics and shared risk."
They of course save on design fees and on the fact that the boat is smaller than the VO70. "We have great concerns about this whole 'shared services', how that is going to work, and the liability and insurance, but there we have very constructive discussions with the race organisers to understand what is feasible," Brisius continues. "It makes sense for some specific areas, specialist areas where you can share the maintenance, but at the end of the day boat maintenance comes down hours and you don't reduce those by pooling people."
So will the 65 footers 'eat crew' in the same hungry way that the VO70s did? Will an 11-strong girl's team be able to take on an 8-strong boys crew? Volvo Ocean Race history suggests they can't, but if anyone can make this work, it is Atlant.
Back to top
Back to top