Back for his seventh Volvo Ocean Race
While numbers on the start line in the next Volvo Ocean Race still seem light, at present with only three confirmed teams, one of the most positive aspects of the 2014-5 race is the return of Swedish management company, Atlant. Run by Johan Salen and Richard Brisius, both former sailors in the race (Salen was on The Card, Brisius on Gatorade and Brooksfield), Atlant is masterminding the all-female Team SCA, the first team out of the blocks for the next Volvo Ocean Race.
Previously Salen and Brisius have run some of the strongest campaigns in Whitbread/Volvo Ocean Race history, starting with Intrum Justitia in 1993-4 to EF in 1997-8, the race's first two boat campaign featuring the Paul Cayard-skippered winner, EF Language. Atlant was formally set up in 1998 and has since run Assa Abloy in 2001-2, following this with two campaigns with Ericsson culminating in Torben Grael's victory aboard Ericsson 4 in 2008-9.
Since the 2008-9 race, Brisius has got a 'proper job' in the real world, and an eminent one at that, as Global Head of Marketing Communications for the Swedish telecoms giant Ericsson. "It was a real job for sure," he says. "I enjoyed it a lot. I learned a lot as well. I guess some learning I can bring back into what I am doing now, which is good."
In fact it is a job he still vaguely holds, as in order to be involved in this latest Volvo Ocean Race, Brisius has had to take a three year sabbatical from his employer. "I wasn't planning to come back, but when this opportunity came up and we were asked to manage it, I was able to go. So I am very excited to do it."
One of the reasons his return to the race has been possible is that ownership of SCA is "slightly related" to that of Ericsson. "It feels like it is part of the same family. One of the main shareholders in Ericsson is also a main shareholder in SCA. I think they were pretty inspired by what Ericsson did and saw the power behind it. That is why you see a few teams coming through from Sweden, and I hope the same will happen in other markets around the world: If one company sees another serious company doing it, they realise that is exactly what they need to do as well."
SCA's participation in the Volvo Ocean Race is due to it forming part of a re-branding exercise, something which Atlant has previously had experience of with Assa Abloy. Prior to the 2001-2 race, the Swedish lock giant had gone through a colossal expansion, acquiring some 100 other lock makers around the world and wanted to use the Volvo Ocean Race to help integrate all these brands under one corporate umbrella. SCA's involvement in the race, Brisius says, is similar, but the next step up the rebranding process.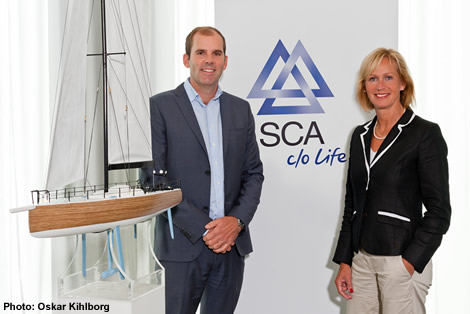 Svenska Cellulosa Aktiebolaget, or SCA for short, is traditionally in the forestry and paper business. In this respect it is enormous – its forests cover around 2.6 million hectares of Sweden, roughly one sixth the size of England. Brisius quips that the business plan for this side of their business extends ahead until 2096, because pine trees take around 60-70 years to grow!
However since the mid-1970s SCA has been acquiring companies involved in paper-based hygiene products, including nappies, sanitary towels, kitchen rolls, toilet paper, napkins, etc. Today, around the world, SCA controls around 100 brands. In the UK for example, these include Bodyform, Cushelle, Plenty, etc.
"The hygiene product side is exciting, because that is a big growth business world-wide, not least in countries like China and India," says Brisius. "They have all these different product brands around the world and now SCA wants to gradually grow into becoming a well known brand as well, because at the moment it is not known at all. So the purpose of this project is to use the Volvo Ocean Race as a catalyst to establish SCA as the endorsement brand for all these different products. That is a very long process, but we have a very clear goal that by 2017 we want to have doubled the brand awareness of SCA in certain markets."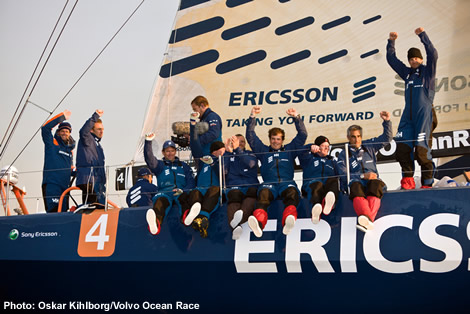 Eyeing up the opposition
Since 2008 when he got his big job at Ericsson, Brisius has had the unique opportunity to assess how the Volvo Ocean Race stacks up in the sponsorship world.
"One of the things I was doing was looking into alternatives for Ericsson to step into after the last Volvo Ocean Race. We looked at around 100 different properties in sport, entertainment and culture. One thing that did stand out is that the Volvo Ocean Race is a pretty unique property from a marketing point of view, because it is global and it has all the right values when it comes to teams and sustainability and no doping and with a technology angle to it as well. In that respect it is quite hard to beat."
Against this has been the steady downturn in competitors numbers. "That isn't very positive," says Brisius, "but I think that if that can be turned around one day it has a definite place on the list of major global marketing opportunities for companies. And it seems like companies are becoming bigger and bigger and brands are becoming more and more global. Anything global is hard to come by in the marketing world, so anyone who has something to offer like that will be considered."
As to the global properties currently available, Brisius provides his assessment: "In sport, it is F1, which is pretty global and of course the Olympics and the Soccer World Cup. But after that there isn't much. Golf is kind of there, but it is split up into different leagues and the events themselves are pretty strong. Tennis is not at all there, because it is a line-up of different events, with not enough co-ordination for a big player to make a global effort. If in sailing we could sharpen up and could co-ordinate ourselves a bit more, I think we have a bright future ahead of us."
Cycling also has great potential, Brisius adds, but the controversy over doping among its competitors just makes it untenable for sponsors at present.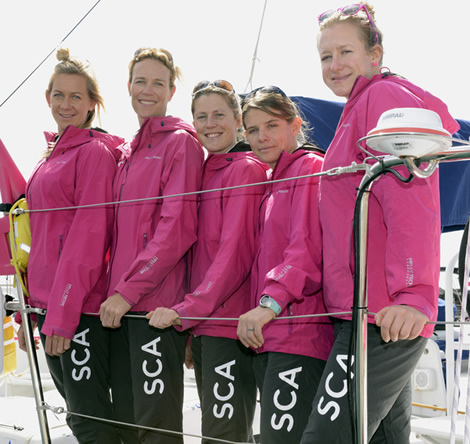 Team SCA
So why an all-women's team? The reasons are pretty simple – 80% of the buyers of SCA hygiene-related products are women, says Brisius. "That is still the way the world is working - women doing most of the grocery shopping around the world. And there are a number of women-specific products as well, although there are specific male products as well."
Obviously Brisius and his business partner Johan Salen have previous experience having worked on EF, where Salen was the campaign's CEO and Brisius was running its shore operation. The campaign featured the Paul Cayard-led EF Language and Christine Guillou (now Mrs Salen) skippered the female team on EF Education.
A significant difference is that while EF was a two boat campaign, SCA will be a one boater. Brisius says that ideally they would have repeated what they did with Assa Abloy and get two boats for training, but send only one around the world in the race, leaving the other to be used for corporate work. However two boat campaigns are now prohibited under Volvo Ocean Race rules.
Experience - a lack of it
The major issue with an all-female campaign for the next Volvo Ocean Race, is the lack of recent experience in the fully crewed round the world race by any women. The last woman to have competed, briefly, was Adrienne Cahalan who was navigator on Brasil 1 for the first leg of the 2005-6 race before being replaced by the somewhat larger Marcel van Triest.
"I think what SCA is doing is something that I hope the whole sport will benefit from long term and hopefully it will be a restart of women in crewed offshore racing," continues Brisius. "Also it will help the race immensely, because I think like most activities in this world, and not the least in sport, it will slowly but surely die out if there is no room for women. During the last editions Volvo was asking me why there are no women."
In addition for the next Volvo Ocean Race, the calibre of the crew is going to be at even higher a premium as of course the boats will be one design.
"It has to be done very seriously because there is such a big experience gap between the men and women when it comes to crewed offshore racing. So all the choices we are making are just to make this one crew we are working with as good as possible."
To get the best women's crew, there has been a big recruitment drive for Team SCA. They have been inundated with the CVs of potential crew. Brisius reckons it is similar in number to those they received for EF Education, only that then CVs were sent in my mail rather than by email...
Presumably the list of suitable candidates must be reasonably finite? "That is what we thought, but then suddenly someone comes up or someone recommends someone," says Brisius. "Then we have the rule that there has to be a certain number of crew under 30-year-olds – it seems to be a bigger challenge finding under 30 year olds, who are experienced, than I thought it would be."
However he observes that a significant difference from EF days is that the standard of the applicants has greatly improved. "That is for many reasons, and one is that obviously women have got more into sailing since 1996, and not the least through the Olympic classes. 40% of the sailors in Weymouth last summer were women. It is quite interesting that in 1988 in Seoul, which was effectively eight years before we started EF, was the first time there were any women sailing in the Olympics."
However while the calibre of the applicants this time has gone up, Brisius recognises that the male crews have also progressed significantly. "The men keep doing it and they are getting better and better and more experienced, so it is harder and harder."
Trials
From Team SCA applicants, to date three groups of sailors have been trialled culminating in the first five crew being named on Friday in Carolijn Brouwer (NED), Sophie Cizcek (AUS), Sam Davies (GBR), Annie Lush (GBR) and Liz Wardley (AUS).
This choice is perhaps indicative of how Atlant are making the selection. According to Brisius they have no constraints over nationality. Brouwer and Wardley both have previous from the 2001-2 race on the Lisa McDonald-skippered Amer Sport Two. Since then Brouwer has campaigned a Tornado in the Olympics and an Extreme 40 while Wardley has since gone down the Figaro path. Sam Davies needs no introduction, right? And in our opinion should be skipper... Annie Lush is one of the UK's foremost match racers having been in the middle of the boat for Lucy Macgregor's team at London 2012 (and being a three time Women's Match Racing World Champion). Aussie-American Sophie Cizcek has competed on most of the Australian maxis, typically on the bow and most recently has been with Hugo Boss.
This article continues tomorrow

Back to top
Back to top