Slow, long burn
Friday March 1st 2013, Author:
James Boyd
, Location: none selected
They haven't jumped in with an America's Cup or a Volvo Ocean Race campaign, but a company that is registered slowly on the radar of yacht racers internationally is Zurich-based EFG Bank.
The Swiss bank is relatively new, founded in 1995, but now has around 80 billion Swiss Francs under management with bases now in around 30 countries around the world.
Recently they were title sponsor of Sailing Arabia – The Tour [SATT], while the Monaco-based arm of the bank backed Sidney Gavignet's entry in that event.
On the opposite side of the globe they are 'presenting sponsor' of Bacardi Miami Sailing Week (the event that once upon a time was purely the 'Bacardi Cup' for the Star class.) They also back the other Bacardi Sailing Week event in Newport in July, plus the EFG Bank Viper Pan-American Championships for the Viper 6.40 sportsboat. Alongside SATT their latest sponsorship is that of the newly created 'Star Winter Series' based out of Florida that this year was won by Augie Diaz after five events culminating in the Walker Cup in mid-February.
EFG Bank is also supporting Antigua Classics this year. In the Far East it supports Nick Burns and Fred Kinmouth's Mills 40 Mandrake, who's EFG Bank Mandrake was part of the Hong Kong team in last year's Brewin Dolphin Commodores' Cup.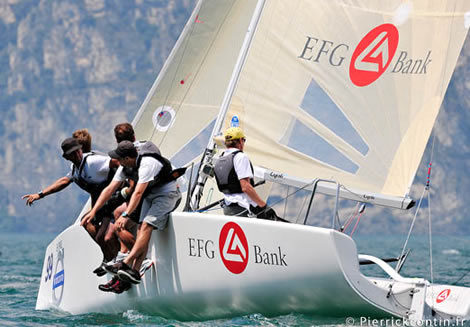 However their original sailing sponsorship was when they backed the Swiss-based EFG Bank Sailing Team campaigns on the Melges 24 circuit, the team run since last year by Chris Rast.
So spreading themselves too thin or is this a deliberate ploy? "One of our key, underlying principles of everything we do is diversity," explains Keith Gapp, Head of Strategic Marketing & Communications, a Brit working out of the EFG Bank head office in Zurich.
"Unlike a lot of organisations, probably most, we don't latch on to one or two themes. It is very common I think in marketing terms that perhaps the CEO has an interest and that is what a company chooses to focus its energies on. My starting point is that our clients are very different, they have eclectic interests and we reflect that in our marketing. So we are very active across a variety of sports, typically the reasonably up-market sports, such as sailing, equestrian, golf, etc. Of course the focus is on areas where there is a disproportionate number of high net worth individuals and in that respect sailing clearly fits that bill. But it is also a sport that has a down to earth quality and a broad appeal. There are a lot of people who perhaps don't set necessarily foot in a boat, but sailing resonates as a sport for them."
SATT is one of EFG Bank's latest sponsorships and Gapp that it is a neat fit into the bank's sponsorship portfolio. At present they have a sailing presence in America, Europe and Asia but previously had none in the Middle East/Gulf region. SATT neatly resolves a missing piece of the jigsaw, further helped by it visiting several key markets en route.
As to why they sponsored both the event and a boat in SATT, Gapp continues: "We have quite a multi-faceted approach, so there isn't a formula we swear by. If you look at our sailing activities we are sponsoring events, we are sponsoring boats and in Monaco we are sponsoring a sailing academy." This is the academy attached to the Yacht Club de Monaco. "We like to mix it up - it is not just a case of doing the same thing everywhere and I think in this context [SATT] with an offshore event of this kind and given the demands of the event, it is nice to not only be lending our name as title sponsor, but being in there among the action."
On the final day of SATT, George Catsiapis, MD of EFG Bank (Monaco) confirmed that they will continue to support SATT in 2014.
On SATT, the annual clockwise lap of the Gulf now in its third years and organised by Oman Sail, Gapp gave his view: "We are certainly very encouraged by what we have seen and the experience so far. The quality of the organisation I think has been exemplary - that is certainly always a key consideration in terms of building upon an initial step and converting something and making it medium-long term. Philosophically if you look at our approach, it is very much based upon the notion that persistence and commitment are key factors. To me it is the worst of all worlds if you are involved with something for a very short duration. You need to be part of the furniture."
Which bodes well for the future of the Tour and prospects for its growth in years to come.
Interestingly EFG Bank, although it has bankers active in the region, isn't physically present with any offices in the Middle East/Gulf and Gapp says that their sponsorship helps compensate for this, aiming at people who want to make use of their international private banking services to look after their money outside of the Gulf. "The region has become more economically vibrant in its own right, but that is more for the commercial banks to cater for."
Usually in sailing, sponsors seem to place most value on corporate entertainment with media coverage providing added cream on the cake, but while this is the model that seems to work in the west where mainstream media coverage of sailing is for the most part pitifully small, in the Gulf region the reverse seems to be the case and sailing, particularly when it involves local sailors, is capable of achieving substantial column inches. So media coverage is one the principle objectives of EFG Bank backing SATT.
"Clearly it is about building profile and certainly from what I have seen on a daily basis it has been generating quite a lot of media interest around the world," says Gapp of SATT and their objectives. "Every morning I get my PR digest and it is full of references to this event, so it is clearly working. Then clearly we are a commercial business, so we are looking at our marketing activities to generate benefits in terms of business, the tangible aspects of our marketing, but that is not something I would ever predict based on a particular event - it is more of a cumulative effect. People see what you are doing in sailing and someone in the sailing world somewhere has an issue, they are looking around, EFG is towards the top of their list and if they find a bank and the chemistry is right, you pick up good business."
However there is another key to what they do. SATT, linking countries in the Gulf, is a ground-breaking event and this was also an attraction says Gapp: "We connect in everything that we do to the entrepreneurial spirit and that is one of the attractions of this event, one of the attractions of partnering with Oman Sail. There is a common philosophy that we are helping to make things happen that in some cases wouldn't occur otherwise."
EFG Bank has been active in sailing sponsorship in their various markets for around three or four years now, SATT being one of their latest properties. However their sports sponsorship dates back far longer in both polo and historic car racing. According to Gapp what they have learned from their involvement in these markets is that credibility is key.
"You have got to do things in a way that people within the sport see you not as a taker but as a net giver, someone who is committed to the sport and it is not just ticking boxes and needing things to be delivered short term. It is about medium to long term and if you do that the right way then I am absolutely convinced that the benefits do follow."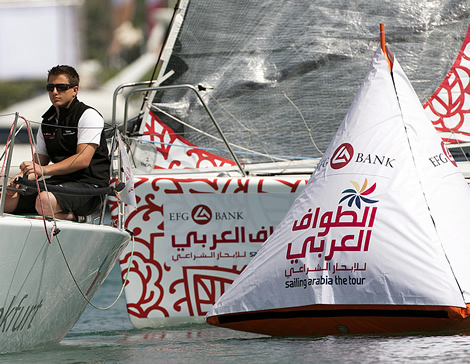 EFG Bank is now a name synonymous in classic car racing circles where they support a long list of events, including Donington Historic Festival, the London to Brighton Run, to events on the continent such as the Gstaad Classic, the Dix Mille Tours and the Spa Classic. Gapp acknowledges that the motoring events they support are mostly in Europe.
Their involvement in polo, like sailing, has been more international: "In a greater niche sense, polo has been big and we are pretty well known in that area. Historically we were involved in the Cartier Day which has now stopped, but we do the 40 Goal Challenge in Palm Beach, we have a team [EFG Bank - Aravali team] that took part in the Queen's and Gold Cups in the UK last year. We have an event in Dubai [the Desert Palm Nations Cup] and strong links with polo in India and Thailand. So again it is very global in terms of its scope."
Their sport sponsorships also covers dressage, tennis (Centenary Tennis Clubs), Golf (Hong Kong Golf Assoc), rowing (the Swiss lightweight coxless four in the Olympics) and ice hockey (a backer of Genève-Servette Hockey Club).
Continuing the theme of diversity, the bank also supports music, art and literature. "Culturally we are closely linked to the world's richest prize for a short story, which is the Sunday Times/EFG Private Bank Short Story Award which will be announced at the end of March at the Oxford Literary Festival," continues Gapp. "We are involved with the London Jazz Festival and jazz across Asia and we have been involved in a number of jazz events, plus contemporary music through our links with South Bank Sinfonia in the UK and then art in different guises as well has been feature."
According to Gapp they are looking to expand into sailing in the future, although their strategy looks set to remain niche and diverse rather than wading in with more substantial involvement in a major event.
"We like to do things a little bit differently and we also like to do things in a way that represents significant value for money. We like to work closely with all of our partners and correspondingly we aren't an organisation that is spraying money around on initiatives or spending huge sums on advertising in an unthinking way. Anyone who does the analysis would reach the conclusion that when it comes to marketing, yes, we are visible across quite a broad front, but we are also doing it in a way that is highly efficient vis-a-vis the competition."
Check out more of our sailing sponsorship features here.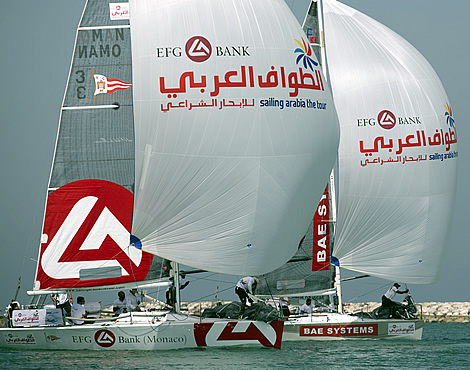 Back to top
Back to top