Sidney Gavignet on the MODs and more
Oman Sail skipper Sidney Gavignet has spent the last two and a half weeks getting some winter sun, while competing in the EFG Bank Sailing Arabia – The Tour (SATT), at the helm of the sponsor's boat EFG Bank (Monaco).
Intriguingly in his crew was his old Assa Abloy Volvo Ocean Race skipper, British legend Neal McDonald, along with French Finn sailor Thomas le Breton, Omani Fahad Al Hasni and a pool of sailors including Monaco's London 2012 Olympic Laser representative Damien Deprat and Omanis Yasser Al Rahbi and muscleman Sami Al Shukaili that have been swapped about between SATT's in-ports and offshore legs.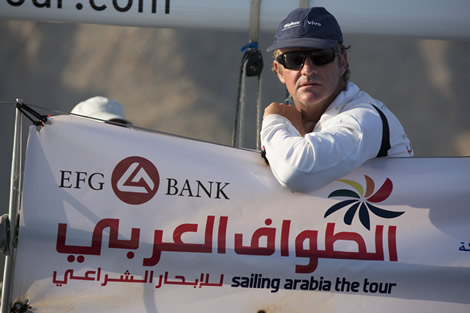 For Gavignet the core of his SATT crew, including in particular McDonald and Fahad will be sailing with him this year on the Oman Sail MOD70.
The Farr 30s used in Sailing Arabia – The Tour are slightly smaller than the boats Gavignet and McDonald have become used to sailing in recent decades.
"We enjoy the boats, because they are very sensitive," says Gavignet. "They are great in light wind or in strong wind and if you are a good sailor you like them because there were lots of little tweaks to do to them."
Generally there is a feeling that in the Tour de France a la Voile the change from the Farr 30 to the M34s currently used has been a mistake. The latter are too expensive, require too many crew to sail them, and in an effort to make them road-trailerable are too tender, whereas the Farr 30s, while they might be getting on, are proper seaworthy little race boats that respond to being well sailed. The end result is that numbers of competing boats in the Tour Voile are profoundly down and for example it has priced the students out of the race (although Marcel Herrera, who competed in the SATT as skipper of Messe Frankfurt, is attempting to mount a Tour Voile campaign this year with his University of Plymouth team).
"The Dutch guys have stopped doing the Tour de France and they have come here [to SATT] because the Tour de France has become too expensive," says Gavignet of the Delft University crew, one time Tour Voile regulars. "So this [SATT] is a good opportunity for these kinds of people. It would be nice if this becomes a classic race - great for sailing in general and for sailing in this area."
For both Gavignet and McDonald it has been a very long time since they sailed a boat with one of those strange pole things that extends forward from the mast, used to position the tack of the spinnaker.
"Yes, it has been a very long time since I sailed on a boat with a spinnaker pole," admits Gavignet with a grin. "But that is why it is also a pleasure because when you are a big boat offshore sailor you need to come back to this kind of sailing sometimes, otherwise you forget about it. I did a bit of Extreme 40 sailing which was very refreshing for me. This is very refreshing as well, good for my confidence with the rules, starting, boat on boat racing, etc. It will help with the MOD70, I am convinced of that."
Sailing Arabia – The Tour, starting in Bahrain and passing up the Gulf, visiting Qatar, then in the UAE Abu Dhabi, Dubai and Al Hamra (in Ras Al Khaimah) before passing through the Strait of Hormuz and on to two stopovers in Oman before the finish in Muscat – has also seen Gavignet sailing in unfamiliar waters (although McDonald was on board Telefonica for the short leg along the UAE coast to and from Abu Dhabi during the last Volvo Ocean Race). And all this in shorts and T-shirts while northern Europe has been set hard with permafrost.
Unfortunately after a match race with Cedric Pouligny's team on BAE Systems on the last sprint leg from Musannah down the Omani coast to The Wave, Muscat yesterday, Gavignet and his team on EFG Bank (Monaco) ended up coming home third overall.
For Gavignet SATT was a useful prelude to getting his crew race ready for their MOD70 campaign this year. "I am very very happy we did it. We have worked nicely together. When we look back we didn't lose too many point on the way, but the problem was that we left the points to the close opposition. But I think we are where we should be: The two first teams are specialists in these boats [two Tour de France teams]. And one of the mistakes we made when we were in the lead arriving into Abu Dhabi was that we went for the jib for 20 minutes and we went from the lead to third, thanks to our lack of knowledge of the boat."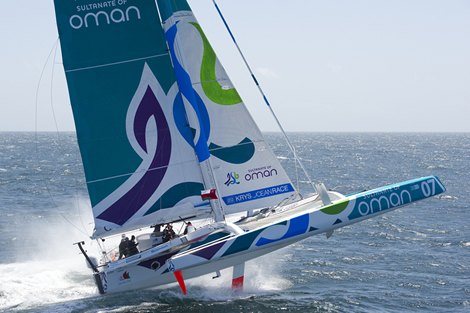 Unfortunately after an excellent 2013 with the Krys Ocean Race transatlantic and subsequent Round Europe Race, the MOD class is currently in a hiatus. Allegedly they had backing for the Round the World Race that has been in the MOD calendar since the inception of the class, but there doesn't seem to have been the appetite from the teams to take part in this and now it has been cancelled for 2013 at least.
Gavignet explains: "MOD was supposed to organise a round the world race, but not long before the end of last season there was nothing organised, so all the owners kind of forgot the idea of going around the world because there was no point in going if it wasn't set up properly. There was no point in going for a cheap option where you are going to spend a lot of money and you're not sure of the return.
"Then the idea of something else came, like a Middle East circuit and an Asia circuit. And then in France we have the two races the Transat Jacques Vabre and also the Route des Prince, both with money." The Route du Prince in particular was launched in direct competition to the MOD's scheduled Round Europe Race this year. And of course if neither the TJV nor the Route du Prince are official MOD class events – then why should teams pay the MOD class their annual fee for running the circuit?
The upshot is that the MOD class is in a 'transition' year, in which the class is either attempting to find backing for itself and its events or to sell the circuit, etc etc. What is hoped and desired is that the class won't dwindle and perish (as the ORMA 60 class it replaced did) after just one year of existence.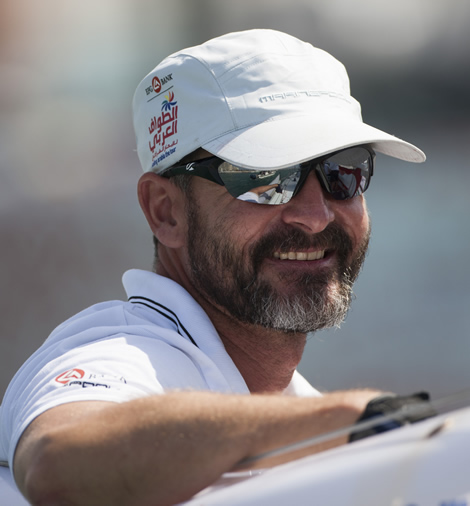 Oman Sail is obviously involved in the process along with the other teams/boat owners - Groupe Edmond de Rothschild, Steve Ravussin's Race for Water, Yann Guichard/Dona Bertarelli's Spindrift Racing, Michel Desjoyeaux's team (currently without sponsor) and also Virbac Paprec, Jean-Pierre Dick joining the class this year from IMOCA with his new Virbac Paprec. As reported recently, Roland Jourdain's Veolia Environnement, that was bought back by the MOD class has now been sold to an American campaign called Orion Racing, who intend to campaign it in the USA this year.
According to Gavignet, Oman Sail's line is 'okay we are not fully happy with the situation, but we stick with the MOD and trying to help them survive through this transition year'. "If you see how it went last year – the boats are fantastic, it is fantastic sailing. The MOD70s' reliability is a proven fact now -no problem."
Gavignet adds that a round the world race isn't ideal for Oman Sail as a sponsor as the target markets for promoting Oman as a tourist destination are principally Europe and South American. Thus this autumn's Transat Jacques Vabre, which starts from France and finishes this year in Brazil, is the effectively their ideal race.
So will he do the TJV with Neal McDonald? At present Gavignet says this is undecided. Oman Sail would like him to do it with an Omani and within his MOD70 (and SATT) crew is the idea candidate in Fahad Al Hasni, who he is grooming. But is Fahad ready? "It is a big question mark," admits Gavignet. "With Oman Sail I always present what I think is in the best interest of Oman Sail and what I would like to do personally. It makes sense to do the Transat Jacques Vabre and to do it with an Omani, who would be Fahad. But then, we were sailing [the MOD70] in January going across the Bay of Biscay in hard conditions and I tried to imagine myself and Fahad in those conditions, and now I am questioning it. It would be fantastic to do it with Fahad but in some ways it is premature."
In reality in this transition year the MOD70 circuit (or the Multi70 as it may be called this year) isn't looking too lean with two major events, but a few shorter events in France in the spring like the Armen Race and the Tour de Belle Ile, plus the Artemis Challenge during Cowes Week followed by the Rolex Fastnet Race.
The new player in town is the Route des Princes, officially a 'multihull-only' round Europe race created by Lionel Lemonchois' boat sponsor Princes de Bretagne, largely as an event for their new boat to do. Ironically, this event has turned into a copy of the first Course de l'Europe that a fledgling Pen Duick organisation (which now runs the Solitaire du Figaro, the Route du Rhum, etc) first ran in 1985.
For this inaugural event the multihulls look like they are going to be divided into three classes with the 'maxis' including boats like Lemonchois' new 80ft Prince de Bretagne and possibly Thomas Coville's Sodebo and Lionel Lemonchois' IDEC (if she is back from her west to east transatlantic record attempt in one piece).
Controversially the Gitana team is threatening to compete in their 77ft lengthened former ORMA 60 trimaran, Gitana 11, that Yann Guichard sailed in the 2010 Route du Rhum, rather than their MOD70. And presumably Spindrift Racing will be gagging to sail the former Banque Populaire trimaran, which at 40m (131ft) long would be substantially the largest and fastest boat in the fleet (although we understand they will be entering their MOD70). While an interesting parade of sail around the European coastline - this doesn't sound much like a race... However then there are classes for the MOD70s and for the Multi50s, both of which will be more competitive.
Franck Cammas won the 2010 Route du Rhum aboard Groupama 3, in which earlier that year Cammas and a full crew had sailed to a new Jules Verne Trophy record. According to Gavignet this has had repercussions: "The last Route du Rhum proved that having a big boat, even if you only sail it at 70%, is faster than a smaller boat sailed at 100%."
In light of this Thomas Coville has announced his plans to change boats. In a similar vein to how the Gitana and Prince de Bretagne teams adapted ORMA 60 trimarans, Coville is planning to take the structure of Olivier de Kersauson's world girdling 111ft trimaran Geronimo and build a new Sodebo maxi-tri from it to compete in the 2014 Route du Rhum – fascinating how the French are recycling boats these days.
Work is already underway at Multiplast in Vannes, where Geronimo was originally built. The new Sodebo will be 31m long (ie shorter than the present Sodebo) but at 72ft it will be substantially wider (the present Sodebo has a 55ft beam) and presumably with more sail area and power as well.
In the meantime former Vendee Globe competitor Marc Thiercelin has bought the wreck of Gavignet's Oman Air (a sistership to the present Sodebo), that folded up in the 2010 Route du Rhum and has since been parked in a shed among the giant concrete WW2 submarine bases in Lorient. At present Thiercelin hasn't started repair work on the boat which Gavignet reckons would cost in the order of 1.2-1.5 million Euros, including a new front beam, a new float, repairwork to the mainhull, plus a new mast and sails.
What we don't understand is if Armel le Cleac'h is lining up for the Route du Rhum in the former Groupama 3, Cammas' 2010 winner, soon to be in the livery of Banque Populaire and Sodebo is pitching up with a boat of a similar length and presumably a similar power/weight ratio, then what is the point of Lionel Lemonchois doing the race in an 80 footer, when he'll be up against 100 footers?
"He did what he could with his budget," observes Gavignet. "Lionel is a good multihull sailor so it really depends on the conditions." Mmm. Not convinced.
So would Gavignet like to do the Volvo Ocean Race again, an event which he is best known following his first lap with Eric Tabarly aboard La Poste in 1993-4 and subsequently with Assa Abloy, ABN AMRO One and Puma? "Personally I would like to do the Volvo again, because I always love this race," he says.
But is it something Oman Sail might ever contemplate? "Before, when it was still in custom boats, I would say 'no' because Oman Sail doesn't have the technical skill within the team. But now it is one designs, it makes more sense - that was the idea of going to the MOD70 because of it being one design. So yes, I would be pleased if Oman Sail did the Volvo, but the reality is that we have the MOD70, Volvo is still much more expensive than the MOD, probably three or four times so. Then - does it makes sense? That is totally another question."
Given that one of the remits for Oman Sail is to train up Omanis to become world class sailors, Gavignet argues that the training that goes on in the Tour de France a la Voile has to date been the best. These sailors have been competing in SATT on several boats, but most notably on BAE Systems with Tour Voile veteran Cedric Pouligny.
"It takes time, but little by little they produce some decent sailors," says Gavignet, pointing out that Fahad Al Hasni came from a former Oman Sail Tour Voile team. "And there are other Fahads, like Ali [Al Balushi who raced SATT on BAE Systems]. For me, all the Omani sailors that have come from the Tour, they are always the best - it is the best school. But that will change again in a couple of years when the young sailors come through that Marina is currently coaching in Optimists [Psichogiou - Youth and Women's Sailing Development Manager for Oman Sail]. I think they will be the best sailors, but at the moment the Tour is the best school."
While Oman Sail is fielding an entry once again in the Tour de France a la Voile this year, another significant development is that the Omani girls, who competed in the SATT alongside Dee Caffari, Liz Bayliss and Katie Pettibone, are heading to France imminently in order to start their preparations for the J/80 Worlds to be held over 8-13 July in Marseilles.
As ever, exciting, ground breaking times at Oman Sail.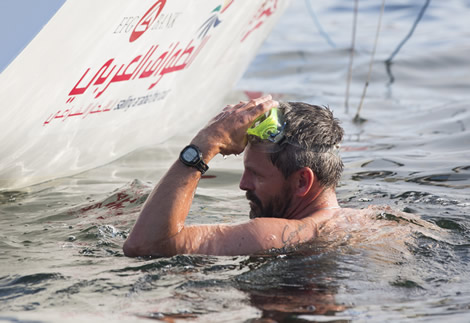 Back to top
Back to top