Nick Bubb on the Shackleton Epic
The Shackleton Epic Expedition began for real on 21 January.
We left King George Island in the early evening with 15 to 20 knots from the west and forecast to slowly ease. It was a magical moment as we sailed out of Admiralty Bay. With the sun going down, we negotiated small bergs like we'd been doing it for years.
Due to the significant space issues on board we'd decided that just Paul, Ed and I would be on board for the delivery to the start of this Expedition, Elephant Island.
We picked up a tow from the Australis as the wind died and headed off northeast to Elephant Island, 120 miles away. It was a shame not to sail the whole way, but this was always the plan and the only way we could get a suitable weather window to leave KGI and make the landing at Elephant Island.
With a good deal of detailed planning prior and great work from the crew of the Australis, we arrived at Elephant Island 24 hours later with no dramas along the way. We spent a night at anchor in a small cove on the south side of the island before rounding Cape Valentine, where Shackleton first landed, in the morning. A few miles west was Point Wild, where his men set up camp and were to remain for four months before being rescued. It was an incredible experience to be there and to see just how small and exposed this tiny headland is. To think they survived a winter there is quite simply amazing.
We were very lucky to be able to even get close to the shore let alone land and the ice floating ominously around the shore was a stark reminder. We were between two storms and the sea was calm but still there was a residual swell.
We all went ashore via Zodiac to recce the beach and meet the locals. It was pretty tough to find any space amongst the penguins and the seals, but it was a privilege to be there and we all enjoyed the moment.
To land the Alexandra Shackleton (AS) was almost impossible, the beach has retreated and after significant erosion is even more rocky than when Shackleton was there. We decided to return to the Australis and row the AS ashore. As we got in close we opted to back up to the rocks and Paul stretched out an oar to touch one and make physical contact with the island before our departure. We then rowed directly north away from the island and once clear of the ice we hoisted sails. I wouldn't say it was emotional, but it was certainly exciting and
Paul and I kept exchanging nervous laughter. It was all a bit surreal to be honest. The enormity of it all was just too big to take in.
The first night was spent dodging small brash ice and an extremely impressive tableau iceberg around three miles long and 100ft high. The wind was light and it took an age before I finally relaxed and we got round the windward side of the berg. Trust me, getting round anything to windward on the Alexandra Shackleton is a huge achievement! With light winds from the south we slowly 'punched' north averaging around 3 knots and were pleased to estimate our first 24 hour run to be around 75 miles.
The routine was two watches of three hours, one run by me and the other by Paul. Baz and Seb were a team and Ed and Tim the other. These two teams then spent 1.5 hours with me and 1.5 hours with Paul. Offset watches for continuity was the idea.
Generally we all settled in well over the next few days, conditions were okay on board and apart from Baz and Seb seeming to have to permanently fight to get the Primus stove going, we were doing alright. The 'space issue' had become our entire world however and the entire trip would probably best be described as a 3D version of Twister or human spaghetti. While it was possible to get two in the cockpit, the reality was that one was easier. Three could just about sleep below, but nobody could stretch out and the two guys on standby just crouched below the hatch.
Every three hours Paul and I debated how many miles we'd sailed and in what direction before writing it up in the log. We'd then plot our estimated position every 12 hours and report this back to the Australis. This whole process was not as straightforward as it sounds though.
Firstly, we had to guess our average boat speed and heading, then factor in magnetic variation, any leeway made, the current and usually a few gut-feel fudge factors to incorporate differences in helming 'style' and ability.
Looking back on our estimates with the Skipper of the Australis now, it is incredible how well we did, although it should be highlighted that most of our accurate guess workwas when sailing downwind. It all went a bit awry when we had a day of sailing upwind and therefore started making leeway. This, together with more difficult helming conditions for the less experienced sailors make the task significantly more difficult.
Generally, as far as the weather went, we were very lucky. Apart from right at the end we never had to sail upwind and we only went through one storm. We were able to sail downwind during this period of bad weather and it only lasted for around 36 hours and I doubt the wind ever topped 50 knots. The sea state was rough, but not crazy and the boat handled the conditions incredibly well, never did I feel in danger of being rolled which was our main concern.
Probably the worst thing about it all on deck was the physical toll of steering. It took two men to control the steering lines and countless times I asked myself why Shackleton never put a tiller on the boat?
The fantastic condition that the AS was in after the voyage was astounding and a great credit to all the incredibly hard work Seb, the expedition bosun has put in over the years and also to the International Boatbuilding Training College in Lowestoft, who were responsible for her construction. Thanks are also due to many volunteers along the way.
Surprisingly old vintage clothing served us pretty well and while we all got damp and wet, I wouldn't describe our under layers as soaking. Our woollen layers were uncomfortable and restrictive but they did do a decent job of keeping us warm. The cotton outers that we had smeared in Dubbin also held up okay and certainly kept the wind out. They became incredible heavy though and the fear of being in the water wearing all that kit was significant. I never once changed any of my kit other to remove my outer smock when possible and boots
when off watch. We had no spare kit, there simply wasn't room.
Down below however things were predictably heinous. We were all struggling significantly with nausea, lethargy and dehydration along with the problems caused by not being able to cook. Life reduced to very simple operations and we were all extremely grateful for good weather on day four. This also allowed us to take our first sun sight at midday and calculate our latitude. We were pretty happy with the sight, so we slightly readjusted our position to this new fix.
To try and keep this blog under ten pages, I won't go into to many details of the navigation but essentially this was our only fix until the day before we arrived at King Haakon Bay although we did manage to get the odd sight whenever the sun poked its head out, but we never got enough information to secure a position fix, only a position line.
Our routine was Paul 'shooting' the sun's altitude with Seb calling out the time from our mighty impressive chronometer and I would then take a note of all the vital numbers before starting to crunch them. Invariably this would take me around 30 minutes to do bearing in mind the cramped and bouncy circumstances and then Paul and I would go through all of my calculations together checking for small errors which are so easy to make. Finally when agreed, we would plot the results on the chart, often we'd laugh and re-work things, but by the end we were pretty confident our technique was good.
Miles slowly ticked off but all the time our uncertainty was growing, as the cloud cover was too much for any real fixes. We did manage to take a few sights, but you require several sights ideally spaced out throughout the middle of the day to actually get a fix. As it turned out we never achieved this until we were 35 miles from King Haakon Bay, our final destination. The crucial sight here was taken at local noon and only minutes after we took it, the visibility closed in.
There was an audible sense of relief that our estimated position vaguely stacked up with our astrocalcs and that we were so close to the end. This coupled with the fact we had maintained the 'weather gauge' meant we were looking good.
However… the weather gods still had two massive cards to play. The fog that rolled in just after our noon sight, stayed for two days and we had little option but to wait it out. As we were to discover, patience is a key weapon in the traditional navigators armory and not something Paul and I are overly blessed with.
Eventually after 11 nights at sea, dawn broke and we could see land. We spent several hours sizing up the topography and eventually gained a little confidence in our position. We were about ten miles upwind of King Haakon Bay. This was ideal and roughly where we expected to be so we hoisted our sea anchor and set off. As we closed on the headland, the wind dropped and started to move forward of the beam. Slowly we got sucked in to the cliffs and were drifting on to them.
This was quite easily the worst part of the whole voyage for me and we came very close to realising my worst fear ever since I signed up to this expedition. We were stuck on a rocky lee shore and the chart notes read 'outlying rocks, uncharted, avoid'. At this point due to the curvature of the coast we had no option to tack out again and not being able to sail upwind we were trapped. Our only hope was to inch along the coast.
I sent all the crew below except for Paul and got them to move forward to try to dig the bow in a little and reduce the leeway. We also all put on lifejackets and readied the grab bag. I wasn't going to ask for a tow at this point and ruin all our hard work and clearly the Australis wasn't going to come in to an uncharted rocky coastline so we parted ways.
For the next couple of hours Paul and I took turns to gently coax the AS along the rocks, at times feeling the swell back off the cliffs, ironically just as Shackleton did although he was in a lot more wind. Time and again we passed inside breaking rocks, which were real 'heart in the mouth' moments. At times we were so close we thought about getting the oars out but in the confused swell it would have been a mess. In the end we scraped through and could breath again.
The rest of the sail up the Bay and into Peggotty Bluff where Shackleton finally landed, and left the James Caird, was a joy. On hitting the beach, Paul and I jumped out into the surf with Tim steering her gently up the shingle beach. I fell over due to a combination of land sickness and numb feet and pretty much ended up lying down with relief among the elephant seals - all incredible and surreal emotions.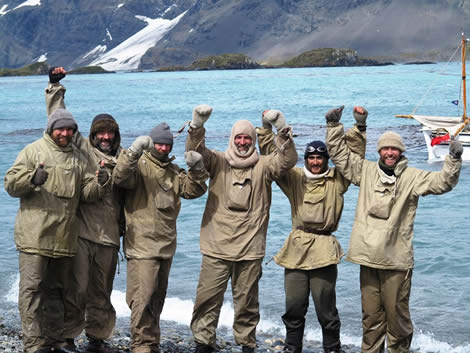 Leaving Tim, Ed and Baz, our three vintage mountaineers to make camp on the beach, Seb, Paul and I secured the AS and returned to the Australis to recover and prepare ourselves for the role of support team in modern kit for the crossing of South Georgia.
After a few beers on board and with the adrenalin fading, we slowly began to investigate our bodies. I'd been aware that my feet had been numb since we left KGI on 21 January and it was now nearly two weeks later. During the trip I had been conscious of the problem and removed my boots after each watch to try my best to dry and re warm them. Ironically my feet never really got that wet. Our leather boots were pretty lightweight with thin soles but after mountains of Dubbin had been applied, they were actually pretty water resistant. The main problem with out feet was simply time spent cold on deck, especially at night when it was coldest and the fact we were always standing in an inch or two of water or on a v cold floor. This coupled with the fact that when down below it was physically impossible to stretch out meant my circulation didn't stand a chance.
As the voyage went on Paul and I took over most of the helming duties especially at night as it was becoming more and more important we steer an accurate course to increase the accuracy of our estimated positions. This extra time on deck was certainly to prove my downfall and Ed, our cameraman, suffered similarly.
Amazingly Paul seems have escaped with his feet still working but has some similar cold injuries to his hands where as mine are fine. Seb's feet are sore too, but for now Baz and Tim are okay. Paul's feet aside, there is a pretty clear correlation between hours spent on deck and the condition of our feet and hands.
It is now some four or five days since we arrived at Peggotty Bluff at the head of King Haakon Bay and still I've got no feeling in any of my toes. Our onboard Doctor, Alexander Kumar, has been amazing and is looking after me very well. We went for a walk to see if there was any chance of making the crossing and it was immediately apparent that this wasn't an option. I couldn't walk for more than an hour without significant pain and this was without my 30kg backpack.
Once we removed my boots, my toes were red and swollen, nothing dramatic but the damage was inside.
Dr Kumar then sent pictures and comprehensive details of my symptoms to his UK based colleagues - various medical experts who specialise in cold weather injuries. The responses were astounding; they agreed with his assessment that I have a Non-Freezing Cold Injury (NFCI) and the symptoms are very similar to those the soldiers suffered during the Falklands conflict - another poignant reminder of just how much we owe to heroes of the past.
To summarise, all in agreement, it would have been foolhardy to go into the mountains and would compromisemyself or the others. There was also a chance I may lose my toes and part of my feet if I did. Pretty strong stuff… this made the decision not to continue very easy and in fact Dr Kumar refused to sign me off anyway so my insurance may not have been valid even if I'd been mad enough to go. While very disappointed not to be making the crossing, I want to be able to walk off the plane when we get home in a few weeks time.
For now I'm confined to my bunk with my feet elevated and it seems the sensations are slowly returning. With each day, there are shooting pains, but this can only be good and a sign the nerves are still alive and battling back.
Looks like rugby is going to be off the menu when I get home but hopefully I won't be hobbling around for long. The reality is you can't come down to Antarctica, strap on some 100 year old clothing and sail across the Southern Ocean in a 23ft rowing boat without expecting to suffer a bit of discomfort.
I've spent many weeks in the Southern Ocean before, but always in modern kit, with a chance of rewarming my feet and with a bunk to stretch out in. Being deprived of all these comforts has been enlightening.
Anyway, enough of my enforced laziness, right now we are at Anchor in Possession Bay on the north side of South Georgia. The overland part of the expedition is currently in the balance after some terrible weather forced the team to 'hunker down' just four miles in.
Baz, Tim, Paul and Seb left Peggotty Bluff two days ago with Joe and Si from the film crew tracking them. Ed, who also has painful feet, made a very difficult last minute decision to remain on the Australis after failing a late medical check.
After waiting for the Australis to get round to the Possession Bay, the first emergency evacuation point, the team set off late on Thursday night. After passing Shackleton's Gap they quickly encountered horrendous conditions and Si suffered a minor injury to his back. It was decided to set up camp and get Si off the mountain and down to the relative safety of Australis. This was achieved, but by this time Seb's feet were starting to deteriorate so he and Paul came off the mountain with Joe to regroup, leaving Baz and Tim as the vintage team in camp, still hoping to relive the story and for at least one of them to make it all the way to Stromness in their classic kit and raise the alarm as Shackleton himself did 100 years ago.
With the bad weather continuing there is an air of suspense onboard, genuinely nobody has any idea how this is going to end. One thing is for sure; Shackleton's men were either a lot tougher than us and benefitted from acclimatisation having been down in Antarctica for over a year beforehand, or simply their desperation overcame all pain.
Right now, I personally am happy to concede defeat to a legend and keep my feet. The mountains will always be there and this is a world that having had a glimpse into, I want to learn more about and experience in the future with a fully functioning body. How it all ends for Baz and Tim is going to be fascinating. Paul and Joe may still re join them on the mountain if the weather improves and there will no doubt be a huge story there. I know Paul will also take the time to send his version of events soon from this truly epic expedition.
This is just my take on events and I apologise for an almost complete lack of communications over the last 3 weeks, as you can appreciate we have effectively had none and our internet connection on the Australis is restricted to strictly 'work' only and is very limited.
Nick.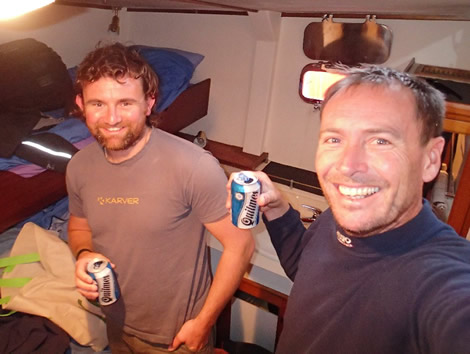 Back to top
Back to top