Wind builds for Shackleton Epic sailors
Friday January 25th 2013, Author:
Biarta Parnham
, Location: none selected
The first day at sea for Shackleton Epic, the authentic recreation of Sir Ernest Shackleton's legendary voyage of survival, has seen the Southern Ocean deliver on all fronts including encounters with a whale and an iceberg, a five hour period with no wind, and now 25+ knots of strengthening winds from the south and building seas over three metres.
Since the Alexandra Shackleton sailed away from Elephant Island yesterday at 1900 GMT, with her crew of six British and Australian expeditioners aboard, the 22.5ft replica wooden life boat has braved a range of challenging conditions and covered over 60 nautical miles towards South Georgia.
Speaking over VHF radio, expedition leader Tim Jarvis said that it was very frustrating in the middle of the night with no wind for over five hours, quite unexpected conditions in the Southern Ocean.
"We had to manoeuvre to avoid a collision with a big iceberg that was on our path. We also had a fantastic encounter with a whale which was about 6-7m from the bow of the boat - it was quite a magical.
"We are going well, but it is the conditions on board that are going to get us first, not just the sailing. The biggest challenge we've had so far is the confined space below deck and the cooking. Cooking is very, very hard on this constantly rolling boat."
The Alexandra Shackleton has also shipped a lot of water over its topsides and the crew have had to bail and pump seawater out of the boat constantly throughout the first 24 hours.
"We haven't eaten that much. It's difficult to cook, clean and make the space needed to fire up the Primus stove and it's pretty damp in here," skipper Nick Bubb said.
Bosun Seb Coulthard said: "We're all tired and hungry as it's difficult to cook in these conditions. Everything is now quite damp and we've had to bail and pump the water out, but that was to be expected".
Constant bailing and being soaked-through, freezing cold, constant gales and seasickness were the dominant conditions aboard the James Caird, Shackleton's boat which completed the journey in 1916. It took Shackleton 16 days to sail the 800 nautical mile to South Georgia and then a further two to three days to climb over its mountainous interior reaching the whaling station at Stromness and eventual rescue for the rest of his crew left stranded on Elephant Island.
Shackleton Epic's support vessel, Australis, is keeping its distance from the little boat approximately 20 nautical miles away and is only coming closer about once a day to film and photograph the Alexandra Shackleton – it is not providing any outside assistance to maintain the authenticity of the voyage.
Australis' skipper, Ben Wallis said: "They're all jammed in like wet sardines down below on the Alexandra Shackleton and it's going to get rough with winds expected to reach 35 knots gusting to 50 knots on day two."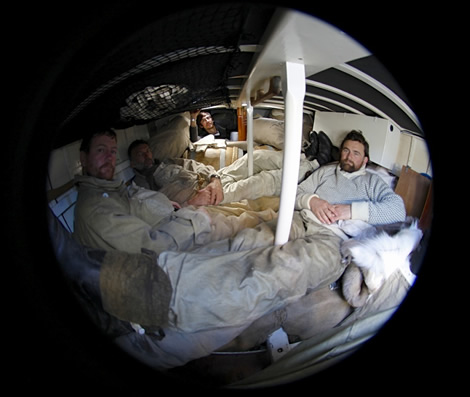 Back to top
Back to top