Josh Hall on the third Global Ocean Race
Josh Hall's announcement on Monday regarding the third Global Ocean Race, starting from Southampton in 2014 and with a new advisory board of media big wigs, indicates that the next Class40 round the world race should be held at a much elevated level - welcome news.
With the race for the first time starting and finishing in the UK, plus the confirmation of Cape Town and Charleston, South Carolina, only the Australia/New Zealand and South American stopover have still to be confirmed with the race continuing to follow the 'classic' Southern Ocean route around the world.
One of the significant issues with the last two Global Ocean Races has been the small number of entries. While having six entries was just about okay for the first race, having six and then subsequently losing three during the race (one returning), to leave just three boats racing, was thin.
However as Hall points out, just three months out from the start of the last Global Ocean Race they had 18 solid entries, only for two thirds to drop out prior to start day. "It was due very much to the economic climate. The very thing that has made Class40 the great success is affordability, but that has been its Achilles Heel as well because it is an owner-driver class and, for the owners, their responsibilities are more towards their own businesses than the race, so it is easier for them to pull out."
For the 2014 Global Ocean Race, Hall is doing everything possible not only to attract competitors, but also to ensure they get to the start line once they have entered. Hall intends to achieve this in several ways. Firstly they are anticipating that the next race's media offering will be better resourced and much improved, in turn making the event more attractive to sponsors. They also want to have a closer relationship with any boat sponsors. "We want to make sure they are properly tied in and integrated commercially with the event," says Hall.
New for the 2014 Global Ocean Race is that there will be three classes – singlehanded and doublehanded (as featured in the first race, when Michel Kleinjans went around on his own, while the last event was exclusively doublehanded). However to maximise the race's appeal, for the first time a 'fully crewed' class is being introduced. In Class40 terms this means a maximum of four on board.
"What we want the race to do is to offer access to a round the world race on a classic route to as many sailors as possible," explains Hall. "The concept of the fully crewed division is that it opens the way, much as the Whitbread used to, for sailing families, yacht clubs, sailing associations, groups of sailing friends, etc to club together and do a competitive round the world race as an entity. And it also helps us to have as many boats as possible."
The fully crewed boats will be able to change three of their four crew between legs. Hall says this is to ensure that there is some continuity with on board knowledge retained from leg to leg. Thus in theory through the race 15 crew could sail as part of a fully crewed entry. Hall reckons that the net cost of doing the race (ie including selling the boat at the end of the race) works out at £250-300,000, so a team of 15 could be put together with each putting in £16,666. "That puts the accessibility of the race firmly back in the private pocket, sponsorship being a rather difficult thing to achieve these days."
Learning from past experience Hall says he is keeping his powder dry over how entries stand at present. He says at the moment they have nine solid entries from eight different countries and these are split equally across the three classes. "Some sailors who are coming back for a second go at the race and some are brand new Class40 sailors." He is hoping that with the changes they have made to the race they will eventually end up with around 15-16 boats.
Among the competitors keen to take part are Team Concise's Ned Collier-Wakefield and younger Thomson brother, David, who competed in the first Global Ocean Race.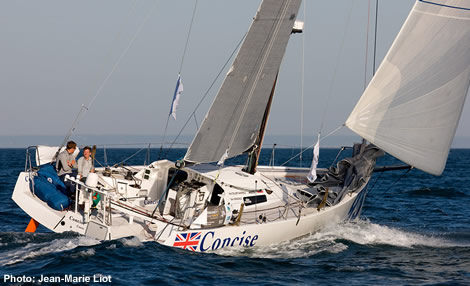 Finding better funding for the event is also vital to its success. While they are on the hunt for a title sponsor and have brought on the experienced Chris Witty to lead the search, they have also rejigged their business model so that it will be possible run the event in a bigger way than it has been in the past even if title sponsorship isn't secured.
One new feature is bringing on board 'leg sponsors' and the first of these has been announced with bluQube backing leg one from Southampton to Cape Town. "It works for them perfectly and they will be able to utilise the start for entertaining clients, etc," says Hall. "We are pretty close to selling two other legs right now. I am confident we will sell all the legs.
"Selling five legs of sponsorship and selling 20 partners sponsorship at a very affordable level for people, coupled with entry fees from the boats, we'll achieve a level of funding for the race that will be close to four times what we've had in the past. It has been hard running the race on very small budgets in the past and we don't want to do that again. The entries deserve better as well. By creating a bigger, better event - that is the key for us to attracting more entries."
A potential issue is the next Global Ocean Race clashing with the Route du Rhum (along with the Volvo Ocean Race, Barcelona World Race AND possibly the Velux 5 Oceans, if it is happening again – a busy winter 2014-5 will be...) The Route du Rhum is the most popular event in the Class40 calendar with an impressive 44 boats taking part in the 2010 race and this despite being in the middle of a recession. Hall doesn't view this as a great problem: "Even Class40 agreed with us that there is no conflict with the Route du Rhum. It is a very different type of sailor who wants to race around the world. In fact existing Class40 members aren't even our target audience. Our entries are typically people who have come to the class to do our race." Or they could schedule the Cape Town stopover so that it is long enough for competitors to do both events...
As to the Class40 in a broader context, there are a couple of significant issues that have been emerging over recent years. One, no surprise, is that with every new iteration of boats – 127 Class40s are now in existence - there are an increasing number of older and less competitive boats.
"There has been talk of having an older boat division," says Hall. "It is quite interesting on the longer races that some of the older boats can do very well across the whole range of different weather and tactical choices. A very well sailed first generation boat can still beat a not so well sailed new generation boat. What is true is that hull forms have changed. The first generation boats were all relatively overweight, some 10% more than the minimum limit because they were built to be strong and not to fail, which they have proved they don't. It is natural evolution in all design – it happens whether it is a kettle or a boat."
Another issue that has been present in the Class from its outset is that there is a difference, in price and in performance, between production Class40s, the most prolific being the Pogos and Akilarias, and the more expensive custom built one-offs. Thankfully the latter are now very much in the minority although there remains a substantial variation in price between the production boats from around 270,000 Euros up to about 450,000 Euros. Interestingly some new designers are getting involved with the class with Jason Ker penning the new 40 One Design for Team Concise, now in production at McConaghys in China, while Emirates Team New Zealand designer Marcellino Botin has created a new Class40 for his brother Gonzalo. There is also a brand new design from Guillaume Verdier and Akilaria has introduced a new RC3 model.
Hall reckons that it is high time the Class40 rule was tightened up. "A rule for a class that is as big and successful as this and attracting more and more professionals, cannot rely on just the spirit of a wording. It needs to be black and white and more prescriptive. Certain areas, like masts and keels and different positionings need to be strongly addressed, otherwise, it will create a cost escalation and you will end up with a few projects with the money to develop boats that win everything and that's not where the class wants to go."
Tomorrow we publish our interviews with Team Concise's Ned Collier-Wakefield and Jason Ker about their new 40 One Design.
Back to top
Back to top