In the wake of Sir Ernest
Thursday January 3rd 2013, Author:
James Boyd
, Location: none selected
Not our usual fare of carbon fibre, foils and 30 knot boat speeds, however two of our community, former Mini sailor Nick Bubb and 'the fastest sailor on the planet' Paul Larsen, are today leaving Ushuaia in deepest Tierra del Fuego as part of the Shackleton Epic expedition. This aims to faithfully recreate one of the most famous seafaring/survival tales when the Sir Ernest Shackleton-led expedition to become the first to cross Antarctica, went wrong and his ship, the Endurance, was lost to the ice.
After spending five months over 1915-6 surviving on an iceflow, Shackleton and his crew of 28 took to three lifeboats successfully making the 120 mile passage to Elephant Island. Uninhabited, Elephant Island provided no opportunity for them to be rescued and so leaving the remaining crew to fend for themselves, Shackleton and five other departed on their boat, the 22.5ft long James Caird to make the 800 mile journey across the Southern Ocean to South Georgia.
Remarkably using a sextant they found South Georgia and, surviving hurricane force winds on the approach, managed to land, only on the uninhabited southwestern side of the island. This forced Shackleton and two of the remaining able bodied men in his crew then to take on the mountainous glacial interior of South Georgia in freezing conditions without climbing gear or a map. After a three day trek they reached habitation. The remaining crew of the James Caird on the south side of the island were subsequently picked up as was the larger party back on Elephant Island.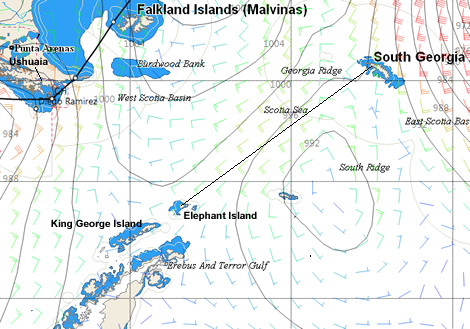 Set up by Anglo-Australian Tim Jarvis, who has previously recreated Sir Douglas Mawson's 1912 ill-fated trek across Antarctica, the Shackleton Epic expedition aims to recreate the voyage from Elephant Island followed by the crossing of South Georgia by land. While there have been at least two previous attempts to do this, the Shackleton Epic aims to be the most faithful re-enactment ever previously undertaken.
While the original James Caird remains at Sir Ernest Shackleton's school, Dulwich College, the Shackleton Epic crew will be sailing the Alexandra Shackleton, a reproduction of the original James Caird built by the Lowestoft Boatbuilding College. Since being launched in 2012 the boat has been based down in Weymouth, before being shipped to a Polish research base on King George Island in the South Shetland Islands, just north of the Antarctic Peninsula, from where the expedition will set off.
Originally, before making the voyage from Elephant Island to South Georgia, the James Caird was modified, its topsides raised, a deck of wood and canvas fitted, she was strengthened internally, 1 ton of ballast added to improve her stability and main and mizzen masts carrying a lugsails and a jib were fitted. It is this version of the James Caird that the Alexandra Shackleton recreates.
The end result has a small cockpit aft and while it is a rowing boat that has been converted for sailing, it is still possible to row it, although according to Nick Bubb there has been a small set-back: "An amusing part of the logistics: some of our stuff has ended up in Chile and because of customs issues we can't bring it into Ushuaia. But with the border between Chile and Argentina running along the Beagle Channel, after we leave we are meeting up with one of our crew there." Among the gear to be delivered are the oars which had to be sawn in half to get them on to a small plane in Chile. "Iur first job is to join the oars back together. I think we'll be alright, but it is part of the fun of things you can never plan with these trips."
For Paul Larsen there is of course the irony that he has gone from having just demolished the world sailing speed record, setting a new benchmark of 65.45 knots, but will be lucky to make 3 knots aboard the Alexandra Shackleton.
While the Shackleton Epic has been in the planning for at least four years, Larsen and Bubb only signed on last summer when it fully fired up after the Discovery Channel agreed to make a program about it through the London-based production company RAW TV. RAW TV was involved in the selection of the six crew/mountaineers and one chosen was Bubb, who's only stipulation was that they take another sailor, which is when Larsen was finally signed up.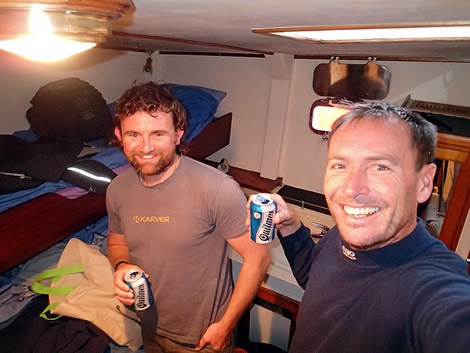 For the last three years Bubb has had a 'proper' job working for Brewin Dolphin, the investment management company that backs the Commodores' Cup. Executive Chairman Jamie Matheson, himself a keen sailor, agreed that Bubb could take a three month sabbatical from work to undertake the Shackleton Epic.
Both Bubb and Larsen have since spent much time training. They have had a crash course in mountaineering up in Scotland from Barry Gray, who is the Royal Marine's mountain leader chief instructor and is one of three specialist mountaineers in the crew including expedition leader Tim Jarvis and cameraman Ed Wardle. This involved learning to climb mountains in snow, abseiling, rope work and cold climate survival techniques. They have continued to gain experience mountaineering while they have been in Ushuaia.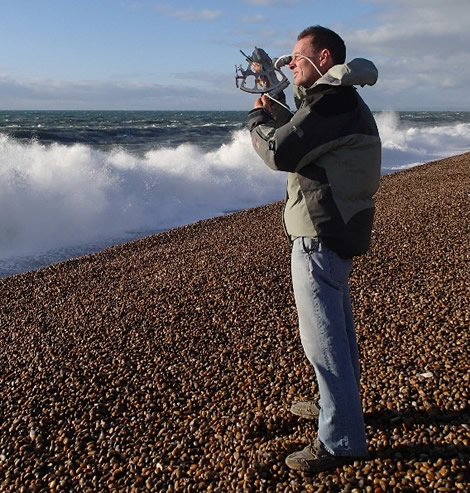 Together Bubb and Larsen will be taking on the Frank Worsley role with the navigation and so have had to brush up their astronav, enabling them to use a sextant in anger. "We have been studying, so we are pretty confident with that now, but obviously just being confident with the maths is the very start of it and having the opportunity to get good sights is few and far between down here," says Bubb. "If I had to sum up my previous experience of the Southern Ocean the one word would be 'grey' which isn't really ideal for taking sights. And being in a small boat, low down in a rough sea, it is very difficult to pick your horizon accurately too.
"A lot of your accuracy depends on how close you are with your dead reckoning and the problem will be keeping our dead reckoning accurate will be because the boat has no keel, it is going to make a lot of leeway. Also there is half a knot of current that typically runs east down here so that is quite a big percentage of our boat speed."
There is also going to have to be some familiarisation with the Alexandra Shackleton. Bubb, who is officially 'skipper', has only sailed it once before while Larsen hasn't sailed it at all. "But the boat has been out in big winds and they had a whole summer of sailing, so I am relatively confident in the boat," says Bubb.
Fortunately they have a window of around 10 days to sea trial the boat starting next week once they arrive in King George Island and also on the 120 mile 'delivery' to Elephant Island.
Conditions on board will be heinous. Aside from having to take on the Southern Ocean, this wil principally be due to squeezing six men on a boat 22ft long. Bubb has obviously considerable experience on Minis which are similar length, only that they are purpose built and have a beam of 3m compared to the Alexandra Shackleton's 1.7m and Minis are typically sailed one up. This is another significant difference with the Shackleton Epic voyage compared to previous re-enactments that only took four crew.
As Bubb says: "Fitting six people and six people's kit in – there is nowhere to lie down. We are all just squashed with our knees up beneath our chin. Paul describes it as 'extreme spooning'." There are also no bunks so the offwatch crew will be attempting to sleep in the bilge as their little boat is tossed about by the big ocean.
A Gore-Tex free voyage, they will also be wearing original kit. This comprises a Merino wool base layer, which Bubb reckons is the only decent part of what they will be wearing. On top of this they have cotton long johns, wool trousers and a woollen jumper, while the outer layer is of a tight woven cotten covered in wax, typically found on Burberry jackets (Burberry in fact provided the original kit for Shackleton's expedition). Their seaboots are all-leather, worn with woollen socks. They have woollen gloves with canvas mittens that go over the top of them. "All of the kit has been sourced by the television company so it is a good traditional vintage look. We have tried it a bit in the mountains and some of the guys have done some sailing in it. The outers do stop the impact of the water, but you do end up wet," says Bubb – no taped seams obviously.
"The woollen stuff is fine until it gets wet, when it just becomes really heavy. We did a special Sea Survival course in Poole for a couple of days which involved jumping into their big pool there. They turned on the wave machine and even with a lifejacket on, because you are so heavy, when the waves come towards you instead of you floating up with the wave, you just stay still and the wave washes over your head. So that was a good insight into not falling in the water."
To help him keep warm, Bubb has already started growing a beard.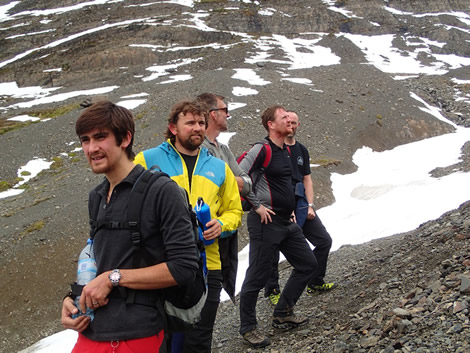 The three mountaineers will continue wearing the original kit as they make the overland crossing of South Georgia (recreating the original Skackleton expedition), but fortunately at this stage Bubb and Larsen go into more of a support role and will be able to wear modern mountaineering gear. Bubb explains: "Because there is no rescue facility there, you have to be able to self rescue and we couldn't get a permit to do the crossing all in vintage kit. Because Paul and I are both pretty fit and strong they have decided that we are going to carry the safety kit, so in some ways we get the short straw because we are going to be carrying a lot more kit than the guys in the vintage stuff. But for us I think it makes a lot more sense because if one of us was to fall in a crevice, for instance, we have got all the modern kit which we have learned how to use rather than having to do it all with traditional kit. It will be hard enough for us having never really done that before anyway."
While the voyage will be as authentic as possible they will be carrying modern safety aids including a liferaft, lifejackets, an EPIRB and an AIS transmitter, while Tim Jarvis will be taking a satphone.
Unfortunately the food is also going to be authentic and they will be surviving off pemmican, an equal mix of dried meat and lard, favoured by Antarctic explorers a century ago (if they are to be truly authentic they should also try cooking up some seal blubber which ended up being the principle food of Shackleton's expedition). "We have about 40kg of pemmican," says Bubb. The mountaineers will eat only this, but the three sailors, including the Royal Navy's Seb Coulthard, will be able to eat other food once they go into a back-up role crossing South Georgia. As Bubb puts it: "The real thing for Paul and I is delivering these guys to South Georgia and then supporting them across South Georgia."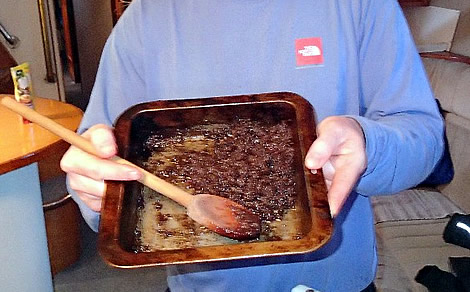 Also unlike Shackleton's original voyage is that they will have a support ship in the form of the 70ft long Antarctic research vessel, the Australis. That will have the film crew on board, and Bubb reckons that they will typically be nearby or at least tracking them (they have a Yellowbrick tracker on board and their progress can be followed via the expedition website).
As to the voyage itself, Bubb says that they will only stop at Elephant Island if the weather is suitable. "It is just a rocky outcrop and it is a huge risk to destroy the boat beforehand. If we get there and it is really windy, we'll just carry on directly to South Georgia."
Bubb reckons that the crossing to South Georgia will take around two weeks [compared to Shackleton's 17 days] if they can maintain 3 knots. "If you look at the low pressure systems that roll across down here, where we start, we are so far south, at 62°S that we are beneath a lot of those lows. So we won't get the classic westerlies until we get further north [South Georgia is at 54°S]. So we need to pick a bit of a weather window where we get on the southwestern quadrant of one of those lows and use that to get north, where it will be warmer and then hopefully we can pick up the top of a low pressure. If we do that we will be sailing further miles, but it should all be downwind."
There is the issue of getting there. While Shackleton nearly came acropper as the James Caird was forced to endure hurricane force winds Bubb says that it hasn't been that windy between Elephant Island and South Georgia over the last months. A greater issue could be ice. "People are saying there's more ice than there's been in the last 20 years and you've seen in the Vendee that there's ice even up by the Horn, so if there are big swells and we can't see the bergs and it is dark – although there is only 4-5 hours of darkness here at the moment..."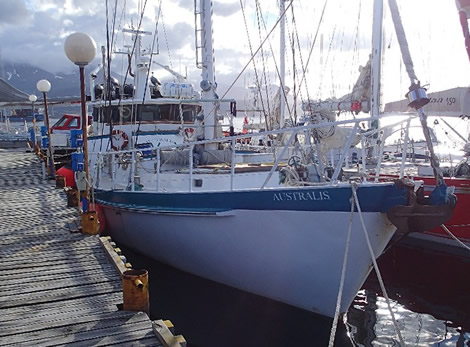 If there is something life-threatening, like a storm or icebergs ahead then the support team on the Australis will warn them. "The whole time is a case of doing everything independently as much as possible without being foolhardy," says Bubb. "There is a lot of pressure on the guy who is skippering the support boat to be honest. There is not much more we can do beyond trying to do it all ourselves and if something crazy is about to happen I guess they will warn us."
One of the greatest concerns for Bubb will be making a safe landing on South Georgia, deciding whether conditions are good enough to attempt a landing or whether they should stand off. They are aiming for King Haakon Bay where Shackleton landed, but Bubb points out that this is very exposed to westerlies.
"The cold - I think everyone is prepared for that, so we might relish that a little bit. My biggest worry is the landing on South Georgia. We are approaching one of the most notorious lee shores in the world and we have got a boat that doesn't really sail upwind. Lining ourselves up is going to be critical. A couple of guys have been there before, but none of us have sailed there before and we won't have any weather forecasts or all the things you'd normally take for granted. So I am probably more nervous about that than the crossing."
Bubb concludes: "I was thinking of the 25,000 or so miles I've sailed in a Mini – this obviously isn't comparable to a Mini, but they are both small boats in big oceans and small boats do look after themselves in many ways. I love being at sea. I have a huge appetite for it having not been able to do as much sailing as normal for the last couple of years, so I am really excited about it. When I first got involved I was a little bit nervous about how some people might perceive it, but as it has got closer I have had so many messages from so many interesting and respected people in the sailing world, saying 'wow' 'incredible' - it has captured the imagination of many people. So hopefully we can do that justice.
"It is a fantastic story and I guess what attracted me to the whole project is that it is just an incredible thing to do, it wasn't half hearted, just a bit of fun, this is the full Monty and I suppose at the same time Paul and I have often spoken about how there aren't many opportunities or big adventures happening these days so when they come along you have to grasp any opportunity to get involved. With this whole project we have met so many fascinating new people and trying the mountaineering side and getting to come down here – it is just a whole new world."

Back to top
Back to top